 According to POLITICO, Kentucky native and actress Ashley Judd is said to be "exploring" a run for the U.S. Senate, against Senate Minority Leader Mitch McConnell. I don't know how serious this proposition is -- and given that the POLITICO story's sources are just "four people familiar with the matter," my gut tells me the answer is "not very."
But if I could offer a sincere hope, it would be for Judd to conclude, at the end of her exploration, that running against McConnell would be a bad idea.
I am not trying to criticize Judd, in any way. You know, she was pretty great in "Heat," and I'm sure she was also pretty great in lots of other movies, too, because people keep hiring her to act in movies. From what little I know about her political advocacy, I think she's doing a fine enough job there, too.
I don't have a lot of major hang-ups about actors -- even famous ones -- getting involved in politics, because it seems to me there are at least as many successful politicians who are dumb as there are actors who are dumb. Besides, actors are -- by leaps and bounds -- better human beings than lobbyists, who are welcomed with open arms in politics. If the fickle finger of fate put me in a position where I could only save "Liz And Dick" star Lindsay Lohan or a banking industry lobbyist from a burning building, rest assured that I would pick the Liz over the ...other one.
At any rate, let me just stipulate up front that I think Judd is just swell and I'll take Rep. John Yarmuth (D-Kent.) at his word when he says that she is "very, very knowledgeable on public policy issues." I still don't think running against McConnell is a tremendously great idea.
Decry partisan gridlock and blame it on the GOP; advertise your own absence of ideological fervor and your focus on nuts-and-bolts approaches; and tout whatever you have accomplished to create jobs and sound social programs, no matter how small, even if overall conditions haven't improved much.
What Judd has to offer Kentuckians isn't so much "nuts-and-bolts," ground-level accomplishments as much as it is well-enunciated liberal policy positions from overhead. Her pet project, as POLITICO reports, is campaigning against "mountaintop removal mining, in which companies use explosives to blow off the tops of mountains for easier access to coal seams." That's perfectly great if you want to be a national voice on sound environmental policy. It's less ideal for someone who wants to run for office in coal country, and unfortunately for Judd, there is a lot of "coal country" in Kentucky.
And like West Virginia, this is basically how Kentucky works, too. At a minimum, that is. Heck, in order for Beshear to remain in the good graces of Kentuckians, he had to support a creationist theme park. I'm not at all sure that such a move would be good for Judd's "brand." (I don't imagine it's a good look in anti-mountaintop removal mining circles, anyway.)
The last person Kentucky sent to the Senate was Rand Paul, for Pete's sake. If voters went from sending Paul to sending Judd, you'd have to treat the whole commonwealth for whiplash.
Besides, what's the point of trying to take out McConnell, anyway? Right now, the GOP is suffering from a demographic problem of its own, the aftermath of the election having largely exposed the fact that it has essentially found itself the party of an elderly, white, nativist rump. Democrats love the fact that McConnell is a key member of the GOP's leadership, because every time he appears on television, he underscores this reality and compounds this problem. (He also looks vaguely like a turtle, which is good for a few laughs.)
So, does it make sense for Judd to mount a difficult campaign for an office she's too liberal to win, against a guy who Democrats are perfectly happy to see remain as a GOP leader? No, it does not make sense. Judd should continue to have her fun acting in movies and getting good seats at Kentucky Wildcat basketball games and campaigning against the wholesale destruction of Appalachia, and not attempt to make what would most likely be a losing bid for the Senate.
Before You Go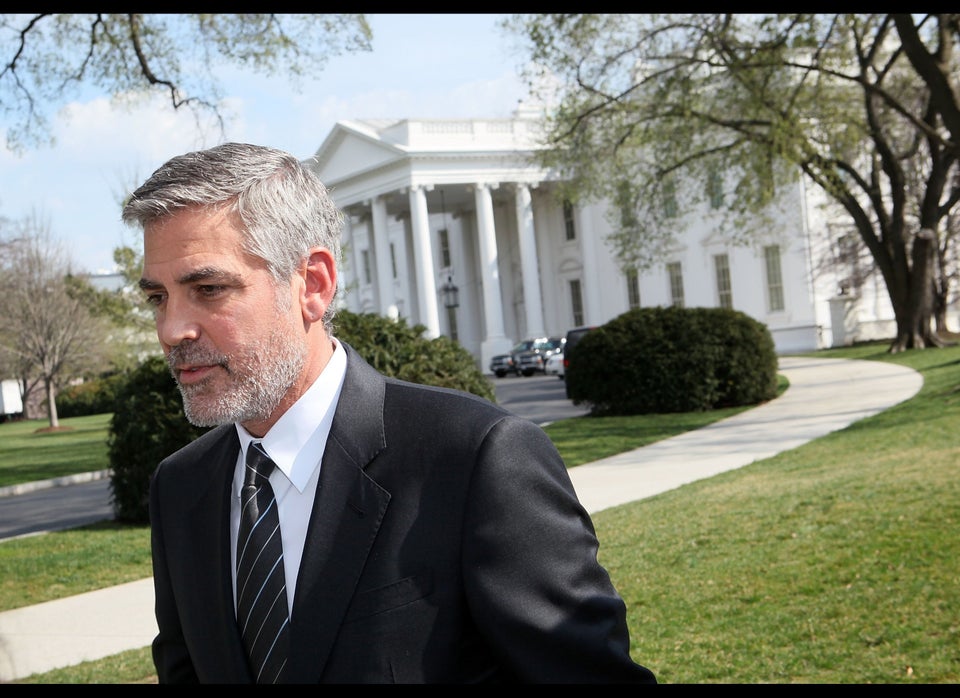 Obama With Celebrities
Popular in the Community