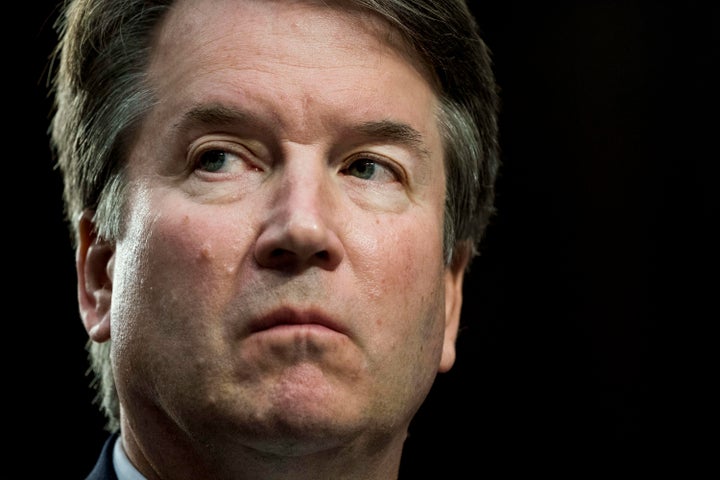 When Brett Kavanaugh was nominated for the Supreme Court, there was a rush of people willing to publicly say what a nice guy he is.
"I don't know Kavanaugh the judge. But Kavanaugh the carpool dad is one great guy," read the headline for one Washington Post op-ed by Julie O'Brien, a woman who knows Kavanaugh through their daughters' school.
Lisa Blatt, a self-described "liberal Democrat and feminist," wrote a piece in Politico telling the Supreme Court to confirm Kavanaugh and even introduced him at his Senate Judiciary Committee confirmation hearing, giving him a boost of bipartisan credibility.
And then there were the letters. Eighty students who had Kavanaugh as a professor at Harvard Law School signed a letter saying he was an "inspiring professor." Thirty-four of his former clerks said he "has been a role model to us personally as well as professionally."
And Yale University, where he went to undergraduate and law school, issued a glowing press release with five distinguished professors and faculty members congratulating him and extolling his intellectual talent.
All of that came before there were allegations that Kavanaugh sexually assaulted a woman when they were both in high school. The day after those allegations came out, 65 women who knew Kavanaugh in high school were still willing to issue a letter attesting to his character and his treatment of women.
But that, too, was before Christine Blasey Ford publicly identified herself and fully told her story, alleging that Kavanaugh, then 17, locked her in a room and attempted to remove her clothes while putting his hand over her mouth so she couldn't scream. She was 15 at the time.
HuffPost contacted all the aforementioned supporters of Kavanaugh when contact information was available.
The vast majority of people didn't reply, which could mean any number of things (e.g. they don't want to publicly stand by him anymore, they didn't see the comment request, etc.).
HuffPost responses:

Former Harvard Law students: Eighteen still support Kavanaugh, three do not. Nine requested anonymity.

Former clerks: Twelve still support Kavanaugh. Four requested anonymity.

Yale faculty: Two responded saying they were not endorsing Kavanaugh for confirmation.

Women who knew Kavanaugh in high school: Eight still support Kavanaugh.
The couple dozen who did respond all stood by Kavanaugh, except for three of Kavanaugh's former Harvard Law students ― one of whom requested anonymity ― who seemed more uneasy with the allegations.
"I signed the initial letter from Harvard Law alums based on what I knew of Judge Kavanaugh's character at the time of the request," said Elizabeth Knox, Harvard Law School '16. "I could not support any nominee who acted in the ways described in this allegation. I would urge the Senate to refrain from holding a confirmation vote until more information is known."
"We know one of two scenarios is true: either 1) the allegations are true and the Judge lied, in which case his lie alone should automatically disqualify him from consideration; or 2) the allegations are false, but there will always be a cloud of doubt surrounding him were he to be confirmed to the court. Given that reality, no, I don't still support his confirmation, and I think the White House should withdraw his nomination and put someone else forward," said Esther Mulder, Harvard Law School '14.
Two Yale professors who were featured in the university's press release on Kavanaugh's nomination wanted to make clear that they were not endorsing him. Indeed, at the bottom of the fawning press release, there was a disclaimer that it was not an endorsement. But it sounded like one.
Yale Law Professor William Eskridge said his comments were only about Kavanaugh's "excellence as a legal intellect and thinker," and Professor Abbe Gluck said that her "personal views about Judge Kavanaugh were separate from [her] views regarding confirmation on the merits, and that those depended on a full and thorough hearing of the Judge's record." She added that she believes the allegations require a full airing before any vote should occur.
Another former Harvard Law student, Renee Gerber Burbank '09, didn't respond to HuffPost but did tweet that she was appalled by the allegations. She also criticized Republicans for using these letters as weapons against Ford.
Interestingly, of the 42 responses HuffPost received, 12 said they stood by Kavanaugh but did not want their name published ― despite the fact that they already attached their name to a public letter saying they supported him.
"I'd prefer not to be named in any piece on this issue," said a former Harvard Law student, "but will reiterate that Judge Kavanaugh's character did impress me and ... these allegations strike me as very out of character."
Of the people who were willing to go on the record, they said they stood firmly by the man they knew.
Justin Walker, Harvard Law School '09, said he believes Kavanaugh because "the Judge I know would rather lose a job than tell a lie." Hagan Scotten, a former Kavanaugh clerk, said he is "a man and a judge of unimpeachable character." And Daniel McEntee, Harvard Law School '12, called Kavanaugh "one of, if not the best, instructors I've ever had in all my years of primary and secondary education."
"He's seriously a Ned Flanders type personality," McEntee added. "I can't say that I knew the teenage Brett Kavanaugh, but the alleged incident is so unlike the Brett Kavanaugh I know that I have a difficult time believing it."
"Without a doubt I would still sign the letter supporting Brett," added Paula Duke Ebel, one of the women who knew Kavanaugh in high school. "He is a man of outstanding character and would never assault anyone."
Neither Blatt, the feminist law professor, nor O'Brien, the carpool friend, returned requests for comment.
After Ford went public with her allegations, hundreds of women who went to her high school ― including actress Julia Louis-Dreyfus ― signed a letter supporting her.
This piece will continue to be updated as more responses come in.
Matt Ferner, Hayley Miller, Lydia O'Connor, Molly Redden and Jessica Schulberg contributed reporting.
Popular in the Community