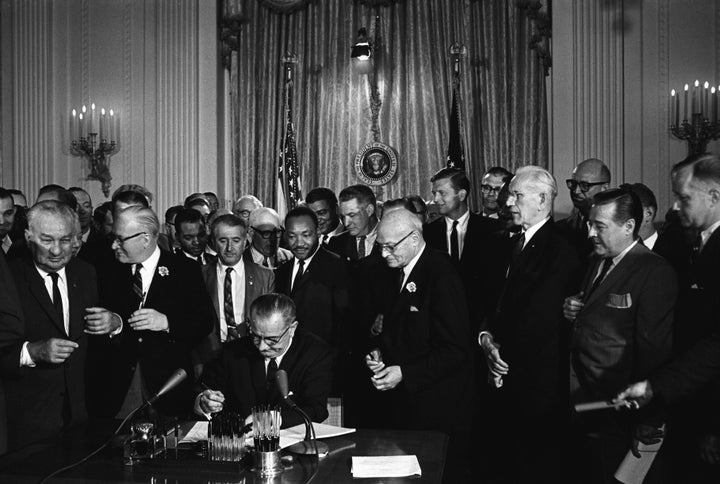 WASHINGTON ― The Trump administration has proposed the elimination of a historic Justice Department office known as the federal government's "peacemakers." The Justice Department's Community Relations Service, a non-investigative office founded by the Civil Rights Act of 1964, provides communities facing racial and other conflict with confidential services to ease tensions.
Under a proposal in the Trump administration's fiscal year 2019 budget, the duties of the office would be shifted to the Civil Rights Division, which unlike the Community Relations Service works on criminal matters.
"This budget would basically take [the Community Relations Service] and transfer it to the Civil Rights Division, and we would have a separate entity within the Civil Rights Division handle the work of [the Community Relations Service] today," Justice Department official Lee Loftus told reporters on Monday.
Loftus called the Community Relations Service a "small entity in Justice today" and said it has just 54 authorized positions, not all of which are filled. The unit had a budget of about $15 million in recent years.
Jobs will be cut as the office is eliminated. The administration believes it can support the office's functions with fewer people and less of a regional presence around the country.
Loftus said the DOJ would try to "look out for our people" and look for various options for Community Relations Service employees.
"We're going to look and make every effort to make sure that we can take care of our folks. ... We have time to prepare, and with support from the Hill we can look at ways to help the current staff," Loftus said.
Responding to a question from HuffPost about the idea of folding a non-investigative office into the Civil Rights Division, Loftus said the administration took that into account.
"We are very aware that there are some potential issues if you combine them, because there needs to be some segregation between CRS and its responsibilities under the Civil Rights Act and the functions that [the Civil Rights Division] may have in its regular investigative and prosecution responsibilities," Loftus said.
"So when CRS moves in, there's going to have to be some type of segregation, so that we don't cross those lines," Loftus said. "We're very mindful of that, and to the extent that we need different authorizing language in our legislation, that will be part of the FY 2019 budget process that we work out with the Hill."
Becky Monroe, the acting head of the Community Relations Service during the Obama administration, criticized the decision in a post for the Lawyers Committee on Civil Rights Under Law.
"One of the reasons CRS is effective is because it is not an investigative nor prosecutorial component of the DOJ. Instead, it works through regional offices [to] deliver services tailored to a community's needs. For mayors, chiefs, sheriffs, and community leaders alike, the fact that CRS is not involved in prosecutions or investigations makes it possible for leaders to ask for the assistance without fear of facing a lawsuit," Monroe wrote. "The historic and important contributions made by CRS are not just a line item to be tossed aside, as Trump's budget suggests. The civil and human rights of all individuals are too priceless for that."
Todd A. Cox, policy director of the NAACP Legal Defense Fund, said that ending the Community Relations Service "by callously draining it of its resources is yet another move by this Administration to circumvent their legal obligations and strip minority communities of federal protections."
"We need the Justice Department's 'peacemakers' now more than ever, and cutting off funding for the CRS ― like so much of Trump's proposed budget ― is irresponsible and shameful," Cox said.
This post has been updated with reactions from Becky Monroe and Todd A. Cox.
Ryan Reilly is HuffPost's senior justice reporter, covering criminal justice, federal law enforcement and legal affairs. Have a tip? Reach him at ryan.reilly@huffpost.com or on Signal at 202-527-9261.