WASHINGTON -- Fewer Americans support cutting food stamps than leaving the program alone or expanding it, according to a new HuffPost/YouGov poll.
Too bad for them. Congress is about to cut food stamps anyway. This month, the House and Senate will debate farm bills that would reduce farm subsidies and trim the rolls of the Supplemental Nutrition Assistance Program, which currently supports 47 million Americans with an average benefit of $133 per month.
According to the new survey, the 40 percent of Americans who want the food stamps budget decreased were outnumbered by the combined 48 percent who said spending on food stamps should either be increased (24 percent) or kept the same (24 percent).
The poll showed more division, along with less certainty, over cutting farm subsidies, which are paired with food stamps legislatively in a classic Washington agreement designed to ensure rural and urban lawmakers both get something they want.
Thirty-six percent of poll respondents said that spending on those subsidies should be decreased, while a combined 34 percent said they should be increased (14 percent) or kept the same (20 percent). Another 29 percent said they weren't sure, compared with only 12 percent who said they weren't sure about food stamps spending.
Republicans in the poll were the most likely to say they thought spending on each program should be decreased. Forty-four percent of Republicans said they wanted to decrease spending on farm subsidies (30 percent want them increased or kept the same), while 73 percent said spending for food stamps should be cut (21 percent would increase it or keep it the same).
Among Democrats, 36 percent would increase funding for food stamps, 35 percent would keep the same level of funding, and 19 percent would decrease funding. A plurality of Democrats also would either increase farm subsidy funding or keep it the same.
Independents were more likely to want to increase spending or keep it the same for food stamps rather than cut the program (46 percent to 38 percent), but preferred to cut farm subsidy spending (39 percent to 31 percent).
Twenty-one percent of respondents said that they personally or someone in their household had received food stamps at some point in the last five years. Among people who said someone in their household recently received food stamps, only 17 percent favor cutting spending on the program, while 23 percent want to keep it the same and 50 percent want to increase it.
The 47 million current SNAP beneficiaries represent about 15 percent of the population. Congress has said that's too high a share. Farm legislation passed by the Democratic-controlled Senate Agriculture Committee would save $4 billion over 10 years. Legislation passed by the Republican-controlled House Agriculture Committee would save $20 billion, or roughly 3 percent of the program's cost. Nearly 2 million fewer Americans would receive benefits.
Both measures would mostly eliminate $5 billion in annual direct payments to farmers and increase spending on subsidies that help farmers buy crop insurance. Several members of Congress have received millions in aid, according to Agriculture Department data analyzed by the Environmental Working Group.
Other polls have found varying levels of support for making cuts to food stamps, although those polls sometimes have not offered an option to increase spending on the program, instead offering smaller reductions as a middle option. A January Kaiser/Harvard/Robert Wood Johnson Foundation poll found that when given the option to make "major reductions, minor reductions, or no reductions" to food stamp spending "to reduce the deficit," 28 percent were willing to make major reductions, 41 percent supported minor reductions, and only 29 percent said they would support no reductions.
The poll was conducted June 4 and June 5 among 1,000 adults using a sample selected from YouGov's opt-in online panel to match the demographics and other characteristics of the adult U.S. population. Factors considered include age, race, gender, education, employment, income, marital status, number of children, voter registration, time and location of Internet access, interest in politics, religion and church attendance.
The Huffington Post has teamed up with YouGov to conduct daily opinion polls. You can learn more about this project and take part in YouGov's nationally representative opinion polling.
Before You Go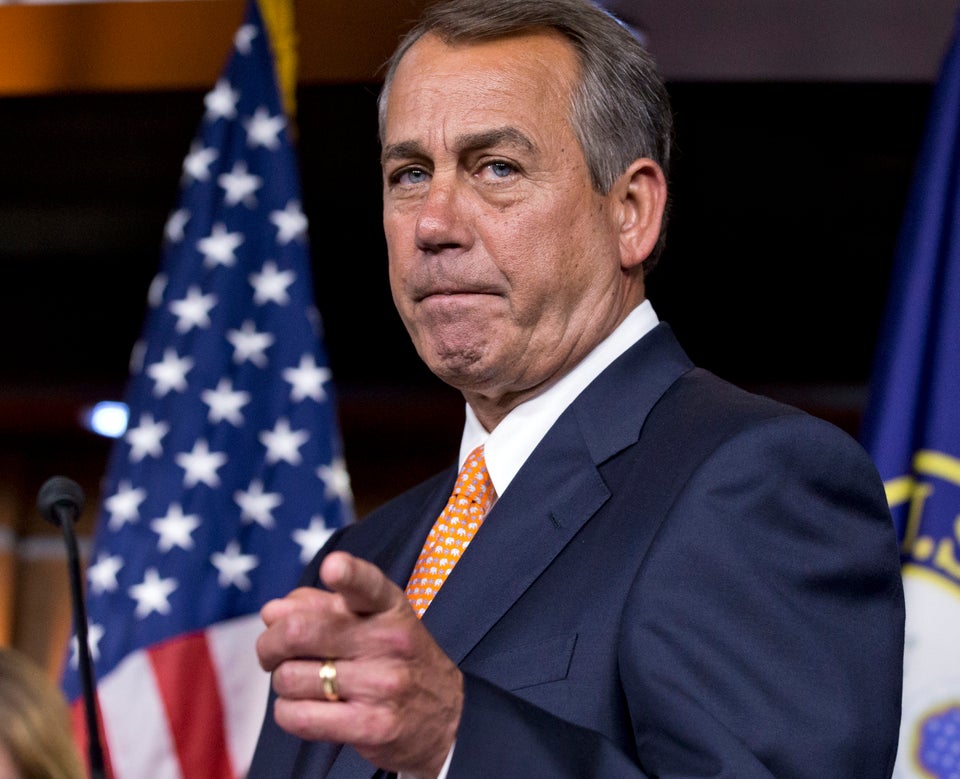 Conservatives Pointing Fingers
Popular in the Community