WASHINGTON ― Usually, when the FBI arrests a terrorist and the Justice Department charges them, it's a big deal. Combatting terrorism is one of the Justice Department's top priorities, and terror cases are a great way for federal prosecutors and agents to make names and build careers. The press and the public are very interested. Officials will typically blast out a press release, and, if it's a big takedown, might even hold a press conference.
The Justice Department didn't do any of that when federal prosecutors unsealed terrorism charges last week against Taylor Michael Wilson. The 26-year-old white supremacist from St. Charles, Missouri, allegedly breached a secure area of an Amtrak train on Oct. 22 while armed with a gun and plenty of backup ammunition. He set off the emergency brake, sending passengers lunging as the train cars went "completely black."
The attempted terrorist attack took place aboard an Amtrak train that started off in California and was making its way through a part of Nebraska so remote that it took an hour for the nearest deputy to arrive on the scene. Wilson was found in the second engine of the train, "playing with the controls," according to the FBI affidavit.
As passengers waited in dark train cars that smelled of burning rubber, Amtrak workers kept the man pinned down. "I'm the conductor, bitch," Wilson allegedly said to Amtrak personnel while subdued. They say Wilson had tried to reach for his front waistband, where he was storing a fully loaded handgun.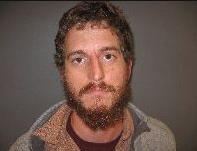 The incident received little national coverage at the time, perhaps in large part because law enforcement officials didn't initially treat it as a terrorism case. A subsequent FBI investigation, however, painted a disturbing portrait of an individual who escalated his radical activity in recent years as he built up a massive gun stash, even hiding weapons and extremist propaganda in a secret compartment behind his refrigerator.
In a court affidavit, the FBI agent who investigated the attempted terrorist attack said he'd learned that Wilson traveled with an "alt-right Neo Nazi group" to the deadly "Unite the Right" rally in Charlottesville in August; may have helped vandalize restaurants with "whites only" stickers; pointed a gun at a black woman during a road rage incident; and spoke of "killing black people" during recent protests against police violence in St. Louis.
But even when the federal terrorism charges were unsealed against Wilson last week, the case didn't get a ton of national pickup. One key reason: The Justice Department didn't tell anyone.
There was no press release on the case out of Justice Department headquarters in Washington, nor from the U.S. Attorney's Office in Nebraska. The reporter who broke the story of the terrorism charges on Thursday evening, Lori Pilger of the Lincoln Journal Star, told HuffPost that she spotted the unsealed case when checking the federal court docket online.
On its face, the lack of attention the Wilson case received from Attorney General Jeff Sessions' Justice Department could read as a brazen political decision by Trump administration officials to obscure a terrorism case that doesn't fit into their broader agenda. Why would they want to highlight a terrorism charge against an alleged neo-Nazi who attended a violent alt-right event that President Donald Trump insisted included "very fine people"?
But the lack of attention the Wilson case has received actually reflects the priorities embedded in a system built up by U.S. lawmakers and law enforcement officials over the years: a U.S. criminal code and federal law enforcement apparatus that treats domestic terrorism as a second-class threat.
Many in the law enforcement community acknowledge that's a problem.
"This type of a crime certainly, from a perspective of seriousness and the potential for injuring or even killing large numbers of people, is very much on par with other terrorism crimes that we've seen in the United States and elsewhere which are motivated by the Islamist extremist ideologies such as that promoted by ISIS," Mary McCord, a Justice Department veteran who headed DOJ's National Security Division until last spring, told HuffPost.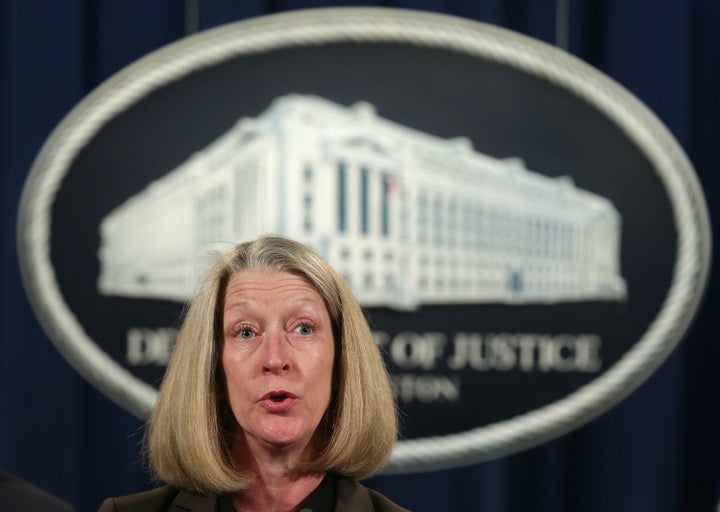 "If this alleged crime had been committed by someone who at the time of arrest or elsewhere said that he was pledging Bay'ah [allegiance] to [ISIS leader Abu Bakr al] Baghdadi or doing this for reasons motivated by ISIS, or al Qaeda, or some other Islamist extremist organization, that would be considered an international terrorist offense," McCord said. That would mean the National Security Division would've been closely involved. There would have been a national press release.
Because it was considered a domestic terrorism case, the Wilson investigation apparently was hardly a blip on the National Security Division's radar. Attorneys at DOJ headquarters in Washington typically play a minimal role in domestic terrorist investigations, and court filings in the case against Wilson don't indicate any involvement from the National Security Division. A spokesman for the U.S. Attorney's Office for the District of Nebraska told HuffPost the case was handled "solely" by federal prosecutors in Nebraska.
The spokesman, Joe Jeanette, had a simple answer for why his office didn't send out a press release: the criminal chief, who normally sends out information on new cases, was off at the time the Wilson case was unsealed.
McCord doesn't think that the lack of a press release alone indicated that anyone in the U.S. Attorney's Office was not taking the crime seriously, and said the affidavit showed that the FBI got involved in the case pretty quickly and did the work they needed to do. But broadly speaking, she worries that the Justice Department isn't putting the same sort of institutional emphasis on domestic terrorism cases as they do with terrorism cases involving Islamic extremists.
"I think that domestic terrorism should be put on the same moral plane as international terrorism," McCord said. "When the reason for a crime of violence is in order to influence a civilian population, or influence actions of the government ... it certainly has the same level of seriousness and should be taken just as seriously as international terrorism."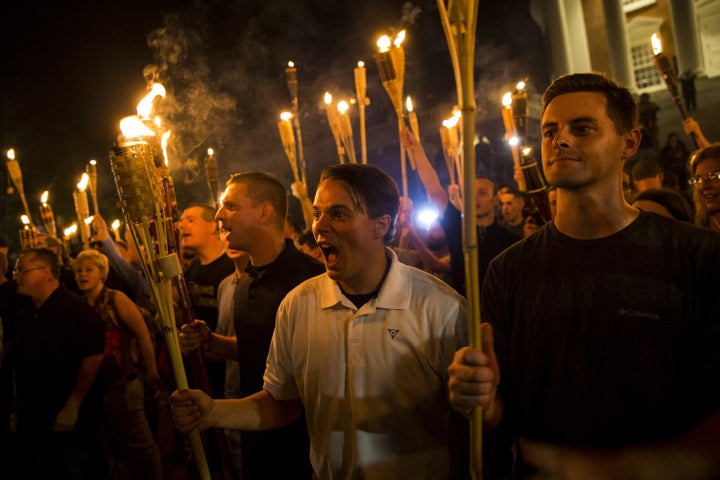 A close review of how the Wilson case unfolded indicates that, at virtually every step along the way, the investigation into the 26-year-old was handled differently than it would have been if authorities had any suspicion Wilson was inspired by any foreign terrorist organization, like the self-described Islamic State.
At the time of Wilson's arrest, local authorities took a full day to inform the FBI, indicating they likely did not consider the incident a terrorist event at first. Wilson was found carrying business cards for the National Socialist Movement (America's neo-Nazi party) and the Covenant Nation Church of the Lord Jesus Christ, which is based on the belief that "White people are part of the Lost Ten Tribes of Israel." He was charged only with felony criminal mischief and use of a deadly weapon to commit a felony on the local level. There were questions about his mental health, but Wilson was deemed competent to proceed.
Remarkably, Wilson was released by local authorities on a partially secured bond on Dec. 11. By the time of his release, the FBI was aware of Wilson's extremist views, his involvement in two potential hate crimes, and his extensive weapons cache. But they hadn't yet obtained or executed a search warrant on his home. Wilson spent nearly two weeks out of custody until he was eventually arrested by federal authorities on Dec. 23, several days after federal agents executed their search warrant on an apartment he shared with his cousin.
In international terrorism investigations, federal agents often zero in on what friends and family members knew about a suspect's path of radicalization. Wilson's family, according to an affidavit from the FBI agent Monte Czaplewski, evidently knew a lot. His cousin, who cooperated with authorities, said Wilson had joined a neo-Nazi group he'd found online; traveled to Charlottesville with a shield and bulletproof vest; built up a weapons stash of more than 20 guns; and expressed an "interest in 'killing black people' and other people of color, especially during the protests in St. Louis." The cousin believed Wilson was "serious about killing black people."
Wilson's parents, Michael D. Wilson and Ann S. Wilson, may have misled investigators about their son. They allegedly told agents that they didn't know where Wilson resided, only that he lived "in an apartment somewhere" in the St. Louis region, even though he lived in a residence owned by Wilson's mother. They claimed they never heard of the National Socialist Movement and that they never knew their son to be involved with white supremacists, but both parents refused to "discuss any discussions they had with Taylor Wilson regarding race relations."
Later, when agents were executing their search warrant on Wilson's home, his father Michael showed up. The FBI affidavit said it was "evident" that he "had knowledge of both the existence and location" of Wilson's firearms, and gave 15 guns to FBI agents after he consulted with his attorney. One of the weapons was fully automatic, while another was converted to a short rifle, both potential violations of the law.
Many Americans are surprised to learn that the U.S. lacks a domestic terrorism statute that broadly outlaws and attaches criminal penalties to acts of violence committed for a political cause. The only reason a federal terrorism charge was even available against Wilson is because of his particular target: Attacks on trains are explicitly outlawed and labeled as terrorism in federal law. Other statutes spell out specific criminal acts of terrorism like hijacking an airplane, setting off certain bombs or killing government officials. But while the U.S. code defines domestic terrorism, there's no federal law that outlaws all types of politically motivated violence.
The lack of a domestic terrorism statute has long frustrated some federal officials. After Dylann Roof murdered nine churchgoers in Charleston in 2015, former Attorney General Eric Holder pointed out the double standard in an interview with HuffPost.
"With a different set of circumstances, and if you had dialed in religion there, Islam, that would be called an act of terror," he said. Other federal officials, like former FBI Director James Comey, danced around using the word terrorism in cases like the Charleston church massacre because it didn't fit any explicit federal terrorism statute.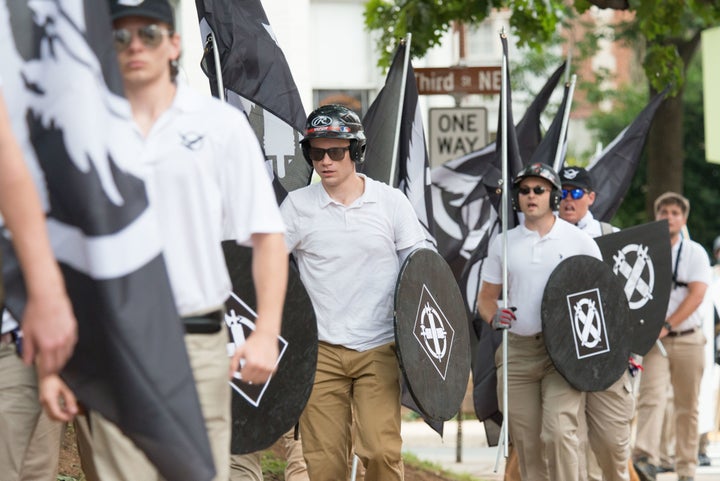 While there's no indication that politics explicitly played a role in the lack of a press release in the Wilson case, it certainly doesn't fit the mold of the type of prosecution that Sessions and his Justice Department would seek to promote.
Under Trump, DOJ press releases have placed a big emphasis on immigration: there's been a big spike in press releases that use the term "alien," lots of releases about "sanctuary cities," and headlines about the "return to the rule of law." Sessions, The Washington Post reported in November, also takes a keen interest in the lineage of terror suspects during briefings with Justice Department officials, even when they tell the attorney general that a suspect is a U.S. citizen. Some DOJ officials think that indicates Sessions' "innate suspicion about people from certain ethnic and religious backgrounds," the Post reported.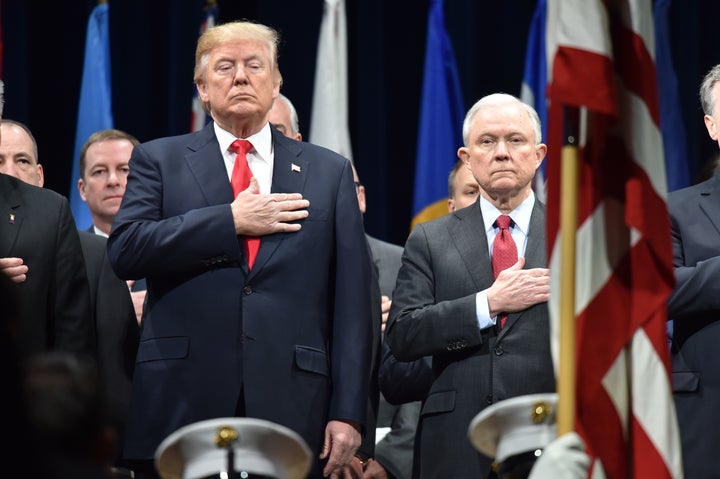 Reading the affidavit, even Wilson appears to have been surprised by the way his case was handled, and how little attention the attack received when it first happened.
In a jail phone call shortly after his arrest, Wilson seemed surprised that the media account of the incident that his mother recounted didn't have much detail, only saying that a man with a gun pushed the emergency button of the train.
"That's it?" he asked. His mother admonished him, reminding him the call was being recorded.
Ryan Reilly is HuffPost's senior justice reporter, covering criminal justice, federal law enforcement and legal affairs. Have a tip? Reach him at ryan.reilly@huffpost.com or on Signal at (202) 527-9261.
Support HuffPost
The Stakes Have Never Been Higher
Popular in the Community