WASHINGTON ― Despite unresolved allegations that he ignored sexual abuse when he was a coach at Ohio State University, Rep. Jim Jordan officially announced his intention to run for House speaker on Thursday.
In a two-page "Dear Colleague" letter to fellow members of Congress, the Ohio Republican criticized the current GOP leadership as weak and undisciplined while ignoring his own ongoing scandal involving his time as an Ohio State wrestling coach. Some former players say he and other university officials did not do enough to stop a team doctor who is accused of sexually abusing hundreds of athletes.
Jordan has cast those allegations as a partisan witch hunt, noting that CNN has contacted more than 100 former staff and interns looking for information. "How can you ever trust such #fakenews?" Jordan tweeted, referring to the network's reporting.
But with the scandal dying down more recently, Jordan seems to feel his chances of being speaker in the 116th Congress are not shot, even though the hard-right Republican would find it extremely difficult to get the required majority on the House floor.
On top of the Ohio State sex abuse scandal, the former Freedom Caucus chairman has been in the news recently for his efforts ― along with 10 other conservatives ― to impeach Department of Justice Deputy Attorney General Rod Rosenstein. Jordan's antagonistic instincts have given him quite the divisive reputation in Congress, with some Republicans loving the personally affable six-term congressman and some more moderate Republicans finding him unbearable.
In November 2016, voters resoundingly rejected the status quo in Washington by electing an out-of-the-box Republican to drain the swamp and change how this town works.

Rep. Jim Jordan
Jordan was one of the harshest critics of the 2012 attack in Benghazi, Libya, even offering his own report with fellow Benghazi committee member (and now Secretary of State) Mike Pompeo ― after both felt other Republicans on the committee were too favorable to then-Secretary of State Hillary Clinton. Jordan has more recently taken to criticizing special counsel Robert Mueller's investigation into Russian interference in the 2016 election and questioning the FBI's basis for investigating the Trump campaign.
While the ardently religious Jordan wasn't a natural ally of Donald Trump, he has fallen in line with the president. His campaign for speaker seems to rely heavily on Republicans learning the lessons of Trump.
"In November 2016, voters resoundingly rejected the status quo in Washington by electing an out-of-the-box Republican to drain the swamp and change how this town works," Jordan wrote, neglecting to mention that Trump lost the popular vote by 2.8 million ballots.
"So far, President Trump has made them proud," Jordan continued, also apparently forgetting about the massive amounts of grift in Trump's Cabinet and the fact that really no aspect of Washington has changed. 
Leaving aside the alternate reality where voters "resoundingly" elected Trump and the president has made government more ethical, Jordan noted many believe Congress has let them down. "You may feel differently, but I believe we have given the American people reason to question our commitment to reform," he wrote.
Jordan claimed Republicans were on the verge of winning a spending battle on the omnibus appropriations bill earlier this year, but Republicans "didn't even have that debate."
"We simply forfeited and did what the swamp always does: We gave more money to everything," he said.
That part is true. Republicans and Democrats approved massive spending increases earlier this year, with Trump signaling reluctance but not opposition to the new money. (Jordan voted against the omnibus deal.)
Jordan asked his colleagues in the letter: If Republicans couldn't show the discipline to hold the line on nondefense spending, how could they have the courage to fight to reduce spending on Medicare, Social Security and other entitlements?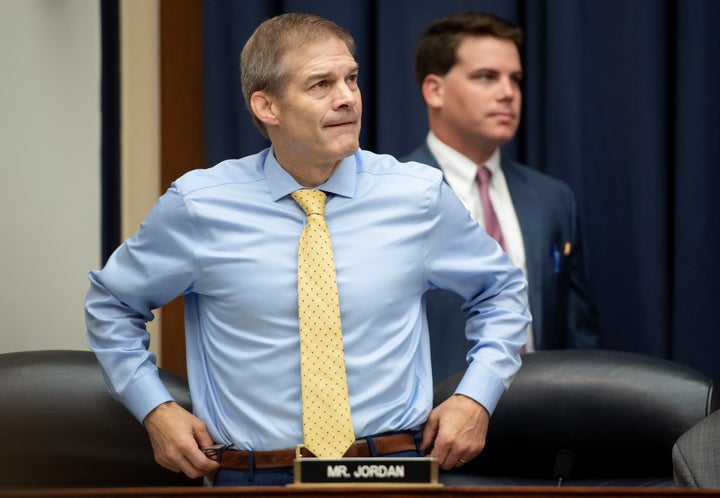 Jordan then implored Republicans to test some ideas with their constituents during the House's August break: actually repealing Obamacare, passing "across-the-board welfare reform that requires able-bodied adults to work in order to get benefits," building a wall along the southern border, making the 2017 tax cuts permanent, ending taxpayer funding for Planned Parenthood, and enacting spending cuts to avoid a $1 trillion deficit.
While those ideas are red meat for most conservatives, the suggestions are sure to make more moderate Republicans squirm, particularly those in tough re-election races.
But in Jordan's telling, if Republicans accomplished those tasks between now and November, "voters would be inspired to give us a chance to run this place again."
Jordan also suggested that, when members return from August recess, Republicans should discuss changing how Congress operates, presumably referring to procedural reforms he and the Freedom Caucus used to champion, like more open floor procedures to allow for more votes on bills and amendments. Jordan also mentioned a "complete shake-up" of how committee chairmen are selected.
That idea will likely excite some Republicans but draw opposition from a lot of other members.
Still, Jordan noted that, if voters keep Republicans in the majority for the next Congress, the message will be to continue working with Trump and to keep the promises they've made.
If voters don't send Republicans back with another majority, of course, the message may be different, but instead of drawing a different lesson, Jordan may just run for minority leader and hope that he can win a simple majority of Republicans behind closed doors ― or, at least, hold a bloc of votes that will allow the Freedom Caucus to negotiate for more sway in the conference.
This story has been updated with more details from Jordan's letter.
REAL LIFE. REAL NEWS. REAL VOICES.
Help us tell more of the stories that matter from voices that too often remain unheard.