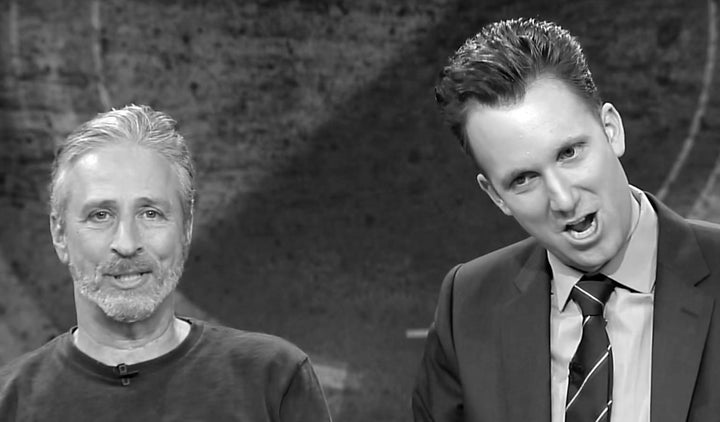 When Jordan Klepper made his first appearance as a correspondent on Jon Stewart's "The Daily Show" in 2014, he spent the moments before taping "trying not to vomit."
Klepper told HuffPost he recalled Stewart coming over to him and saying "something to the effect of, 'Don't fuck this up.'"
He didn't vomit. But after completing his segment, Klepper wanted to live in the moment a bit longer.
Full of energy, he asked whether he could do something unconventional by going into the audience to watch the rest of the taping. A member of "The Daily Show" staff replied, "Uhhh, yeah, I guess," before ushering him to a seat where he could live in the initial high for a few more minutes.
To the comedian's relief, Stewart complimented him following the performance. After trying to break into the industry for a dozen or so years, Klepper had finally earned his big break and solidified his role as a correspondent on the hit Comedy Central show.
"But I still retained the essence, and each time I went out there, I knew it was my job to not fuck it up," Klepper told HuffPost.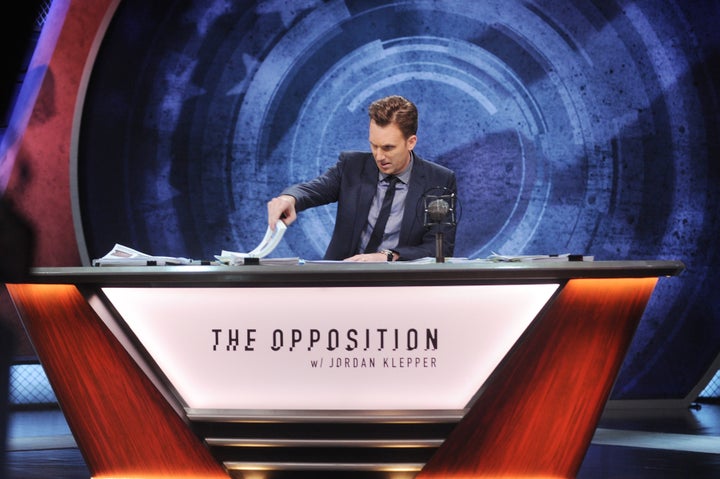 Klepper now has his own show, "The Opposition," which debuted on Comedy Central in September and airs weeknights at 11:30 p.m. EST. The series follows Trevor Noah's "The Daily Show" in the time slot previously occupied by Larry Wilmore's "The Nightly Show" and Stephen Colbert's "The Colbert Report."
"The Opposition" is a clear extension of ideas from Colbert's hit. Like the comedian before him, Klepper plays a parody of an ultra-conservative talking head who chimes in on current events, lampooning right-wing viewpoints by fully embracing them.
With Donald Trump committing various morally bankrupt and increasingly ... screwball actions as president, television is in need of a grotesque brand of satire that will capture the right level of absurdity for viewers. In theory, "The Opposition" should fit the bill: Klepper's character aims to mirror the hatred and incredulity playing out in politics as well as in the newly ascendant conservative media of Breitbart and Infowars.
In creating the character, Klepper and his team decided "that trolling culture is something we could embody and embrace."
But "The Opposition" is still figuring out how to fulfill that goal in a way that resonates with viewers. Its ratings started decently, but have dipped as the show nears its fourth month on-air.
Significantly fewer viewers have tuned into "The Opposition" than Wilmore's 2015 show, which was canceled after two years. Clips haven't garnered as much traction on YouTube compared with other Comedy Central shows. Critics have remained mostly mixed on the program. Still, this worthy experiment shouldn't be counted out just yet.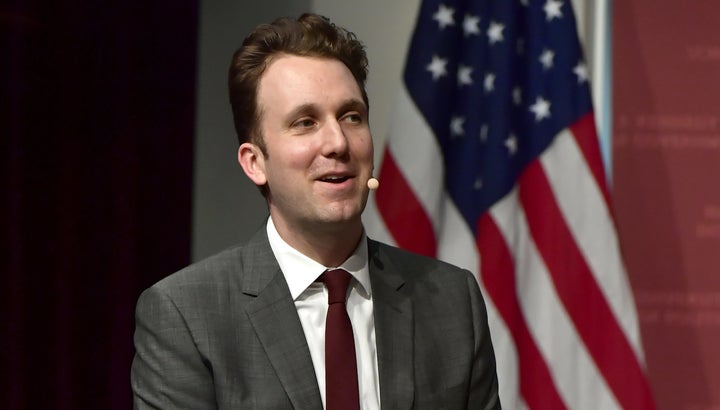 Comedy is practically in Klepper's blood. He become interested in it at an early age, spending time with his mother's cousin, comedian Tim Allen.
"Growing up I would see him [Allen] once a year at Thanksgiving and it was fun to watch him start to find fame and get on television," Klepper said, noting how his sister would tape every episode of Allen's show, "Home Improvement." "It was really exciting to see someone that you knew, someone who's a family member, find success."
Klepper eventually joined an improv group as a student at Kalamazoo College in Michigan and became a "comedy junkie." After graduating in 2001, he started teaching improv classes and would continue to do so for years, imparting the wisdom of "yes, and" ― an improvisational rule where participants go along with whatever idea is suggested and expand on that line of thinking.
Being close to Allen's success while growing up helped boost Klepper's confidence about his chances to essentially say "yes, and" for years as he tried to find his own role in the industry, spending time at Chicago's The Second City and the Upright Citizens Brigade in New York. Klepper hosted numerous live comedy events in the style of late-night talk shows before ultimately finding television success with "The Daily Show."
It's more important to take a strong stance against something, even if you don't know what you're standing for.
He still worried if he'd ever get his break. "I spent a good 10, 15 years questioning that, but I was lucky enough to find some real fortunate breaks along the way," Klepper said.
"The Opposition," this latest break, has been full of unexpected decisions to be made. Small choices, like picking the behind-the-scenes songs that play over the studio speakers have made Klepper giddy.
"I probably spent an entire day going through the playlist that I wanted to play during when the audience comes in," Klepper said. He chose LCD Soundsystem's "Us Vs Them" as a go-to song that plays right before the taping starts.
"You can read into that title or not," Klepper said, laughing.
He's run into challenges while getting this show off the ground outside of creative decisions. For those, he's turned to Stewart for help a few times.
"I was like, 'Oh shit, Jon, can I have a really boring hiring conversation?'" Klepper said. The two had breakfast when Klepper was first outlining his show and Stewart has continued to be a mentor since.
"The idea of a satirical news show that can appear every day, that [was] something only Jon Stewart was doing a handful of years ago, and now it's become almost a genre onto itself," Klepper said. "For me, he was such a great and inspiring boss and had a workplace that I wanted to be at every day. I was like, 'I want to create that, can you help me with that?'"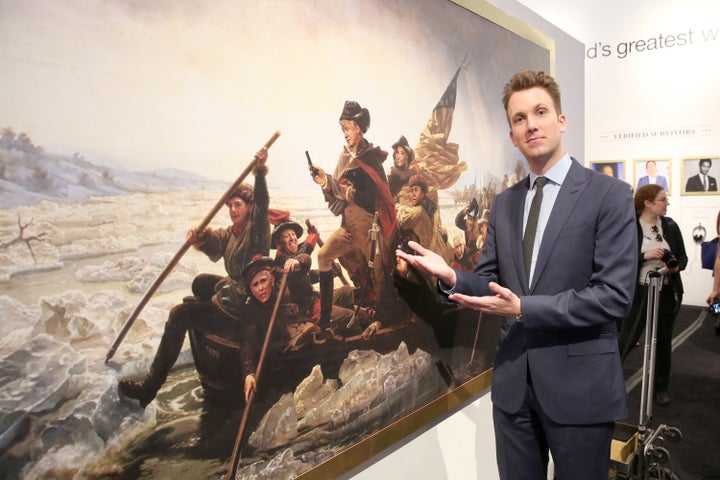 "The Opposition" is similar to "The Daily Show" as they both attempt to attack "bullshit," a word Klepper and Stewart have used repeatedly to describe the theoretical enemy of their respective shows. Stewart closed out his run on "The Daily Show" with a speech about how "bullshit is everywhere," and advocated that viewers should try to call it out: If they "smell something," he said, they should "say something."
"You see where you can take that nugget of shit ― this is getting to be a pretty gross metaphor right now," he said, before continuing: "We take that nugget that we actually see out there and I think we get to show [it], we get to heighten."
This attack on bullshit is essentially done by amplifying the absurdity of views the shows find abhorrent for comedic effect.
"Let's take what is happening today, and let's find a way to comment on it and embody it and heighten whatever is ridiculous," Klepper said.
Klepper said "The Opposition" specifically parodies a rising ethos that "it's more important to take a strong stance against something, even if you don't know what you're standing for ― at least you're getting a reaction."
As such, the show is against being against things, by embodying the spirit of being against things. It's so meta that it's hard to even talk about. This premise for "The Opposition" comedically makes sense when you watch the show, but is hard to describe in a pithy way, say, to a friend.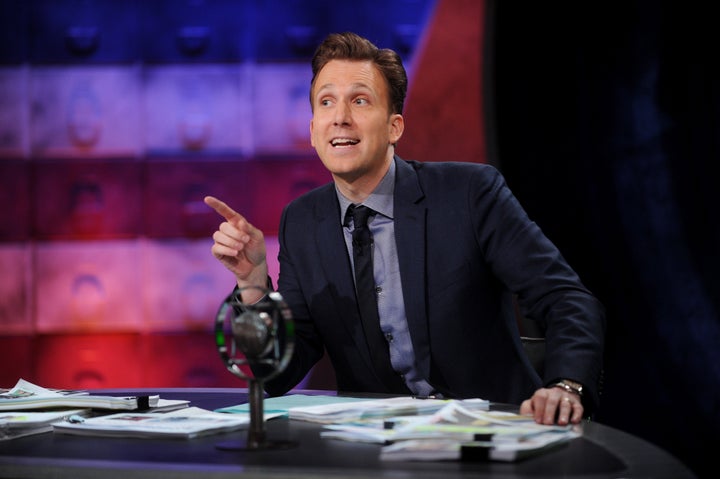 It also doesn't help that Klepper has to compete for attention with so many satirical late-night shows coming from former "Daily Show" correspondents. Noah, Colbert, Samantha Bee and John Oliver all have successful shows at the moment bolstered by the hosts' political takes.
Still, Klepper has an advantage with his choice to play a character instead of acting as himself. The seemingly circus-like nature of political discourse today needs an equally outsized persona to meet it.
Perhaps this is a moment for a Howard Beale type inspired by the anchorman from the 1976 satirical movie "Network."
After losing his mind, Beale (played by Peter Finch) starts calling out the bullshit of society from his anchor desk, memorably telling his millions of viewers to open their windows, stick their heads out and scream, "I'm as mad as hell, and I'm not going to take this anymore!"
It's a persona Klepper flirts with, but has yet to quite achieve on "The Opposition."
"I'm not the news. I'm somebody who's going to look at the news, have an opinion on that news and convey it with that opinion," Klepper said. "I think for a lot of people, that's refreshing, because you can see the commentary and don't have to be sold the bullshit that's not editorialized."
Klepper is clearly mad. He should get madder.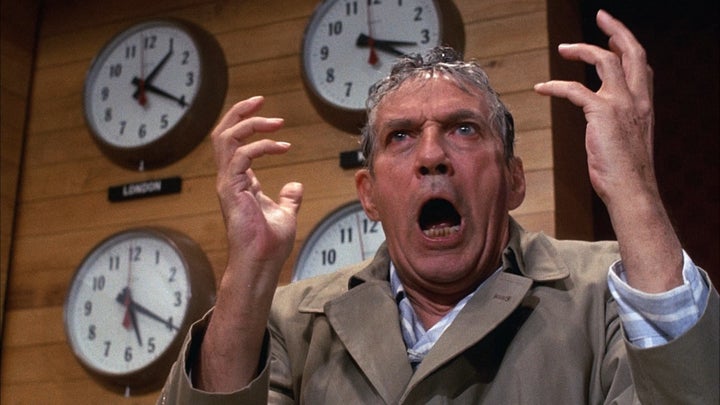 If "Daily Show" levels of success seem like a gargantuan obstacle for the still-new "Opposition," Klepper's experience on the former should only help. He's been able to overcome hurdles before.
"I remember that first day on 'The Daily Show' so vividly," he said. "I showed up that day and basically went right into a meeting about Crimea, there was movement in Crimea."
"I found myself in a meeting with Jon Stewart where he was discussing the day's news stories and at that point I was like, 'I don't even know where this is on a map, let alone what I can add to this conversation,'" Klepper added, "and then quickly found myself writing a chat about it, working with the writers about it. [That's] kind of how 'The Daily Show' works. You just are thrown in and you just start moving. And you start figuring it out and you're surrounded by a lot of supportive, smart people."
"The Opposition" is a well-designed machine with a great conductor who hasn't captured wide appeal just yet. It's still early, though. Its host is an immensely talented satirical anchor, and the show's premise has heaps of potential to succeed in this era. 
It's not quite time to celebrate yet. For now, the host will just have to keep working hard, just as he did with his last big break.
"I've gone to some 'SNL' parties where you do the show and then everybody goes out and has giant parties with Paul McCartney at huge New York clubs," he said. "I'm leaving 'The Daily Show' and am like, 'So, wh-wh-what do we do? Are we going out for drinks?' And they started turning off the lights. They were like, 'No, you go home and you read the news and you do this again tomorrow.'" 
REAL LIFE. REAL NEWS. REAL VOICES.
Help us tell more of the stories that matter from voices that too often remain unheard.