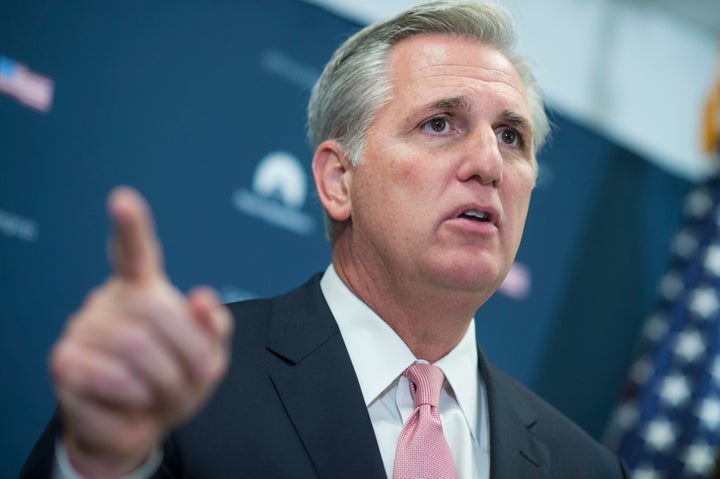 WASHINGTON ― House Majority Leader Kevin McCarthy (R-Calif.) suggested on Monday that more people would have health insurance once Republicans repeal Obamacare ― and that Congress would be able to retain popular provisions requiring companies to insure people with pre-existing conditions.
Asked how Republicans could be confident premiums wouldn't skyrocket if they repealed the 2010 Affordable Care Act, McCarthy told reporters it came down to a "philosophical difference of belief."
"We believe with more people into the market, you get greater choice and that the demand is higher," he said. "You allow those that can't afford it to enter the same market where they have more options, that the price will go down."
Of course, there's a similar concept animating Obamacare. The general idea is that by requiring people to get health insurance, more people ― including healthy people ― will sign up for benefits, thus lowering the overall cost for everyone.
It's impossible to precisely gauge what effect a GOP health care reform package might have on the cost of health insurance or the number of people covered, because there currently is no plan beyond a broad, vague outline House Speaker Paul Ryan (R-Wis.) unveiled earlier this year. President-elect Donald Trump's positions on the issue have veered from vowing universal coverage to aligning himself with the more limited vision espoused by mainstream Republicans.
The national uninsured rate is currently at an all-time low, below 10 percent, directly as a result of the Affordable Care Act's coverage expansion. The law achieved this by providing financial assistance to low- and moderate-income households, by guaranteeing that health insurers had to cover any willing customer regardless of pre-existing conditions and by instituting a mandate that most people obtain adequate health coverage or pay a tax penalty if they don't. 
Whatever final form a Republican health care proposal may take, the budgets approved by the GOP Congress in recent years and proposals ― including Ryan's and legislation authored by Rep. Tom Price (R-Ga.), who is Trump's pick to be secretary of Health and Human Services ― offer a rough roadmap that illustrates their overarching principles.
The Obamacare "replacement" will almost certainly spend less money helping poorer people obtain coverage, weaken the promise of coverage for people with pre-existing conditions because it would lock out individuals who become uninsured at any point, and employ a less stringent approach than the individual mandate to induce healthier people into the insurance pool so their premiums offset the expenses of those with costly medical problems.
It would be unprecedented in health policy and in health care markets to somehow cover more people than the current system without providing financial assistance that's at least as generous, an ironclad guarantee of coverage for people regardless of their medical histories and a strong mechanism to encourage healthier consumers' enrollment.
Claims like McCarthy's seemed based on the notion that by deregulating health insurance markets, healthy consumers would have access to skimpier coverage that would be cheaper than the plans on the Obamacare health insurance exchanges. And while this segment of the market ― which Obamacare has struggled to reach ― may benefit from lower premiums, people in it would face higher potential out-of-pocket costs for services that aren't covered by the less-regulated plans.
Meanwhile, those who are older or sicker would face higher premiums and could be denied access to coverage if insurers were permitted to raise their rates based on age and pre-existing conditions ― something GOP proposals typically advocate.
Much of this is speculation because Republicans haven't been clear about the details of their alternative, but it's clear they plan to do something.
"We've taken the approach of Obamacare," McCarthy said, adding that Democrats said premiums would go down and "found that that's not true." 
The sticker prices for health insurance for healthier and wealthier people who don't get benefits from an employer are generally higher than they were before the Affordable Care Act became law for several key reasons. The law requires insurers to cover benefits like prescription drugs and maternity care that frequently weren't covered before. Banning discrimination against people with pre-existing conditions also opened up the insurance market to those with the greatest medical needs and highest costs. 
But the Affordable Care Act's subsidies for monthly premiums and out-of-pocket costs can significantly reduce what low- and middle-income Obamacare enrollees pay. And Republican proposals typically offer much less generous financial assistance for health insurance costs, if they offer any at all.
As for when Republicans' changes would take effect, McCarthy said there would probably be a delay to implement the repeal of Obamacare, creating a crisis Republicans think Democrats will help them solve. But it's just as likely Democrats won't do that and will instead insist that Republicans bring the law back, as recent comments from some Democratic lawmakers illustrate.
That sort of impasse could create an greater crisis in which insurance companies offer more expensive plans and healthy people therefore forego coverage. It could even convince insurers to exit the health insurance exchanges entirely to avoid the risk of participating in a struggling marketplace on track to being eliminated.
One reporter asked McCarthy how Republicans could avoid raising prices while keeping popular provisions that Trump says he wants to preserve ― like ensuring health insurance access for people with pre-existing conditions and allowing young adults to stay on their parents' insurance until they're 26. While McCarthy didn't vow that Republicans would actually keep those provisions intact, he seemed to think removing the individual mandate wouldn't devastate the law.
Asked how, without the mandate, Republicans would prevent people from only getting health insurance once they got sick, McCarthy said, "Wait to see what we draft."
In other words, he thinks Republicans need to repeal the law before anyone can find out what they'll replace it with.
REAL LIFE. REAL NEWS. REAL VOICES.
Help us tell more of the stories that matter from voices that too often remain unheard.
BEFORE YOU GO