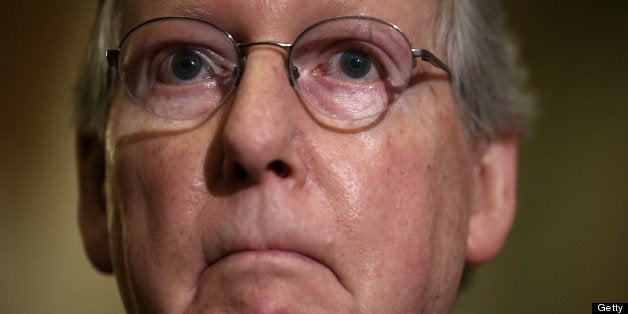 WASHINGTON -- The Senate is locked in a filibuster fight that GOP leaders claim could ultimately destroy the chamber. At the center of this showdown sit President Barack Obama's nominees to the National Labor Relations Board, the five-member body that enforces labor law on businesses and their workers. Democrats are demanding Republicans pledge not to filibuster the president's picks for the panel, which will not have enough board members to function in August if the stalemate isn't broken.
Given the choice between what they say will destroy the Senate or allowing the president's nominees to serve on the labor board, the GOP isn't budging. But they do have a counteroffer.
Republicans said they won't negotiate on two of Obama's nominees, both Democrats already serving on the board, because their recess appointments have been ruled unconstitutional by a federal appeals court, and they didn't resign when Republicans demanded them to. But a spokesman for Senate Minority Leader Mitch McConnell (R-Ky.) said Republicans are willing to move on Obama's three other nominees -- two Republicans and one Democrat -- in order to keep the board at a quorum.
There's just one small catch. If Democrats were to accept this GOP proposal, the labor board may be comprised of a Republican majority within a matter of months, never mind that a Democrat occupies the White House.
"It's almost like the 2012 election never happened," said Bill Samuel, director of government affairs at the AFL-CIO labor federation. "It's not an offer -- it's a charade."
If the Senate confirms Obama's three uncontested nominees, the NLRB would be running at a full five-member capacity, including the two recess appointments that have been called into question. (In accordance with tradition, Obama has nominated three board members from his own party and two from the opposing party.) But with the Supreme Court having agreed to take up the recess appointment case, there's a good chance those two board members -- Sharon Block and Richard Griffin -- will be ruled illegitimate by the high court later this year.
That would drop the board down to three members -- two of them Republicans, one of them a Democrat -- who would issue the sort of decisions applauded by the Chamber of Commerce and decried by labor unions.
Given that less-than-attractive olive branch from Republicans, Senate Majority Leader Harry Reid (D-Nev.) said on "Meet the Press" on Sunday that the minority had left him with little choice but to change Senate rules to fill vacancies.

"We're not doing anything that effects life-time appointments, we're doing nothing that effects legislation," Reid said. "Here's what we're doing: a president, whether it's President Obama, the new President Clinton, or the new Bush, whoever is president should be able to have the people on their team that they want... Changing the rules is like the sky is falling?... The changes we're making are very, very minimal. What we're doing is saying, look, American people, shouldn't President Obama have somebody working for him that he wants?"
According to Democrats, the GOP proposal indicates that Republicans won't allow for a functional NLRB unless they control it.
"Naturally, Block and Griffin could not be struck down if they were simply appointed through the normal process as we are seeking to do," said Reid spokesman Adam Jentleson in an email. "But despite their much-avowed concern for the process by which they were appointed, Republicans are blocking us from appointing them through the normal process."
Don Stewart, a McConnell spokesman, claimed the intransigence belongs to Democrats.
"Remember, we urged the president six months ago to send up new nominees for the two unconstitutional ones," Stewart said in an email. If Democrats would work on the three uncontested nominees, "then we would work with them on a fair hearing for the two new [nominees]. They've refused. They are open to no compromise, no solution. Sorry."
Of course, there's no guarantee that Republicans would confirm the two replacement nominees down the line to insure a Democratic majority. Republicans' main objection to the Block and Griffin nominations seems to be that the two didn't voluntarily step down after the U.S. Court of Appeals for the D.C. Circuit ruled their appointments invalid.
"I call it rule or ruin," said Wilma Liebman, the recent NLRB chair whose rulings made Republicans apoplectic. "It's a way to keep the president from putting his choices in place. It's a constant falling apart of the process, and it would be hard to have trust at this point. ... It's a deterioration of norms and traditions."
As Capitol Hill has grown more partisan in recent years, it's become more difficult for presidents from both parties to make clean appointments to the labor board. According to the NLRB's own record of board members, presidents have increasingly relied on recess appointments simply to keep the board operating and issuing decisions. It's now been a full decade since the board had five clean appointments serving.
During the Obama presidency, Republicans have gone to great lengths to render the board impotent. In addition to stonewalling nominations, they've introduced legislation to defund the board and have held numerous hearings to blast decisions and rules issued by its Democratic majority.
The growing intensity of opposition has baffled many of the board's supporters. Practically speaking, its decisions involve an ever-shrinking share of the U.S. workforce, as union membership continues to drop, now hovering at just 6.6 percent of the private sector.
"They'd be happy to see it go out of business until there's a Republican president and you can go back to a Bush board or something like it," said Julius Getman, a labor law scholar at the University of Texas at Austin School of Law. "The idea of having an agency that's actually protecting the rights of workers has very little appeal to Republicans."
Republican lawmakers and business trade groups have reacted with fury to board decisions that seemed mild to unions, such as a rule that would require businesses to hang posters spelling out worker rights under labor law, much like minimum wage postings. (Echoing his colleagues, Republican Sen. Lindsey Graham of South Carolina declared that an "inoperable" board could be considered "progress.")
Applauded by the U.S. Chamber of Commerce, the appeals court ruling, known as Noel Canning, has been devastating for many workers. HuffPost reported on a group of West Virginia miners who've waited nine years to have their union-busting case with coal giant Massey Energy resolved. Although the board ruled last year that the miners are owed back pay and reinstatement, that decision has been stayed due to Noel Canning, which found that the board didn't have a legitimate quorum when it issued the ruling. Several miners have died while waiting to go back to work.
"For the people affected by it, it's horrible," Getman said of the labor board uncertainty.
In recent weeks, unions have pressured Democratic senators to deploy the so-called "nuclear option" -- a procedural ploy to confirm nominees through a simple up-down vote -- in order to keep the labor board functioning. Sparring with McConnell on Thursday, Reid laid out his threat on the Senate floor, saying either Republicans can confirm the board nominees or watch Reid change Senate rules.
"Because Republicans refuse to accept the law of the land, they have denied the NLRB the ability to safeguard workers' rights and monitor unions," Reid said. "Workers have been illegally terminated. They have no way to appeal. The results of contested union elections? It doesn't matter. Nobody is there to look it over. Labor abuse and unfair labor practices go unchallenged. Yet the Republican leader says there is no problem here; the status quo is just fine."
Samuel, of the AFL-CIO, said the exchange was a rare moment to behold.

"For first time I can remember, there was actually a debate on the Senate floor about the NLRB," Samuel said. "If there's any silver lining here, that's it."
This post has been updated with Reid's comments from Sunday.
Before You Go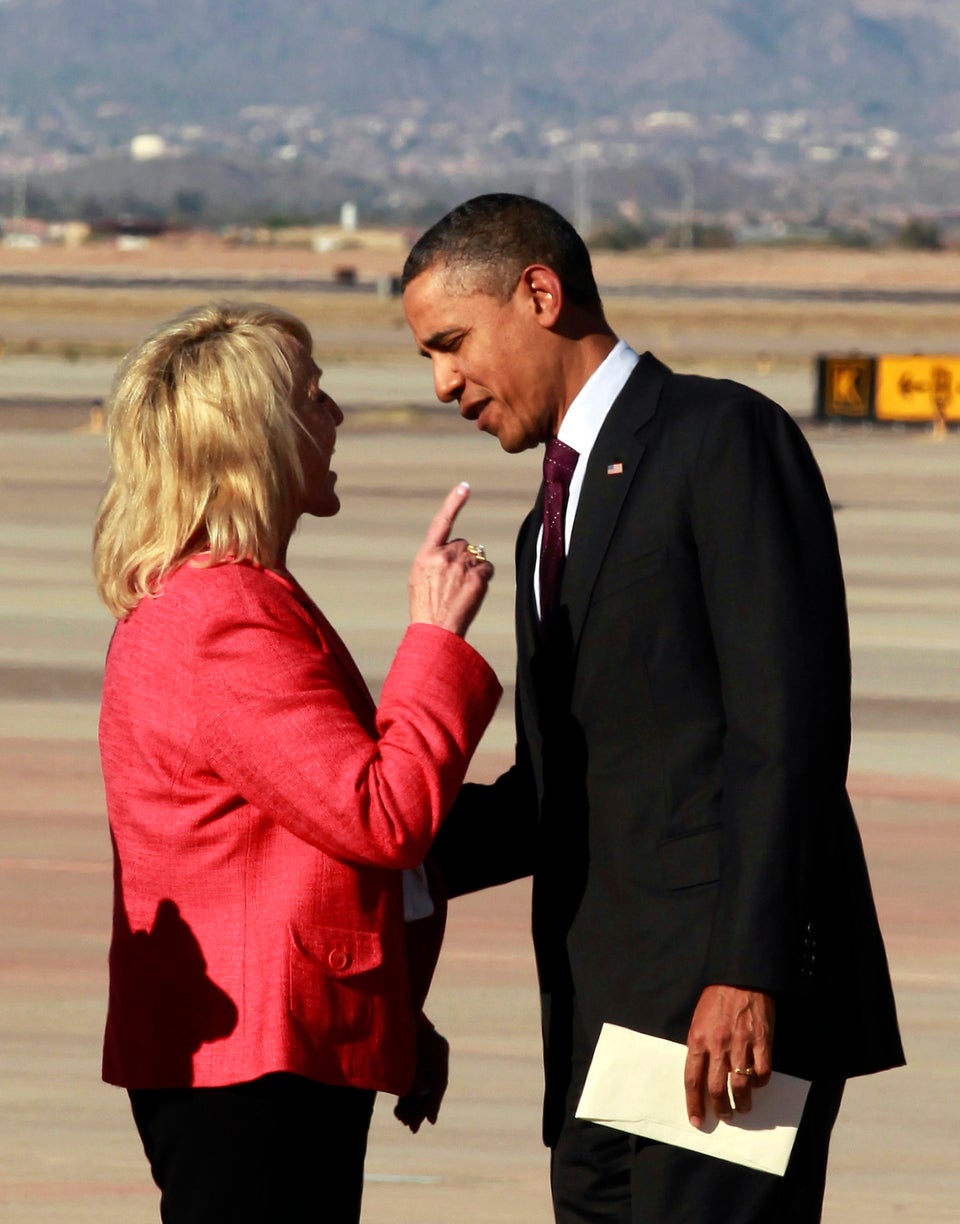 States With The Weakest Unions
Popular in the Community