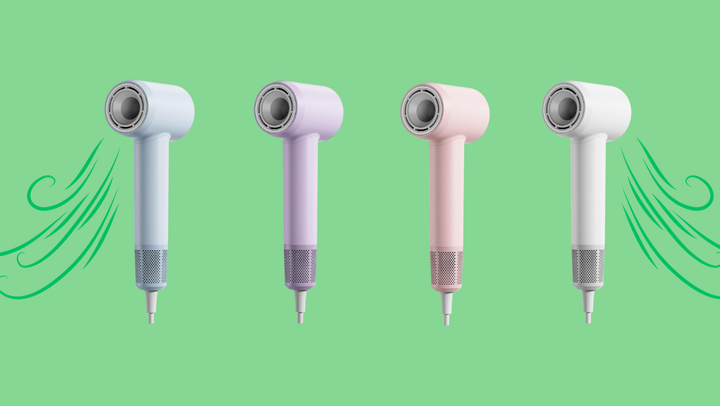 HuffPost may receive a commission from some purchases made via links on this page. Every item is independently curated by the HuffPost Shopping team. Prices and availability are subject to change.
Is there anything creepier than the feeling of wet hair touching your back for hours on end as it slowly air dries? Many people may be fine hopping out of the shower and going about their day, but I find the sensation of wet hair to be supremely uncomfortable. Unfortunately, I also dislike heat styling, both because of how bad it is for my tresses and what an arduous process it can be when you have long hair.
As a result, I'm always looking for ways to reduce styling time, and have long coveted a Dyson Supersonic, a hair dryer known for its fast performance and hair-protecting temperature regulation. Alas, I am unwilling to drop nearly $500 on a hair appliance at this time, despite its reported efficaciousness, and my search for an affordable version of this hair dryer hasn't yielded many results — until now.
It's fairly under the radar, but I couldn't help but be intrigued by the Laifen hair dryer's rave reviews and decided to give it a shot for myself. The results truly shocked me. Not only did this lightweight dyer reduce the length of time it takes to dry my nearly waist-length hair to only about five minutes, it did so without me having to use super high heat. I haven't given the Dyson a second thought since I tried this one, and will never dry my hair with anything else ever again.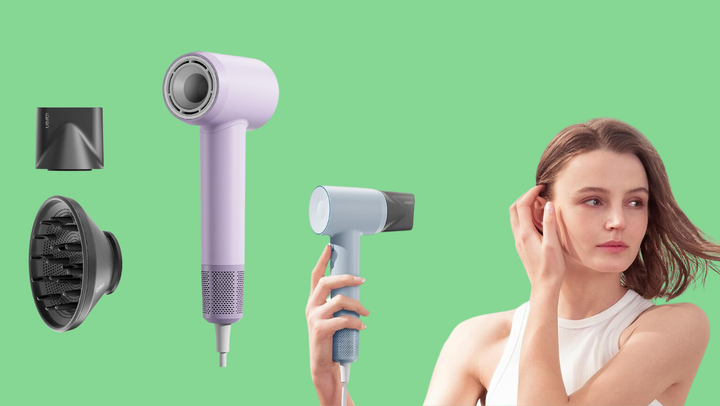 This unexpectedly lightweight dryer has the most powerful air stream I've ever encountered, while its brushless motor helps to keep it from getting too loud. It leaves my hair feeling silky smooth and shiny without having to pile on various anti-frizz products that inevitably make it feel dirty within minutes. It has a small, portable size that makes it easy to travel with and tuck away in even the tiniest bathroom and features simple, discreet easy-to-use buttons.
The Laifen dryer has three heat levels, but the highest setting doesn't feel like it scorches or damages my hair. It's hands-down the most comfortable and straightforward hair-drying I've ever experienced. You can even activate a circulating heat mode that shifts from hot to cold air (and back again) every few seconds. According to Laifen, the dryer's unique heat technology monitors the air temperature and makes adjustments to keep hair from being damaged by excessive heat, which aligns with my experience of using the product.
It comes with a nozzle to help straighten and reduce frizz, along with a diffuser that helps dry curly hair with ease. Both of these attachments are magnetic, making it easy to pop them on and off the hair dryer.
HuffPost readers love using the Revlon One-Step drying brush and its Bed Head equivalent, but they aren't quite my style. As my partner likes to remind me, I am very fortunate to have very naturally thick hair (though I have certainly gone through periods of hair loss), but I do not have the time, arm strength or stamina to blow dry my hair for 20 minutes straight. I need a powerful hair dryer that will get the job done, and the Laifen has blown every other option out of the water.
Lest you think I'm being hyperbolic, I highly encourage you to check out some glowing reviews at Amazon, where this beauty boasts 4.4 out of 5 stars. Whether you're in the market to upgrade your hair dryer or not, it is worth adding to your shopping cart.
"This dryer is amazing & just as good as a Dyson. Way cheaper than a Dyson, thankfully!! My hair is curly and the diffuser works so well, my curls are beautiful for at least 2 days with minimal product needed in between. Don't waste your money on the Dyson, get this!!" — J.Willetts

"First off, I have to remark on the beautiful packaging of this hair dryer. It is packaged like an Apple device: beautiful white box, inside white cardboard surrounding the product, all the attachments carefully packed in their own cardboard sections, and even the instruction booklet is in it's own cardboard envelope. I almost wanted to save the box! But on to the hair dryer itself. I have been thinking about a Dyson dryer, but the price is outrageous, so I did quite a bit of research and found this one. All the outside tech reviewers gave it high marks, as did the buyers on Amazon. It's actually quieter than the Dyson, light weight, and drys my hair quickly. Love that the diffuser and direct dry attachment are magnetized to snap on effortlessly. I have a lot of hair, but it is fine. This dryer does an excellent job of adding body and it does so quickly and quietly. Mine is a pretty lavender. My plan is to buy one for my daughter for Christmas―maybe in red or pink! Treat yourself, it's worth it!" — Karmann Ghia

"Super fast dryer. I had heard about this type of dryer and wondered what the hype was about. Well, they work. I have extremely thick hair but now it takes just minutes to dry." — BookJunkie

"Savior for curly girls! Stunning blow dryer!! I just dried my curly, partially gray, medium thickness hair in less than 15 minutes. None of that curl separation from too much heat that results in that horrible frizz halo and crappy curl patterns. I actually have volume at the roots which is only ever achieved at the salon. I cannot believe it and I am so grateful. The Laifen just became the best beauty tool I have ever bought. It's light. It doesn't sound like an airplane. It actually sounds really cool. It's easily maneuverable. It's beautiful (and the other reviews are correct in that the unboxing feels like an Apple product). The diffuser attachment is magnetized and strong. FINALLY. It's a brilliantly designed product and I love the way my hair looks after using it. Worth. Every. Penny." — Monica A.

″I love how quickly my hair dries with this blow dryer. I do have a longer pixie cut but my hair is extremely thick. At the salon my stylist uses a Dyson hairdryer but I wasn't willing to spend the money for that. In my opinion this Laifen is an extremely close second! The price is fair. I love it." — bt

"This hair dryer is so much easier to use that my older one that is twice the size and much heavier. It is very powerful and dries my hair much faster. So happy that I bought it." — Sue
Before You Go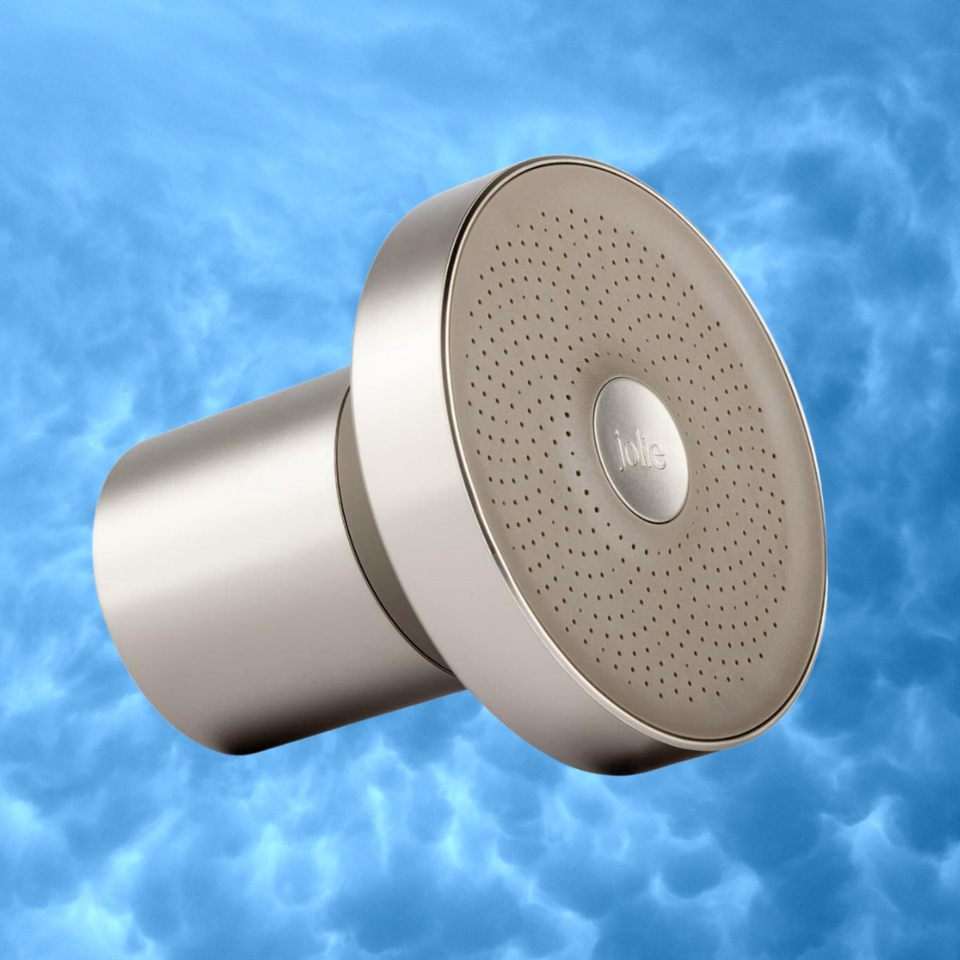 4 Best Shower Head Filters For Soft Hair And Better Skin
Popular in the Community