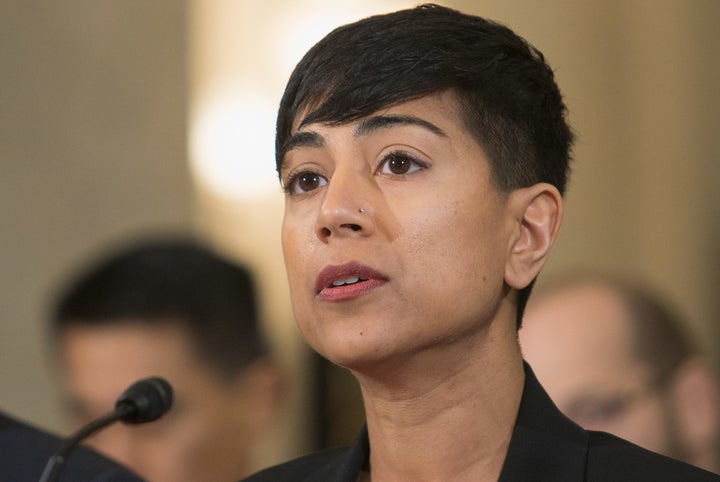 A sexual assault survivor and advocate gave a riveting testimony on Wednesday urging the Senate Judiciary Committee not to confirm Sen. Jeff Sessions as the next attorney general of the U.S. 
Amita Swadhin, a genderqueer femme woman of color (who uses the pronouns they/them) and founder of anti-child sexual abuse organization Mirror Memoirs, spoke with their head held high and an unwavering sense of purpose. Swadhin told the committee that they were raised in New Jersey by two immigrant parents, and throughout their childhood they were sexually abused by their father. 
"My father raped me at least once a week from age 4 to age 12. I endured psychological, verbal and physical abuse from him for years," the activist said. "I also grew up watching my father abuse my mother in a textbook case of domestic violence and marital rape."  
We must trust the attorney general to respect the humanity of all Americans.
"Millions of sexual assault survivors were triggered in the wake of these events. I was one of those survivors," Swadhin continued. "Time and again, Senator Sessions' voting record has shown us that he's not the man for the job. Despite his claim to be a champion for victims of violent crime, he has not been a friend to vulnerable survivors."
Watch Swadhin's full testimony below. 
Swadhin went on to list Sessions' voting record when it comes to legislation meant to decrease violence against women and other marginalized communities. Although he initially supported the Violence Against Women Act in 1994, Sessions voted against it in 2013 when it was expanded to include protections for the LGBTQ, immigrant and native communities. In the confirmations hearings this week, Sessions claimed that he voted against the expansion to VAWA because he opposed a provision that allowed tribal courts to try non-tribal members. 
"We must trust the attorney general to respect the humanity of all Americans and especially to be committed to seeking justice for our most vulnerable victims of crime," Swadhin concluded. "Given his voting record on VAWA and on LGBT rights we have no reason to put our faith or our trust in Senator Sessions as attorney general." 
Calling all HuffPost superfans!
Sign up for membership to become a founding member and help shape HuffPost's next chapter
BEFORE YOU GO
PHOTO GALLERY
Dear Mr. Trump Project