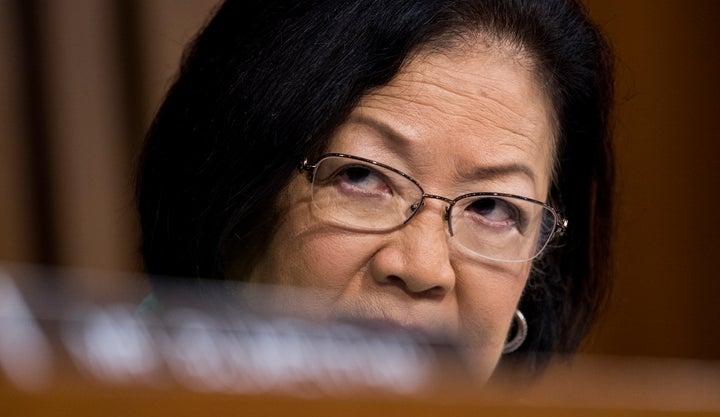 "I would like us to come together and figure out what is the best way to proceed," Hirono told ABC News on Wednesday evening.
"Not this seat-of-the-pants stuff," she added. "The latest, being a letter from the chairman to the Democrats saying, 'We have done everything we can to contact her.' That is such bullshit, I can't hardly stand it."
Hirono was referring to a letter from Senate Judiciary Committee Chairman Chuck Grassley (R-Iowa) to Senate Democrats about Kavanaugh accuser Christine Blasey Ford, who goes by Christine Blasey professionally. In a Washington Post report published Sunday, Blasey publicly accused Kavanaugh of sexually assaulting her in 1982 when the two were at a high school party. Kavanaugh has denied the allegation against him.
Garrett Ventry, a communications adviser to Grassley, responded on Twitter to Hirono's claim, calling her comments "nonsense."
"This is such nonsense. The Committee has sent 9 emails and left 2 voicemails," Ventry tweeted.
The committee's hearings on Kavanaugh concluded last week, but its vote on the confirmation was postponed in order to add one more hearing on Blasey's accusation. The Supreme Court candidate has agreed to testify on the issue in front of the Senate Judiciary Committee on Monday.
Blasey, however, has not committed to testifying, asking that the FBI investigate her claims first.
"The rush to a hearing is unnecessary, and contrary to the Committee discovering the truth," Blasey's attorney Lisa Banks said in a Wednesday statement. "She continues to believe that a full non-partisan investigation of this matter is needed and she is willing to cooperate with the Committee."
Since Blasey came forward, she and her family have received death threats, forcing them to move from their home.
On Tuesday, Hirono asked men on the Senate Judiciary Committee and around the country to "step up" in the face of the accusation against Kavanaugh.
"I expect the men in this country and the men in this committee ... to demand an FBI investigation. But really, guess who's perpetuating all of these kinds of actions? It's the men in this country," she said, adding later: "I just want to say to the men in this country, just shut up and step up. Do the right thing for a change."
Popular in the Community