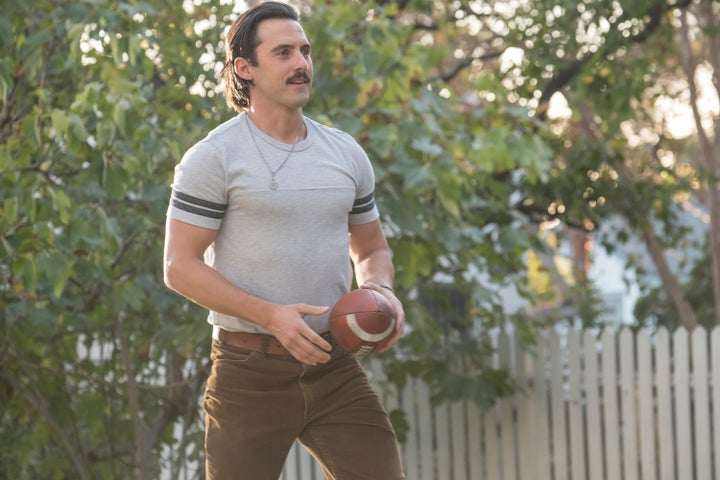 This isn't just a celebratory moment for NBC; it's big for network television in general. "This Is Us" could become the first network drama to be honored as Best Drama Series since "Grey's Anatomy" won the Golden Globe in 2007. The other shows in the category this year are premium-cable and streaming standouts like "The Crown," "Game of Thrones," "The Handmaid's Tale" and "Stranger Things." 
And compared to the other series nominated for best drama, "This Is Us" makes a particularly strong case for the power of feel-good TV. The show manages to rake in between 10 million to 13 million weekly viewers as it follows the Pearson family, all the while addressing race, gender, age, body positivity and addiction.
"I appreciate the humanity that it gives all of us to understand that, oftentimes, if we just put our best foot forward, if we try to listen, if we try to understand and be compassionate of the differences that we have as people, the gap isn't so wide," he said.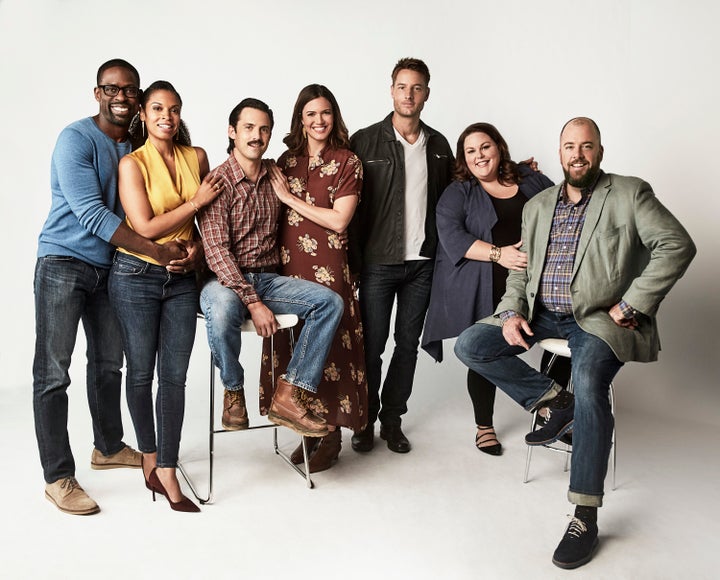 "I'm grateful that people tune in to feel something," Ventimiglia said. "It isn't just entertainment. It's a need to feel that there is good out there and that through the pain or struggle or anything, you can overcome and you can bond together with your closest of kin or friends and move forward in life." 
"It's interesting," he added. "People say, 'God, your show makes me cry.' But I say, 'Yeah, but you don't feel bad, do you?'"
Ventimiglia said the show simultaneously gives viewers the opportunity to escape the noise of their own lives and offers the drama of high-stakes stories. And "This Is Us" favors a nuanced approach to talking about serious issues, rather than presenting in-your-face commentary.  
Ventimiglia, a longtime actor who has starred in "Gilmore Girls" and "Heroes," said he could relate on some level to the experiences of his character's son, Kevin. In one episode, viewers watch as Kevin's high school celebrates him as a notable alumnus with Hollywood success. But the fanfare only exacerbates his substance abuse, and the mid-season finale ends with a DUI incident involving Kevin's niece, Tess (Eris Baker).
Although Ventimiglia has never been in that kind of predicament, he's aware of how the limelight can affect someone's personal and professional life.
"I'm in those shoes at times too, where people applaud you and herald you and you could probably get away with the worst behavior ― yet they'll still hold you up high. It's kind of a terrifying prospect," Ventimiglia said. "I think that if you embrace those bad things in life, then you're going to turn into the bad examples some of us have seen quite recently. But if you keep on the good path and just be a good person in a position of influence, well, then you're going to represent a better way to be and a better human being and hopefully that's what we can inspire: goodness and kindness toward everyone." 
Life is already hard enough. Why would we want to make it more difficult by calling out a difference as opposed to embracing it?

Milo Ventimiglia
Another poignant storyline this season has centered on the relationship between Jack and Randall. Despite their physical differences, Jack relates, in some ways, more to his adopted son than his own biological children.
"If we as people are constantly going to be stuck on our differences, how are we ever going to understand that we're all sharing this planet together? Life is already hard enough. Why would we want to make it more difficult by calling out a difference as opposed to embracing it?" Ventimiglia asked. "How I was raised was to see beyond race and gender and anything else, and see the human being behind the person that's standing in front of you." 
The California native credits his parents for giving him a solid support system in his own life and allowing him to grow into who he is today. 
"My mom and dad were just … they're the greatest people," he said. "They're kind and they armed my sisters and I with everything that we would need for a successful life. And they let us exist, they let us live our lives. So that was always a good thing to know, that I have a foundation to have a good life." 
No doubt Ventimiglia is leading a pretty good life these days. The success of "This Is Us" even earned him an Emmy nomination (which co-star Brown went on to win). Ventimiglia doesn't take any of this for granted, and he said he hopes the show accomplishes more than winning awards. 
"The level of conversation and what it represents to bring people together, not only as an actor but just as a human being, I'm deeply grateful for." 
"This Is Us" returns Jan. 2 at 9 p.m. on NBC. The Golden Globes air Jan. 7 at 8 p.m. on NBC.
Calling all HuffPost superfans!
Sign up for membership to become a founding member and help shape HuffPost's next chapter
BEFORE YOU GO