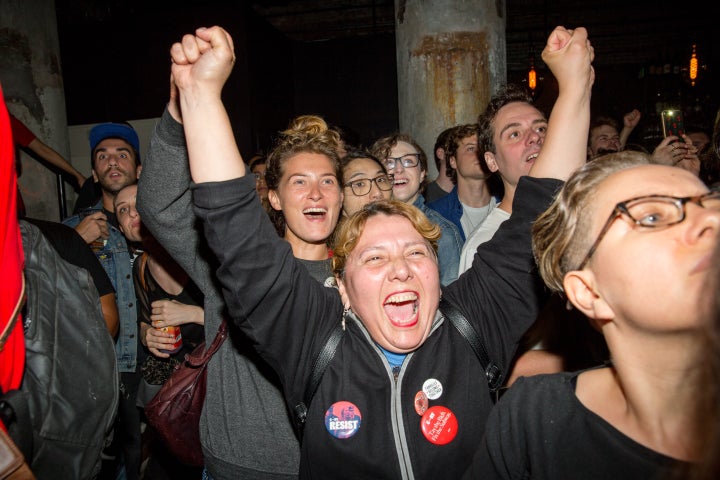 Thursday's real story was that more than 1 in 5 New York Democratic state senators were swept out of office, including three-fourths of the turncoat Independent Democratic Conference (IDC) coalition and a machine politician with close ties to developers. It's a story I've written about before: The Democratic Party is changing dramatically down-ballot, and the candidates who won Thursday are part of a wave that will change the party forever. The organizers and activists who beat the IDC are coming to clean up the dirtiest state senate in the country, and they are signs of how the resistance to Trump will spill over for years and years to come.
How We Got Here
New York state has voted for every Democratic president since Ronald Reagan, frequently overwhelmingly so. The state Assembly has reflected that reality, with consistent overwhelming Democratic majorities. However, except for one brief interruption in 2009, the state Senate has remained firmly under Republican Party control. Key to that control has been a group of rogue Democrats called the Independent Democratic Conference (IDC) who ran as Democrats and then struck a deal to caucus with Republicans once in office.
These eight IDC members (the group started with four), along with another "Democrat" who runs on both the Democratic and Republican ballot lines but who for all intents is a Republican, have been enough to repeatedly deny Democrats a majority. This sounds complicated, but the end result is simple: Democrat Andrea Stewart-Cousins, a woman of color who should be Senate majority leader, has been replaced by white Republican John J. Flanagan. And Cuomo, who has happily facilitated the entire dynamic, has used the divided legislature as an excuse for failing to deliver on a number of Democratic policy priorities.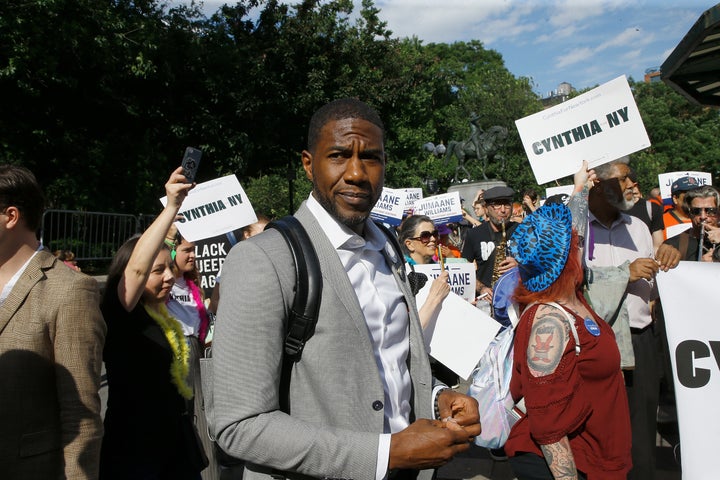 In a self-serving attempt to stave off progressive momentum, the IDC dissolved in April, though this isn't the first time they've done so, and activists assumed that they were liable to swing back after November. In 2014, Cuomo had made a deal with the Working Families Party in which he promised to campaign for real Democrats, but, behind the scenes, he continued to funnel money and support to IDC leader Jeff Klein and his faction.
After Thursday, only two of the former IDC faction still hold their seats.
Progressive Wave, IDC Wipeout
This year, the energy to oust the IDC came from a grassroots movement, including dozens of Indivisible groups, True Blue NY and No IDC NY with national groups like Daily Kos using their email lists to fund the candidates. These groups, mirroring the post-Trump surge of activism we've seen in other states, have worked to field a candidate in every district, raise awareness of the IDC among Democratic primary voters, support candidates as they petition and fuel their campaigns. The movement is diverse ideologically, ranging from Hillary Clinton supporters to full-on socialists. Seasoned political professionals volunteering their time have mingled with newly energized activists. As a result, the IDC challengers were well-funded, organized and engaged in an unprecedented door-knocking campaign. The candidates came from a diverse range of backgrounds, but all stood for progressive values.
While the candidates from New York City garnered the most attention, Rachel May's victory in Syracuse is notable. It shouldn't have come as a surprise, as Syracuse, the ninth poorest city in the country, has become an increasing hotbed of progressive activism, recently denying the candidate backed by the Democratic Congressional Campaign Committee a primary victory in New York's 24th Congressional District. "People don't always think of Central New York as a natural hub for progressive politics, but I think it is a place where our politics is necessary," May told me. Her team estimates they knocked on 14,000 doors while focusing their dollars on digital, not television media.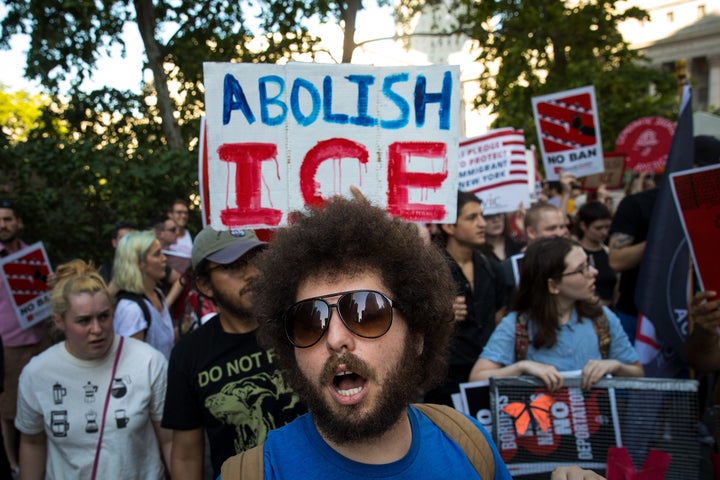 The resistance is also learning the block and tackle of campaigning and is quickly deploying those capacities. Vote Tripling, a grassroots peer-to-peer mobilization organization, texted No IDC NY supporters and got 474 volunteers to be "Vote Triplers," who agreed to get three friends on the fence to vote for the IDC challengers. And No IDC NY worked with Creative Resistance to create ads against the IDC incumbents and deploy them with digital strategy firm The Insurrection. Volunteers from, Postcards to Voters, a nationwide group of volunteers organized by Tony McMullin, mailed 283,857 handwritten election reminders to voters in IDC districts. May tweeted that she kept running into people who were talking about them. One voter she met even carried the postcard she received to show people.
The resistance groups like No IDC NY ran highly professional organizations and spent more money than many of the state's established players. Analysis of New York Board of Elections data provided by No IDC NY and up to date through Sept. 1 suggest they ended up spending slightly more than WFP and were responsible for the most spending of any group in the Liu, Ramos, Jackson and May races. All told, No IDC NY made over 160,000 contacts, brought in more than $250,000 that was split among the candidates, executed a targeted digital mobilization campaign (outspending the IDC incumbents on social) and provided more funding to challenger campaigns than any other organization. Jim Casteleiro, a former digital operative for Sen. Sherrod Brown (D-Ohio), noted with glee: "All the money in the world can't help you if you don't know how to spend it." The organization will continue advocating moving forward, another sign of how Thursday night's results will reverberate for years or even decades.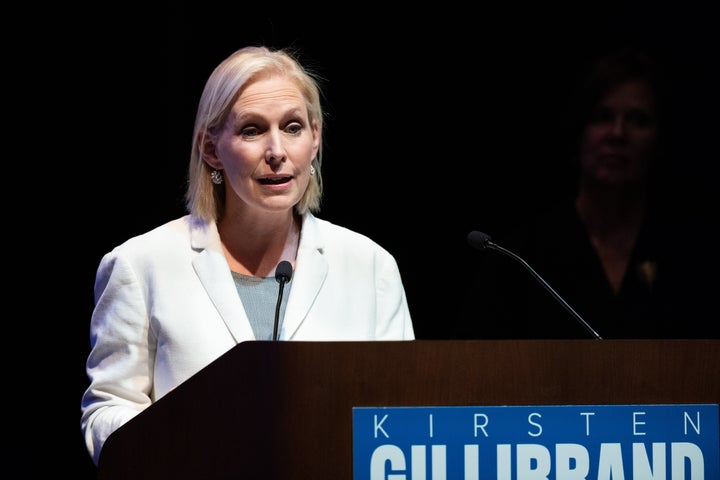 Sen. Kirsten Gillibrand, who endorsed four of the anti-IDC challengers tells me, "Last night's state Senate races were a victory for accountability and show the importance of advocating, organizing and voting. It is with our vote that we can elect leaders who will work for us and not for their own self-interests. These candidates are not afraid to speak truth to power and will provide the fresh leadership our state needs."
She highlighted Ramos and Biaggi, women who would "put the needs of New Yorkers first and fight the important battles ― from improving access to health care and the quality of our public schools, to environmental protection and affordable housing, to the urgent need to guarantee a woman's right to choose."
Kevin Morris an urban planning student at New York University's Wagner School of Public Service, analyzed precinct figures for Data for Progress and found an incredibly strong pattern: Where turnout surged, the challengers did best. "New York state's conservative leadership relies on suppressing turnout, but where that was overcome last night, progressive candidates triumphed," he told me. The charts below show the election night results (available here) as a share of active registered Democrats (excluding inactive).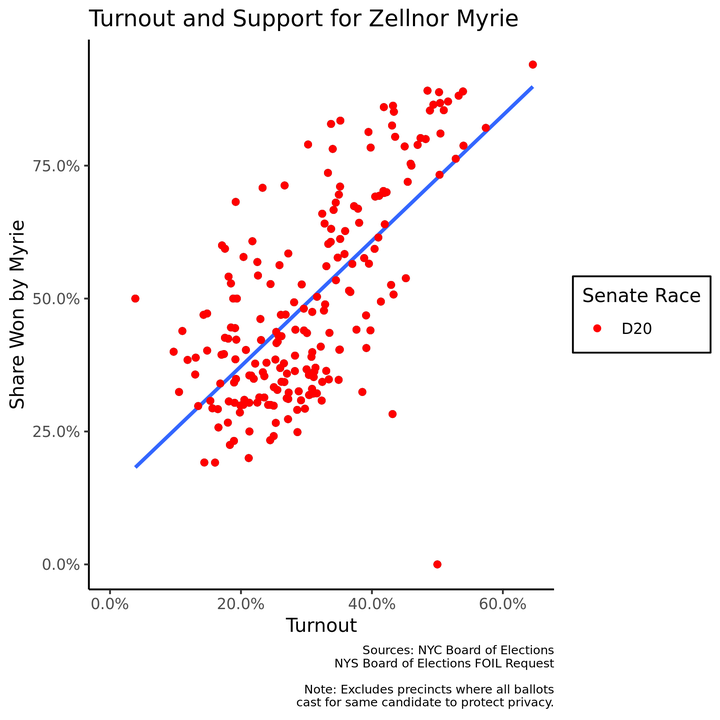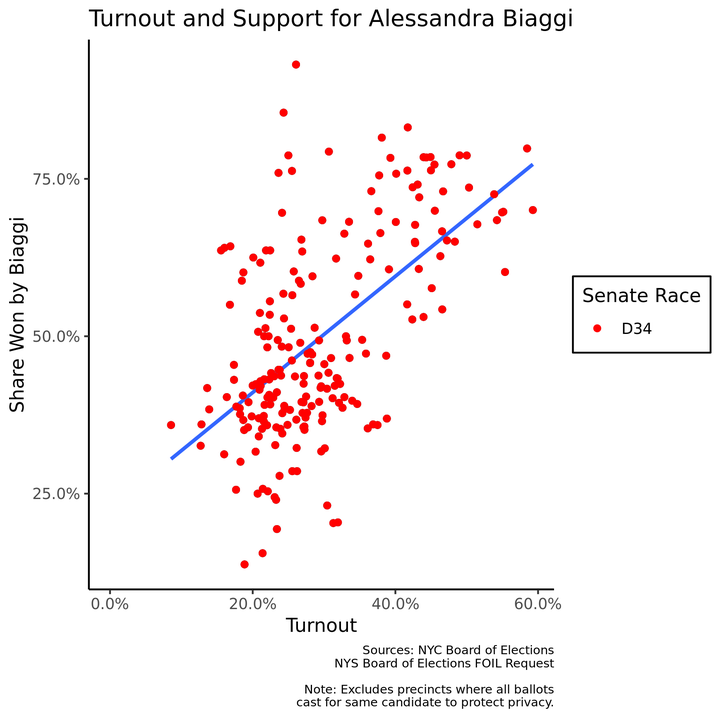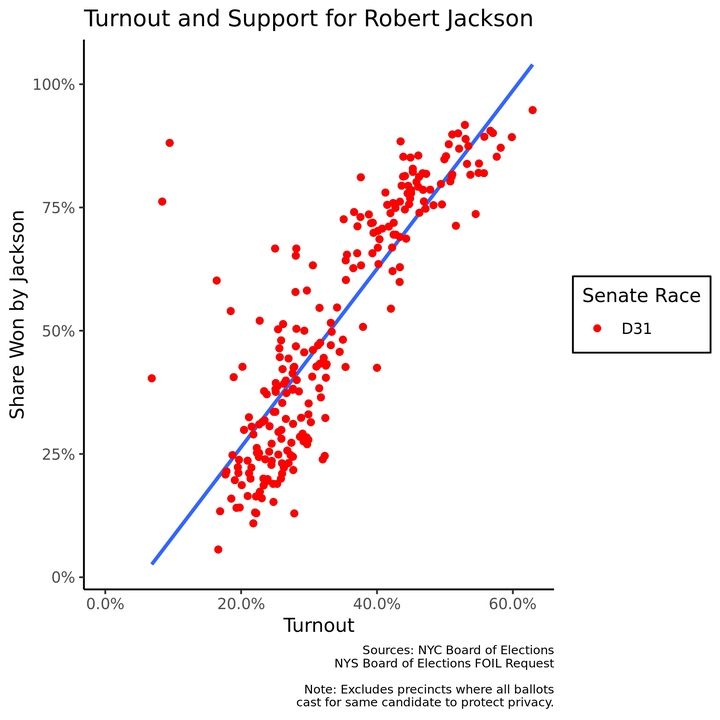 The Movement Will Continue
The vibrancy of the anti-IDC movement and the knack that its activist base has for strategy are visible in how the movement reacted to Cuomo's maneuvering. Going into the cycle, many observers believed that a deal to reunite the Democratic Party would take the wind out of the sails of activists. But when Cuomo brokered the deal, activists parried him brilliantly and didn't miss a step. As Gus Christensen, a strategist for No IDC NY, told me, "Cuomo waited one too many election cycles to push his sham reunification scheme. Trump's victory woke the sleeping giant. Progressive activists in New York, many of whom have historically focused solely on national politics, stopped ignoring Albany and started paying attention to details like the IDC."
Endorsements from elected officials across the state and from establishment media outlets like The New York Times continued to roll in, and by August No IDC NY was filling theaters with people to protest a group of senators whom most New Yorkers had never heard of a few months before.
"Cuomo waited one too many election cycles to push his sham reunification scheme."
In the past, Democrats have let chances go by. In 2016, they didn't put forward a candidate for Senate District 55, and Republican Rich Funke won despite Hillary Clinton winning the presidential race in the district by 56 percent to 38 percent. This year, Jen Lunsford, a community activist, will be on the ballot there. In District 22, also uncontested last cycle, Andrew Gounardes will challenge Marty Golden (who fatally struck an elderly woman with his vehicle in 2005). Five other Republicans have announced they'll leave the Senate, opening up the prospect for further Democratic gains (the state party successfully recruited challengers for all these open seats). In the 5th District on Long Island, Jim Gaughran is back for a rematch after losing by less than 2,000 votes in 2016. Given the trends, he faces decent odds this time around.
The Future Of New York Politics
Once Democrats take the state Senate, it's unlikely they'll lose it anytime soon. The fact that the fourth largest state in the country will have its first durable Democratic majority in the state Senate (and thus the first durable trifecta) in the postwar era is notable. Without an epic pro-Republican gerrymander (signed into law by Cuomo), the state Senate would have gone blue years ago. That makes the next legislative session among the most important in the history of the state. The floodgates will open to progressive legislation, and activists want to see everything from single-payer health care to comprehensive climate legislation.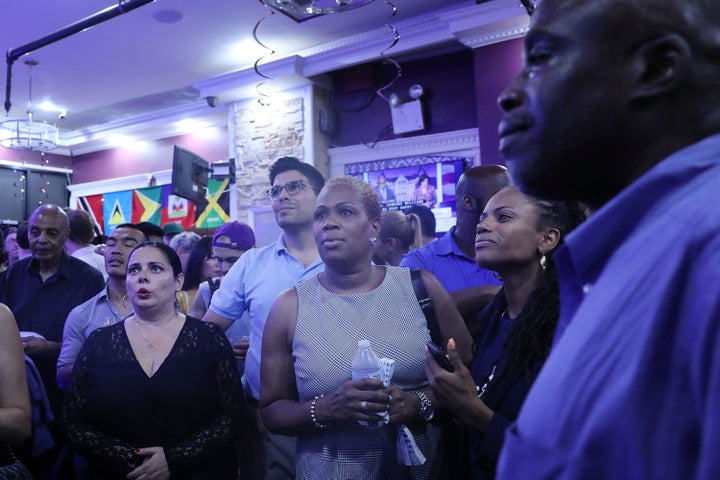 The potential is massive: There's no reason New York can't be as progressive as California. The state could be leading the country on climate change, immigrant rights and universal health care. The state could enshrine reproductive justice in the state constitution. And instead of being notorious for anti-Democratic election practices, New York could be implementing a pro-voter agenda with automatic voter registration, same-day registration and expansive early voting. Corey Johnson, the energetic speaker of the New York City Council who could be seen for weeks knocking on doors with the challengers, tells me that he sees a chance for the city to finally enact tenant protections that have been held up by Albany.
"This is a new day in New York. By overwhelmingly rejecting the IDC, voters showed there is a genuine hunger for real Democrats who are going to champion real progressive causes, like bail reform and tenant protections," Johnson told me. "People are rightfully fired up, and they're not accepting anything less."
The day after the election, my conversations with activists have suggested the fight is just beginning. Many are visibly frustrated by the fact that the party establishment has failed them for so long. Questions abound as to why the state that is the home of multiple marquee voting rights organizations doesn't have early voting. And why Democrats couldn't get people on the ballot in many competitive districts in past years. But most are optimistic about the future: Susan Kang, the co-founder of No IDC NY, told me, "This movement doesn't end on Sept. 13. We're fighting the IDC because we want to see concrete policies implemented."

Sean McElwee is a writer and researcher based in New York City and a co-founder of Data for Progress. He tweets at @SeanMcElwee.

Support HuffPost
The Stakes Have Never Been Higher
Popular in the Community