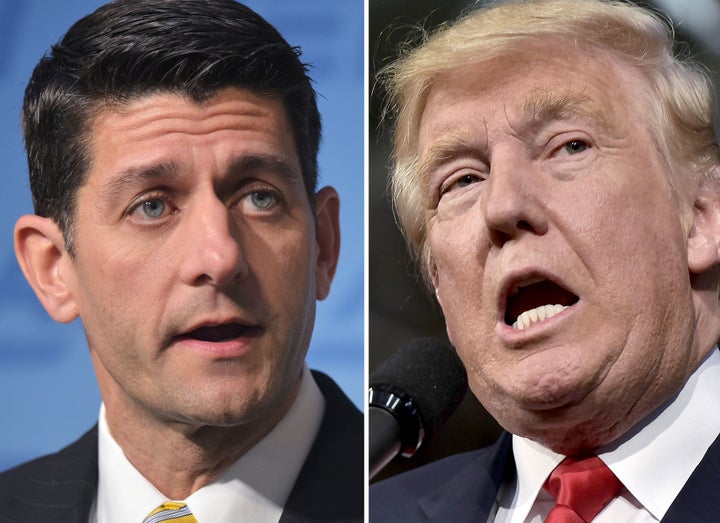 WASHINGTON ― House Speaker Paul Ryan's announcement Monday that he was effectively done supporting Donald Trump's presidential campaign sparked a storm of text messages and phone calls among his fellow House Republicans.
The narrative that quickly took hold, according to members who spoke to The Huffington Post, was that Ryan (R-Wis.) had screwed up.
"This is textbook how not to do it," one conservative member said on Wednesday. "And the textbook how-to-do-it would be Mitch McConnell," the Senate majority leader who said nothing of substance after Friday's release of a 2005 recording featuring Trump boasting of sexual assault.
"The difference between Paul Ryan and Mitch McConnell is that Paul Ryan's running for president, and Mitch McConnell's not," the member continued, referring to a potential 2020 race.
Ryan, however, has cast himself as an arbiter of what's right and wrong with Trump. He has denounced Trump transgressions, as he did after Friday's disclosure. And on Monday, he told members of his caucus that he was pulling back everything except his endorsement of Trump's candidacy.
GOP House members said leaving the endorsement makes Ryan look craven. 
"He just comes off as feckless," another Republican member said. "And he makes it tougher on us, because we're now the story."
Republican members, only willing to discuss their perceptions without their names attached, said Ryan's announcement to them on a conference call on Monday that he would no longer defend or campaign with Trump was tantamount to pulling his endorsement. At least, that's the way it would be seen in their districts, the members said. 
"It was seen by many as a selfish thing, not as a selfless thing," another member said of Ryan's statement.
Trump, of course, regarded Ryan's one-foot-in, one-foot-out support as an act of aggression. The GOP nominee spent Monday and Tuesday repeatedly going after the speaker, even at the risk of turning off Republican voters in the election. Elected Republicans now look apt to go to war after the election, if not before.
Of course he's going to react that way," one member said, referring to Trump. "He's an idiot."
Some of that rancor will depend on whether Trump is in a position to continue attacking Ryan and other Republicans. His hand weakens with new disclosures, including Wednesday's New York Times report that Trump sexually assaulted two women, as well as a CBS story saying Trump looked at a 10-year-old girl in 1992 and said, "I am going to be dating her in 10 years."
In fact, the growing number of firsthand accounts of Trump's behavior may end up making Ryan look prescient.
"Of course he's going to react that way," one member said, referring to Trump. "He's an idiot."
These members said their impression from talking to GOP colleagues was that their conference would be better off if Ryan had never made such a big deal about his support for Trump. They added that GOP leaders could have handled Monday's conference call better.
One member pointed out that when leaders need to break bad news to the conference, they usually call a meeting, present a plan and have establishment allies line up behind the microphones to flood the conference with positive feedback. "It's a running joke in the conference," one member said.
But when Ryan laid out his position on Trump, many members mistakenly thought he was un-endorsing. And when the conference call was opened to feedback, criticism was fierce.
Rep. Dana Rohrabacher (R-Calif.) called the leadership team "cowards," and said he'd rather lose his seat than see a Hillary Clinton presidency. Rohrabacher, almost certainly, won't lose his seat.
Rep. Kevin Cramer (R-N.D.) also had damning remarks, saying he's been a loyal soldier for the party and thought leaders were going in the wrong direction.
Reps. Charlie Dent (R-Pa.) and Martha Roby (R-Ala.) were the only members who attempted to offer a defense of Ryan's hands-off approach to Trump.
If Paul Ryan isn't for Trump, then I'm not for Paul Ryan.
Leaders advised members to avoid commenting on Trump's remarks and not to make themselves the story. One Republican said he wished Ryan and other GOP leaders had taken that advice. 
With Trump riling up his supporters against Republicans who aren't fully backing the party's nominee, some conservatives seem ready to use Ryan's tepid Trump support against him.
Rep. Jim Bridenstine (R-Okla.) tweeted Wednesday that, "if Paul Ryan isn't for Trump, then I'm not for Paul Ryan."
That position may have less to do with Trump than with Bridenstine's opposition to Ryan. Bridenstine twice voted against Ryan's predecessor as speaker, former Rep. John Boehner (R-Ohio), though he did support Ryan almost exactly a year ago during his speaker election. 
Even if Bridenstine is just using Ryan's posturing on Trump for his own ends, he instantly worsens the climate for the speaker in many conservative districts, where supporting Ryan could become a litmus test, especially if Trump jumps on the issue after the election and right-wing media casts Ryan as the enemy.
On the other side of it, Ryan still hasn't un-endorsed Trump. He continues publicly supporting the nominee, linking his own political fortunes to someone who is willing to say anything and, apparently, do anything.
Much like Cruz, Ryan has managed to anger both sides ― people who abhor Trump, and people who love him. 
If Ryan had refused to endorse Trump, it's almost certain that the thin-skinned nominee would have been calling on Ryan to resign. And if he had blindly followed Trump without standing up to him at all, he would have cast Republicans as no better than Trump. (There's an argument that they should be cast that way anyway.)
Splitting the difference was always Ryan's intention. It's just that there's perhaps no good way to split the difference with Trump and a GOP conference that's already out to get him.
CORRECTION: Due to an editing error, an earlier version of this story mislabeled Paul Ryan's state affiliation. 
REAL LIFE. REAL NEWS. REAL VOICES.
Help us tell more of the stories that matter from voices that too often remain unheard.
BEFORE YOU GO