WASHINGTON ― Planned Parenthood is more popular than it has ever been in the face of relentless attacks from Congress and state legislatures that constantly remind women of what they have to lose.
"I take no joy in our popularity or support when it comes at the expense of women in this country," she told HuffPost in an interview Thursday. "Planned Parenthood's popularity is stronger, our membership base is stronger, but that doesn't make up for the fact that millions of women's health care is at risk under Donald Trump. His first 100 days have been incredibly painful for women."
Earlier this month, President Donald Trump signed a resolution allowing states to withhold Title X family planning funds from Planned Parenthood and other providers because they offer abortion services separately from the grant. The move jeopardizes Planned Parenthood's ability to subsidize birth control, Pap smears and other preventative health care for about 1.5 million low-income and uninsured patients.
Planned Parenthood supporters have fought back by flooding Republican congressmen's town halls to confront them on health care and share deeply personal stories about the reasons they've had to visit the family planning provider.
"It's absolutely extraordinary," Richards said. "I have been an organizer my whole life, and I have never seen this kind of outpouring. If there was any silver lining to what's happened over the last three months, its that women are now participating in politics and I think are either going to change the direction that this administration is going or change who's in office."
The Democratic Party, meanwhile, is having a crisis of conscience on abortion. After the party embraced a mayoral candidate in Nebraska who has led anti-abortion initiatives in the state legislature, Democratic National Committee Chair Tom Perez drew a line in the sand on the issue, demanding that all Democratic candidates back a woman's right to choose. But two high-profile members of the party ― Sen. Elizabeth Warren (Mass.) and House Minority Leader Nancy Pelosi (Calif.) ― disagreed that there's no room in the party for anti-abortion Democrats.
Richards, of course, is taking Perez's side. "I'm not part of the party. I don't run their business," she said. "But I think the party should stand for women's rights, and it has. And I think there's a real distinction between people having their own personal feelings about all kinds of issues, including abortion, which is a very personal topic certainly for women, and electing people who then want to impose their personal religious views on other people."
Richards insists that Planned Parenthood would support any candidate "from any party, any walk of life," who supports women's access to health care. But she said the difference between Trump and former President Barack Obama, who worked with Planned Parenthood to make birth control essentially free for 50 million women, is "immeasurable."
"To have an all-time historic low for teen pregnancy is no small deal," Richards said. "To have a 30-year low for unintended pregnancies, better access to better methods of birth control― that's huge progress. The reason that all of this is causing such concern among women in America is because it's clear in this Congress that all of that is at risk."
Of course, Richards is trying to reach out to the Trump administration. After the election, she met with Ivanka Trump― who has marketed herself to be an advocate for women in the White House ― to talk about the work Planned Parenthood does. She would not elaborate on the details of that conversation, but added she has yet to see a sign from the White House that Ivanka or anyone there is standing up for women's health.
"I hope that both people in this administration and members of Congress will begin to pay attention to 51 percent of the population of America, who are desperately concerned about their future," she said. "It is enormously frustrating to have primarily rooms full of men making policy decisions and voting on issues which they will never be impacted directly themselves, and have millions of women in this country who are not being represented."
Before You Go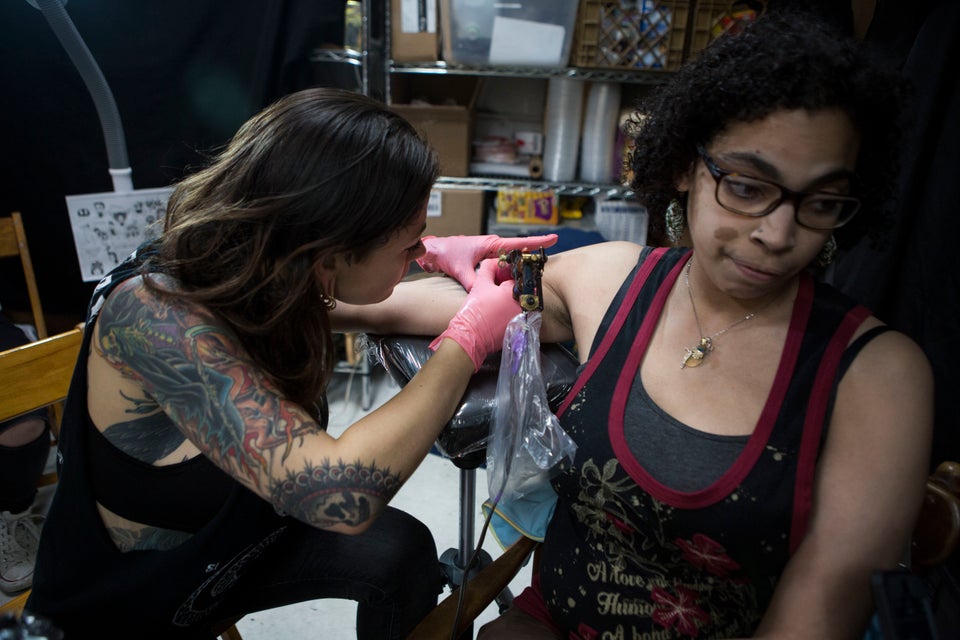 Tattoos for Planned Parenthood
Popular in the Community