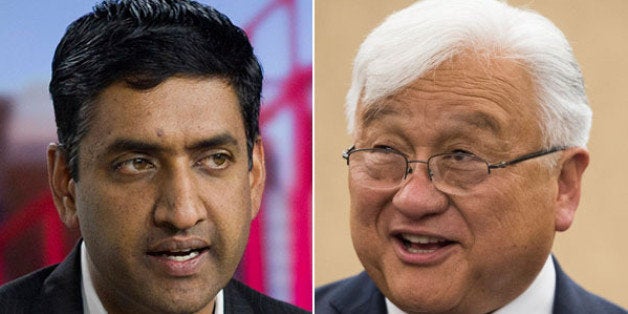 Rep. Mike Honda (D-Calif.) and Democrat Ro Khanna will face off in the sole debate for California's 17th District seat, with questions from The Huffington Post, on Monday evening in San Jose.
Honda is seeking to represent the area, a district with an Asian-American majority, for an eighth term. Khanna is an attorney, economics lecturer and former Commerce Department official who finished more than 20 points behind Honda in the nonpartisan June 3 primary. California's relatively new "top two" primary system puts the highest two vote-getters from the primary on the general election ballot, even if they are from the same party.
The debate, held at NBC affiliate KNTV, will be moderated by NBC Bay Area anchor Raj Mathai and include questions from lead panelist Ryan Grim, the Washington, D.C., bureau chief for The Huffington Post; KQED Newsroom host Thuy Vu; San Jose State University associate professor Melinda Jackson; and San Jose State University student LooLoo Amante. It will be streamed on HuffPost Live from 6:30 to 7:45 p.m. PDT (9:30 to 10:45 p.m. EDT).
Khanna's campaign has said the attorney would provide fresh, proactive representation and a tech-savvy voice for the district in Congress, playing up his youth in contrast to Honda's age. Honda has focused in television ads on his history of directing significant funding toward the district and he has highlighted his experience and seniority.
The two represent competing wings of the Democratic Party, with Honda much closer to the Elizabeth Warren faction, while Khanna stands closer to the Hillary Clinton wing. The Warren wing is more skeptical of business and the wealthy and is friendlier to labor concerns.
The support the two candidates have garnered offer a telling contrast. Honda has been endorsed by progressive groups such as MoveOn.org, the Progressive Change Campaign Committee, Democracy for America, the Sierra Club and Planned Parenthood.
Khanna, on the other hand, has received campaign contributions from Yahoo CEO Marissa Mayer, Google Chairman Eric Schmidt, Facebook Chief Operating Officer Sheryl Sandberg, Napster co-founder Sean Parker and PayPal co-founder Peter Thiel, among other tech heavyweights. He also was endorsed by San Jose Mayor Chuck Reed and the majority of the area's newspapers. Profiles of Khanna have called him "the disruption candidate," "the candidate from Facebook" and "an audacious challenge to the political status quo," noting that his team, advised by former Obama campaign aides, is using "big data" tools to target voters.
The race has been rife with controversies, despite being between two Democrats. Khanna's campaign has alleged that Honda's office improperly mixed congressional and campaign work, and it filed an ethics complaint regarding mass mailings from the congressman's office to constituents. Honda's campaign has accused Khanna of campaign finance hypocrisy.
During the primary, a lawsuit was filed alleging that Khanna's campaign recruited Republican candidates to split the GOP vote, while a Democratic labor-backed PAC sent out mailers in an apparent attempt to boost one of the Republicans and take votes from Khanna.
REAL LIFE. REAL NEWS. REAL VOICES.
Help us tell more of the stories that matter from voices that too often remain unheard.
BEFORE YOU GO
PHOTO GALLERY
New House Members Of The 113th Congress