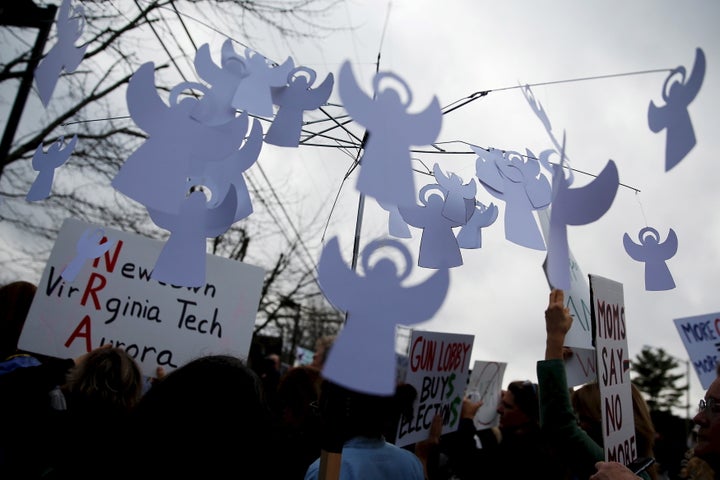 There have been over 200 school shooting incidents ― an average of nearly one a week ― since the horrifying morning when 20-year-old Adam Lanza marched into Sandy Hook Elementary School and did the unthinkable.
Four years ago today, Lanza shot and killed his mother in her home in Newtown, Connecticut, before making his way to the school and opening fire, leaving 20 children and six staff members dead.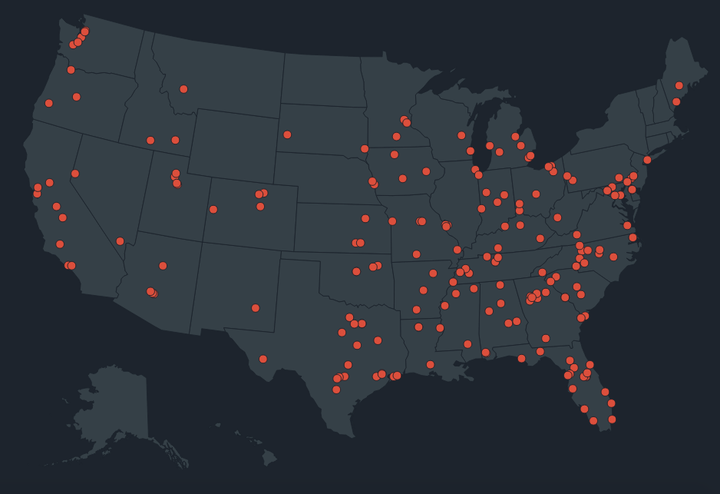 "I think there's really no better way to read the temperature of the people and where this movement is when it comes down to actual voters than by looking at state-level progress," Brendan Kelly, a spokesman for the Brady Campaign to Prevent Gun Violence, told The Huffington Post.
A total of 19 states — seven of them since Sandy Hook ― have closed the private sale background check loophole, which allows unlicensed "private" vendors to sell firearms at gun shows and online without requiring background checks.
But state-level progress isn't enough, said Shannon Watts, founder of the Moms Demand Action for Gun Sense in America, a nonprofit created in the wake of the Sandy Hook massacre. The organization has since joined forces with Everytown to become the largest gun violence prevention organization in the country.
"What is needed is a federal solution, because this is a national crisis," Watts told HuffPost on Tuesday.
Sen. Chris Murphy (D-Conn.), who was elected to the Senate just a month before the Newtown shooting, has been one of the most vocal proponents of gun safety policy. He says the gun lobby's hold on his colleagues, particularly the Republicans, has halted his attempts to push such legislation though an already gridlocked Congress.
"In the wake of Sandy Hook, I know that there were Republicans who wanted to vote with us, but didn't feel like they could break with the gun lobby," Murphy told Rolling Stone in June. "You know, it's beyond my comprehension how people can be OK with doing absolutely nothing in the face of this slaughter."
Murphy and other gun violence prevention advocates did earn a win on the federal level when President Barack Obama signed his Mental Health Reform Act into law on Wednesday.
The comprehensive bill will expand federal mental health resources, including funding to train teachers, emergency services personnel and others to recognize symptoms of mental illness and at-risk individuals.
But some experts say congressional lawmakers' efforts to reframe gun violence as a mental health issue ignore the scale of the problem.
"I caution against viewing the problem of gun violence through the prism of mass shootings or mental illness," Jeffrey Swanson, a professor of psychiatry at Duke University School of Medicine, told HuffPost. "The vast majority of people with mental illness are never violent."
Swanson, like many other gun safety advocates and researchers, believes government policy should focus on addressing Americans' easy access to guns. Preventing tragedies like Sandy Hook requires more than expanding resources for mental health, he said ― the U.S. needs more laws restricting guns in households that include "at-risk" individuals. Swanson cited Lanza, who used his mother's guns to carry out his attack, as an example of why this matters.
"A law like that would allow police officers to take away some of these guns," Swanson said. "We shouldn't have to live in a society where people have such easy access to such an efficient killing machine."
Yet gun violence prevention efforts will likely encounter even more resistance under the incoming Donald Trump administration, with its close ties to the National Rifle Association, the most influential gun lobby in the country.
The NRA was Trump's largest outside financial backer during the 2016 presidential race, spending more than $30 million to help his campaign.
"[The NRA] is going to expect something in return for that investment," Watts said. "They're going to have a champion in the White House."
Gun safety advocates suspect the NRA will make another attempt to pass the twice-failed concealed-carried reciprocity measure once Trump becomes president. The measure would essentially force states that issue concealed carry permits to recognize less-restrictive permits issued by other states.
Still, Watts said she's hopeful that the two extra Senate seats Democrats won in the election will stop attempts to loosen current gun laws.
"We have learned how to be the David to the NRA's Goliath," Watts said. "We can stop the NRA's dangerous dystopian agenda by using our voices. They have bullied our lawmakers for far too long, but moms are not going to be bullied."
CORRECTION: An earlier version of this story misstated the average number of school shooting incidents per week since the Sandy Hook massacre, which is about one per week, not four.
Popular in the Community