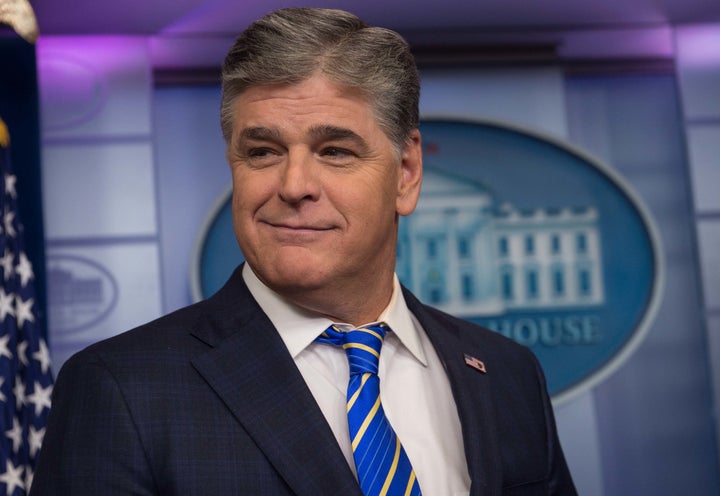 As Fox News host Sean Hannity came under fire for fueling a conspiracy theory about a murdered Democratic National Committee staffer, Media Matters on Tuesday ran a straightforward, yet potentially ominous headline for him: "These are Sean Hannity's advertisers."
Last month, then-Fox News star and accused sexual harasser Bill O'Reilly saw more than 50 companies quickly flee his show following an advertiser boycott led by Media Matters and other progressive organizations. Hannity tweeted more than a dozen times Wednesday that "liberal fascists" at Media Matters now were targeting him just as Cars.com became the first advertiser to jump ship.
The recent attention being paid to his advertisers, Hannity said in an interview with HuffPost, is an attempt by progressives to silence his conservative voice.
"There's nothing that I did, nothing that I said, except they don't like my position politically," he said. "They'll try to ratchet up the intensity of their rationale. It does not justify an attempt to get me fired. And that's what this is. This is an attempt to take me out. This is a kill shot."
Media Matters president Angelo Carusone told HuffPost his organization isn't pushing for an advertiser boycott. He said readers turn to the group for information on conservative media figures, and an accurate list of advertisers was relevant to post given the public outcry over Hannity's coverage of Seth Rich's slaying.
Conspiracy theorists have claimed the 27-year-old DNC staffer was murdered last summer in Washington in retaliation for being WikiLeaks' source of party emails later published online. The U.S. intelligence community, though, concluded it was Russian hackers who infiltrated the DNC and not the work of an internal whistleblower. Washington police consider Rich's murder to have been a botched robbery attempt. And Rich's parents have asked for people to stop politicizing their son's death.
But Hannity continued pushing the theory on his radio show Tuesday afternoon even after Fox News' website retracted a story featuring unproven claims of a link between Rich and WikiLeaks. He later teased a major development coming on his Tuesday night Fox News show. But Hannity said during the broadcast that he would stop speaking about the case at this time out of respect for Rich's family.
Hannity told HuffPost he received no pressure from Fox News brass or Rupert Murdoch, the executive chairman of parent company 21st Century Fox, to back off the story.
"I did it out of my own heart," he said. "Nobody tells me what to say on my show. They never have and frankly they never will. I'm not that type of person you can say, 'Go on air and say this.' That's been the beauty of Fox News all these years. They leave me alone."
A year ago, Fox News appeared invincible amid 15 years of rating dominance among cable news networks. But co-founder and chairman Roger Ailes left in disgrace in July following a sexual harassment scandal; he died last week. O'Reilly, the top-rated cable host, swiftly lost his perch in April following a social media-fueled boycott. Co-president Bill Shine, who Hannity personally advocated for on Twitter, was out weeks later.
Carusone said he views Hannity "freaking out" on Twitter as evidence of "palpable fear and anxiety," given those high-profile departures from Fox News. "I think it illustrates the anxiety he feels," he said. Still, Carusone also said Hannity was exploiting the opportunity to attack the left.
Last week, Media Matters launched a campaign ― "Know What You're Sponsoring" ― that's aimed at making sure "ad buyers know what their clients are sponsoring if they spend their ad dollars with Fox," according to the group's release. Carusone said posting the list of Hannity's advertisers is "a continuation of that conversation," and pointed out that Media Matters compiled it through publicly available information.
Carusone said the problem with Hannity's brand right now from an advertiser perspective is not that it's conservative, but that it's "completely volatile."
Hannity said he thinks Media Matters is "being cute" in claiming not to be leading an advertiser boycott.
"There is an attempt, at this moment in time, to absolutely shut down the Fox News Channel and render it, frankly, a shadow of its former self," said Hannity. "I'm like the last, sole remaining person there from the old guard."
"I think a lot of this is rooted in that people view that Fox did have an impact, people like me did have an impact in the [2016] election, or why would they waste their time, why would they care?" he said.
Noting that he's been "advancing a hard-hitting narrative about the media and a hard-hitting narrative about the 'Destroy Trump' movement and a hard-hitting narrative about how there is no Russia-Trump collusion," he said of his critics: "Probably they don't want me around for the 2018 elections and the 2020 elections. So I do believe if they can shut me down, silence me, there's political benefits for them."
Hannity said he's opposed calls to boycott controversial left-leaning hosts like HBO's Bill Maher and CBS's Stephen Colbert, and that if people don't like what someone is saying on TV they can change the channel or turn off it off.
But pressuring advertisers, he said, can "silence the voice."
"Maybe they think that they'll be able to mount my head on a trophy and put it in their living room somewhere," he said. "But what is the net impact of all of this?"
Conservatives, he said, may react by going "after [MSNBC's} Rachel Maddow. And then maybe they'll go after [MSNBC's] Lawrence O'Donnell. And then maybe they'll go after [CNN's] Anderson Cooper."
Hannity said it's great to have hosts with views "so diametrically opposed to mine" on competing networks.
"The danger here is so profound in as much as what we're really saying is, 'You'd better not cross this line or this line or this ― and the line keeps changing ― or we're going to shut you down or we're going to intimidate you.' I actually think that coming from that side of the aisle it is the greatest hypocrisy ever."
Still, the controversy that has embroiled Hannity didn't stem from his long-running conservative views or unapologetic support of President Trump. He's drawn heavy scrutiny for using his radio and TV platforms to promote a baseless theory about Rich's death.
Over the past week, Hannity has aired a clip of WikiLeaks founder Julian Assange seeming to imply in a Dutch TV interview that Rich was a source for his organization. Hannity said Assange told him Russia wasn't the source of the Democratic emails and that he viewed the WikiLeaks chief's comments to Dutch TV as suggesting Rich was.
Though Hannity at least temporarily backed off the Rich story on Tuesday night, it remains to be seen if enough damage was done from an advertiser standpoint.
Hannity said he's worked in an environment every day for decades "knowing people want to get me fired."
"The great thing is, in my heart, I'm at peace," he said. "I know I did nothing wrong."
Related
Popular in the Community