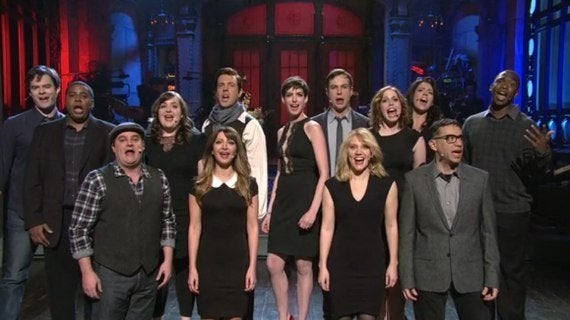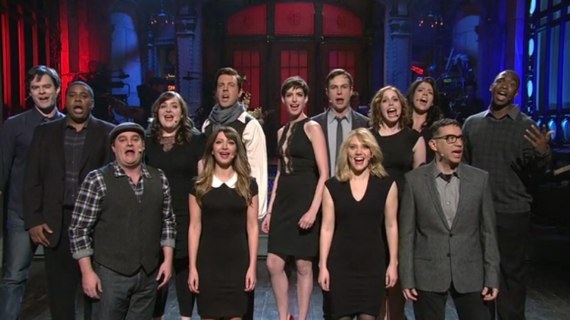 Anne Hathaway deserves to be mentioned in the pantheon of the other "current great 'SNL' hosts" like Jon Hamm, Emma Stone and Justin Timberlake. It's remarkable how many times this past week I was asked, "Do you think Hathaway will be good?," as if the person asking had completely forgotten that she had hosted twice before and, both times, was excellent. So, now, it's been three times and you should please try to remember this time because she is a great host! But, the disappointing news: The material this time around was not as consistently strong as her last two appearances -- at least in terms of letting Hathaway excel at what she does best. Off we go to a Sloppy Swish-infected Scorecard ...
"Mokiki" (Taran Killam, Anne Hathaway, Kenan Thompson, Bobby Moynihan, Kate McKinnon) This was bizarre in every way, which is only surprising in that it aired so early during the show. It also might be one of the best things that "SNL" has done this season. It's just that strange thing that happens when the more I saw Taran Killam do his little Sloppy Swish dance, the harder I laughed. I mean, it is hypnotizing. I could honestly just sit here all day and watch it. Oh, also, compared to how this short would have played in the Samberg era, it actually had a narrative.
"Anne Hathaway Monologue" (Anne Hathaway, Jason Sudeikis, Ensemble) Just fantastic in every way. Look, monologues are tough. Seth Meyers has said before that basically the choices are the surprise walk-on or taking fake questions from the audience. Here, the entire cast was involved in a "Les Miz" parody about how Sunday is their only day off (well, and the entire summer, but the point is taken). This should be a blueprint for every monologue.
"Ellen" (Kate McKinnon, Kenan Thompson, Taran Killam, Cecily Strong, Vanessa Bayer, Nasim Pedrad, Aidy Bryant, Anne Hathaway) Before Kate McKinnon did her Ellen DeGeneres impression a few weeks ago, I never realized how much I desired a good Ellen DeGeneres impression in my life. Look, I'm not sure we needed another round of "Anne Hathaway does a Katie Holmes impression" (the first time was in 2010 on Vanessa Bayer's "The Miley Cyrus Show" sketch) -- so, when they bring this back for a second round (I assume there will be another "Ellen" sketch) maybe focus on the dancing and the "pranks," because that's where this sketch was incredibly strong.
(Sadly, "Ellen" isn't online due to rights issues.)
"Weekend Update" (Seth Meyers, Jay Pharoah, Bill Hader, Fred Armisen, Bobby Moynihan) For the second "Update" in a row, there were three segments. And, again, Seth Meyers is a terrific master of ceremonies, if you will, while simultaneously taking some of the heavy lifting off of his back. The biggest laugh of Update goes to Jay Pharoah as Obama explaining what he learned from his first term, "This is a terrible job and I hate it." Bill Hader and Fred Armisen's gay couple from Maine was fine, but, material aside, I could just listen to those two talk in a Maine accent all day. And then there's "Drunk Uncle." I like "Drunk Uncle," quite a bit, but the last couple of times this character has been wheeled out, it just feels like it goes on too long. And, yes, I know that's part of the point. But, still.
"Homeland" (Bill Hader, Kenan Thompson, Taran Killam, Anne Hathaway, Nasim Pedrad) It would seem that a person's enjoyment of this sketch is directly correlated with that person's familiarity with "Homeland." I do not watch "Homeland." Two points: (A) I can admit to this fact because, except for "SNL", I really only write about movies over at the Entertainment section of HuffPost and don't have to worry about my "TV cred" and (B) Even so, I know that not watching "Homeland" makes me a terrible human being. Having said that, I still know the characters enough that I got what they were trying to do. And, thankfully, it gave Hathaway a chance to let loose a bit as a quite spastic Claire Danes. (Also, Damian Lewis really does have a small mouth.)
"American Gothic" (Anne Hathaway, Jason Sudeikis, Kenan Thompson, Taran Killam) This could have been bad without Hathaway and Sudeikis in the lead roles. If nothing else, this showcased what makes Anne Hathaway a great host (even though the material wasn't always there for her during this particular show): specifically, the timing with her eyes after she removes her glasses. Also, I'd be remiss if I didn't mention Jason Sudeikis, who I fear we are seeing the last of over the next few weeks. Hopefully, he stays the full season, but a sketch like this is exactly what will be missed: a cast member who can take what should have been a mundane sketch and fill it with an energy that it perhaps doesn't even deserve.
"Cold Open: Mitt Romney on a Balcony" (Jason Sudeikis, Kate McKinnon, Taran Killam, Bobby Moynihan) Jason Sudeikis says goodbye to Mitt Romney. You know, it was hard not to think back to 1996 when, after losing, Bob Dole appeared on "SNL" to confront Norm Macdonald. Or the numerous times that John McCain has appeared (and hosted). So, yes, I was wondering if the real Mitt Romney would appear. Alas, it wasn't meant to be (but I can only assume that "SNL" tried). In the end, there wasn't a lot here -- and it was a strange mix between sweet and biting. (Actually quite biting, with lines like Taran Killam's, "Donald Trump is doing a very amusing thing where he's racist.") Perhaps just one of the two tones should have been chosen, because it didn't really succeed in being either.
"New Claritan" (Nasim Pedrad, Jason Sudeikis, Bill Hader, Fred Armisen, Bobby Moynihan, Vanessa Bayer, Kenan Thompson) Always strange to see a never-before-aired commercial parody banished to the last-sketch-of-the-night spot in the lineup. And this was fine, but there certainly wasn't anything remarkable about it compared to any other generic fake medicine parody that "SNL" has produced over the last five years. And, yes, we got to see our second "goo in the face" shot of the evening. Great?
"Girlfriends Talk Show" (Aidy Bryant, Cecily Strong, Anne Hathaway) So, what exactly is the difference between Strong's character in this sketch and "Girl You Wish You Hadn't Started a Conversation With at a Party"? Look, I didn't like this sketch very much, but, the more I see of Aidy Bryant, the more I like. Somehow, in a sketch that was pretty much entirely based on doing "annoying teenage voice," Bryant made it at least watchable.
"McDonald's Firing" (Anne Hathaway, Bobby Moynihan, Cecily Strong, Ensemble) Can someone check NBC for me because I think this sketch is still going. Also, how this appears on the same show as "Mokiki," I will never understand. Again, another sketch in which the main joke is that some people talk with exaggerated accents -- hilarious! -- because it certainly wasn't the "payoff" of learning that the angry, yelling people weren't the two that were getting fired. (Oh, spoiler alert, I guess.) Perhaps I'm being harsh on this sketch, but when I have to defend "SNL" to other people who use the same, tired statement, "I can't believe this is still on, 'SNL' hasn't been good in 20 years," I feel that it's a sketch like this that they're watching.
Average Score for this Show: 5.87
Mike Ryan is senior writer for Huffington Post Entertainment. You can contact him directly on Twitter. Click below for this week's "SNL," Not Ready For Primetime Podcast featuring Mike Ryan and Hitfix's Ryan McGee.