Democrats in tight Senate primaries hope to capitalize on opponents' openness to Social Security cuts.
Kamala Harris' campaign in California takes up a tactic used in Pennsylvania, Maryland and Florida.
The phenomenon reflects gains made by the party's progressive wing in wake of fiscal grand bargains sought by President Obama.
Democratic Senate candidates in several key races are attacking their opponents for being weak on Social Security. Only this time their opponents are not Republicans -- they are Democrats in contentious primaries across the country.
Social Security is an issue of interest to voters in both parties that could play a role in this year's elections. 
But it is also a major front in a war for the soul of the Democratic Party in which the populist, progressive wing is increasingly on the march against the party's business-friendly elite. And the popularity in this year's primary season of running against even the slightest openness to Social Security cuts is the latest sign that the former group, sometimes nicknamed the Elizabeth Warren wing, is ascendant.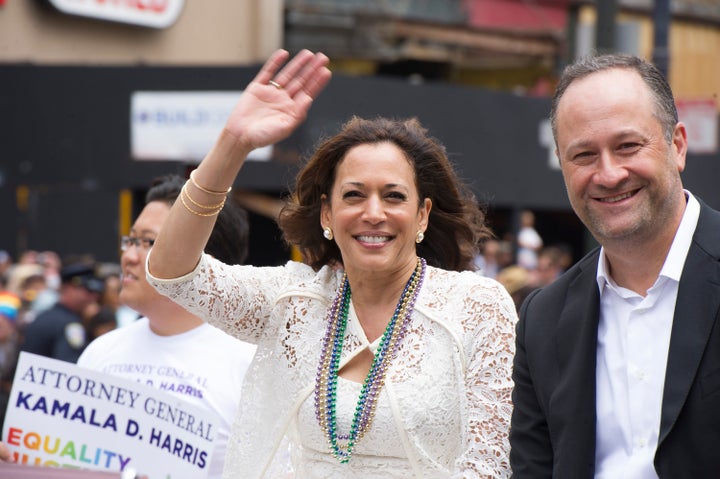 The campaign of California Senate candidate and state Attorney General Kamala Harris (D) is hinting it will soon play the Social Security card in earnest against her top opponent, Rep. Loretta Sanchez (D-Calif.).
Harris' campaign points to remarks by Sanchez expressing support for a "grand bargain" to reduce the debt, modeled on the recommendations of the Bowles-Simpson commission, which was appointed by President Barack Obama. Major cuts to Social Security benefits, including raising the retirement age and cutting the cost-of-living adjustment, were among the bipartisan commission's most controversial proposals.
"I mean, the reality is we do have to take a look at everything," Sanchez told Fox News' Megyn Kelly in October 2013, "as Simpson-Bowles did in their report and said, 'Listen, you have got to put everything on the table -- entitlements, defense, everything else.'"
Sanchez added that she is "a member of the Blue Dog Coalition, that's Democratic fiscal conservatives. And we endorse the Bowles-Simpson plan."
Sanchez stands by her openness to broker a deal that includes Social Security cuts.
"Loretta understands the pressures involved in tough votes like when she voted against the Wall Street bailout, against the war in Iraq and against the Patriot Act, and she knows that sometimes a vote is a compromise based on what's on the table," said Luis Vizcaino, a spokesman for the Sanchez campaign.
Loretta understands the pressures involved in tough votes ... and she knows that sometimes a vote is a compromise based on what's on the table.

Luis Vizcaino, spokesman for Loretta Sanchez's Senate campaign
Harris' campaign website states, by contrast, that the attorney general considers Social Security and Medicare benefits off the proverbial negotiating table.
"While some in Washington have voted to balance the budget on the backs of seniors, Kamala would oppose cuts to Social Security and Medicare, and believes we need to strengthen these safety nets," the site says.
The California Senate primary is June 7 and neither campaign has aired any ads yet. Harris currently leads Sanchez by 7 percentage points, according to HuffPost Pollster's polling average, and enjoys the endorsements of some of the most powerful Democratic interest groups. But there are four other candidates, and since California's "jungle primary" system allows the top two winners to proceed to the general election, the Harris campaign is not taking any chances.
Social Security "is a key part of the difference between the two candidates," a Harris campaign aide said.
The Sanchez campaign's Vizcaino fired back, "Kamala Harris has not taken a policy position without taking a poll first. She clearly doesn't understand the reality of casting tough votes in Congress."
When Harris begins to cast doubt on Sanchez's Social Security bona fides more aggressively, she will have a playbook to follow from Democratic Senate candidates in states with earlier primaries, including Maryland, Pennsylvania and Florida.
Rep. Donna Edwards' (D) first ad in Maryland's Democratic Senate contest touts her opposition to Social Security cuts that her chief opponent, Rep. Chris Van Hollen (D), "said he'd consider" as part of bipartisan budget talks in 2012. Edwards and Van Hollen are neck and neck in the polls ahead of the April 26 primary.
In Pennsylvania's tight April 26 Democratic Senate primary, Katie McGinty, a former head of the state's Department of Environmental Protection, is attacking former Rep. Joe Sestak (D) for praising the Bowles-Simpson plan on his website. EMILY's List, which is dedicated to electing Democratic women and is backing McGinty, has also piled on, critiquing him "for his willingness to put Medicare and Social Security on the table." Sestak has said his support for the proposal did not extend to its Social Security and Medicare cuts. He led McGinty by 10 points in a Harper poll released earlier this month.
And in Florida, where polls show Rep. Alan Grayson (D) just 4 points behind Rep. Patrick Murphy (D) in the Senate primary, Grayson is pinning his hopes on a record of staunch opposition to Social Security cuts -- and support for benefits expansion. Grayson told Politico Pro that Murphy became active as a freshman in 2013 in budget compromise efforts that would have cut Social Security. A Murphy spokesman responded to Politico Pro that Murphy has "stood up to Republican attempts to privatize Medicare and dismantle Social Security."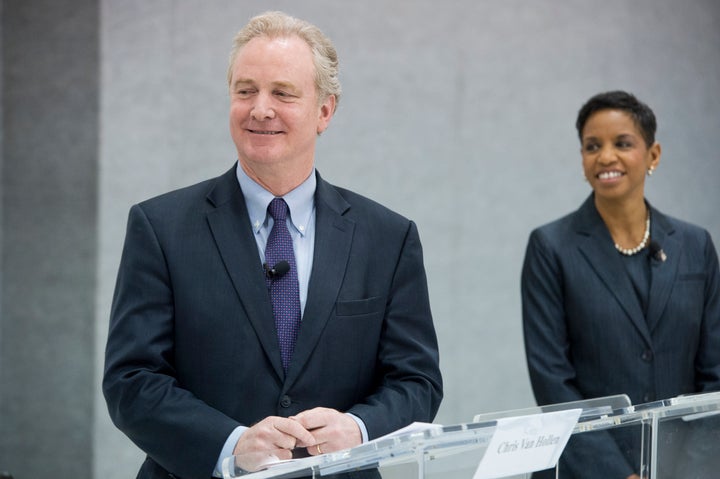 Social Security's political potency is virtually as old as the New Deal-era program itself. But its emergence as a talking point in Democratic primaries this year is the latest sign of a tidal change in the party's treatment of the issue in recent years.
During the Great Recession, the national debt rose thanks mostly to increases in emergency safety net spending and depleted revenue, as well as the Obama administration's stimulus package and other initiatives. Debt reduction became the policy cause du jour for leaders in both major parties, bolstered by Washington think tanks and interest groups.
The solution, the conventional wisdom became, was a bipartisan "grand bargain" that would require both parties to make difficult choices to right the country's fiscal course. Democrats would have to swallow cuts to Social Security and Medicare, in exchange for revenue increases and defense spending cuts that Republicans find painful.
Social Security is self-funded, and thus does not contribute to the deficit, but it faces a long-term funding shortfall that is expected to take effect in 2033. To free up political space for other fixes necessary to address the long-term debt, however, the thinking seemed to be, the popular social insurance program would have to be in the mix.
This is about millions of Americans somehow getting by on benefits of $14, $15, $16,000 a year and elected officials thinking they can cut benefits.

Alex Lawson, Social Security Works
It was in that context that Obama, the head of a Democratic Party that had just a few years earlier turned opposition to the George W. Bush administration's Social Security privatization scheme into electoral success, convened a bipartisan commission, headed by Erskine Bowles, a Democrat who sits on Morgan Stanley's board of directors, and former Sen. Alan Simpson (R), that would ultimately recommend major Social Security cuts.
While the commission's proposal was never adopted, it became the blueprint for a fiscal grand bargain after Republicans took control of the House of Representatives.
But Social Security cuts always faced an uphill battle: ​The public has never been as enthusiastic about the idea as Beltway pundits and think tanks.
So when liberal groups first began to mobilize against cuts in the Bowles-Simpson era, they found fertile ground for changing the policy conversation. Progressives argued that Social Security should actually be expanded to address a growing retirement income deficit.
Alex Lawson, executive director of Social Security Works, one of the groups that led the charge to make Social Security expansion a progressive priority, called the era when Democrats flirted with bipartisan deals to cut the program an "aberration."
Democratic Senate candidates' punishment of opponents who were part of those efforts in any way is a vindication of the political, as well as the "obvious policy and moral" argument Social Security Works has made since 2010, according to Lawson.
Lawson said putting a political price on past support for Bowles-Simpson "is not an ideological purity thing. This is about millions of Americans somehow getting by on benefits of $14, $15, $16,000 a year and elected officials thinking they can cut benefits."
Jim Kessler, senior vice president for policy at Third Way, a centrist Democratic group, by contrast sees the trend as evidence that there is a part of the Democratic Party "that wants to argue and never get things done."
"In the environment we're in right now, where you have divided government, you are going to have some accommodating with the other party," he said. "The plans that the far left has, not just to preserve benefits but expand them across the board, border on lunacy."
Calling all HuffPost superfans!
Sign up for membership to become a founding member and help shape HuffPost's next chapter
BEFORE YOU GO
PHOTO GALLERY
Elizabeth Warren