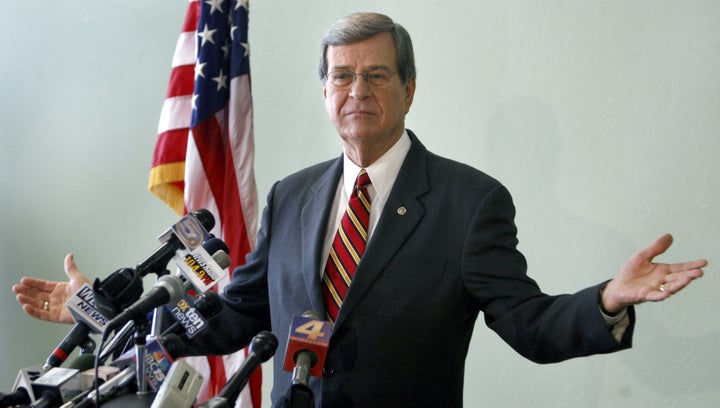 Former Senate Majority Leader Trent Lott (R-Miss.) says he would have been willing to consider President Barack Obama's Supreme Court nominee, unlike the refusal of the current majority leader. 
Shortly after the death of Justice Antonin Scalia last month, Senate Majority Leader Mitch McConnell (R-Ky.) vowed to block any attempt by Obama to replace him. He and his caucus argue that the responsibility should be left to the next president -- hoping, of course, that a Republican will win the election. 
Lott said he "would've handled it differently" from the approach taken by McConnell, in an interview on CNN commentator David Axelrod's "The Axe Files" podcast released Monday. 
"My attitude, particularly on the Supreme Court, was that elections do have consequences, sometimes bad, and I tried to lean towards being supportive of the President's nominees, Democrat or Republican," said Lott, who was majority leader from 1996-2001.
He said Republicans were likely worried about the type of person Obama would nominate, since so many of his picks have been "so bad and so far left." 
"Was it wise to jump out there the way the Leader did? You know, time will tell,"Lott added. 
Senate Judiciary Committee Chair Chuck Grassley (R-Iowa) is particularly caught in the crosshairs as he runs for reelection. He has said he won't hold a hearing for a potential Obama nominee, but he's been facing pressure at home, from his constituents.
Lott also told Axelrod he believes Grassley could yet cave.
"If the president comes up with somebody that's credible and is a little bit more mainstream or moderate, I wouldn't be surprised to see Chuck give him a hearing," he said. 
REAL LIFE. REAL NEWS. REAL VOICES.
Help us tell more of the stories that matter from voices that too often remain unheard.
BEFORE YOU GO
PHOTO GALLERY
Americans Say Goodbye To Supreme Court Justice Antonin Scalia