Former and current officials connected to President Donald Trump revealed that Russian and Chinese spies are tapping into calls he takes on his personal cellphone, which his aides have repeatedly warned him is vulnerable to such infiltration, according to a New York Times report published Wednesday.
Perhaps most frustrating, the unnamed sources said, is that Trump has continued to use an iPhone even after his aides told him that foreign agents successfully hacked him, likely gaining valuable insights into how they could best manipulate him and his administration's policies.
The feedback they've gotten from him is that relying solely on the White House phone line is inconvenient. However, he appears to take calls on a cellphone whenever he doesn't want a call logged, such as when he has conversations with hosts at Fox News.
U.S. intelligence agencies learned from foreign government sources, according to the Times, that people in China and Russia were eavesdropping on the president's cellphone calls and were intercepting communications between foreign officials.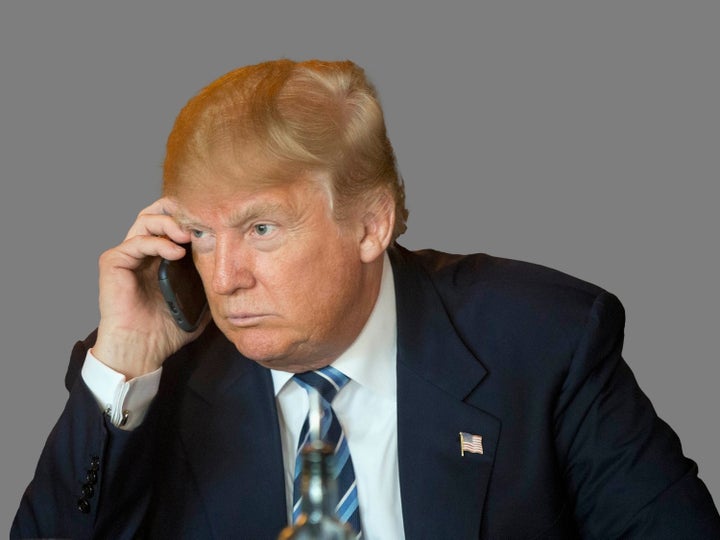 China, the spy agencies believe, is doing so in hopes of keeping a trade war between the two countries from escalating and has established a list of people Trump frequently speaks to who may be able to influence him.
Russia is probably running a less sophisticated operation, given Trump's closeness to Russian President Vladimir Putin, the sources said.
They told the Times that though Trump has two official iPhones that the National Security Agency has tinkered with to limit their vulnerabilities, he keeps a third, personal phone with contacts in it that has no such safety adjustments.
His alleged disregard for the safety risk is in spite of his ongoing criticism of Hillary Clinton for using a private email server while serving as secretary of state ― an issue that Republicans and right-leaning news outlets seized on for the entirety of her presidential campaign.
Though their calls for concern were relentless before the 2016 election, Republican lawmakers have largely shrugged off reports ― including one that ran in Politico in May ― alleging that Trump has been reckless with his phone security.
"I suspect the president of the United States is sophisticated enough to know what he should or shouldn't be talking about on an unsecured line," Sen. Jim Risch (R-Idaho) told HuffPost when the Politico story came out. "We all have unsecured and secured lines, and in the business we're in, it's just common knowledge what you talk about and don't talk about."