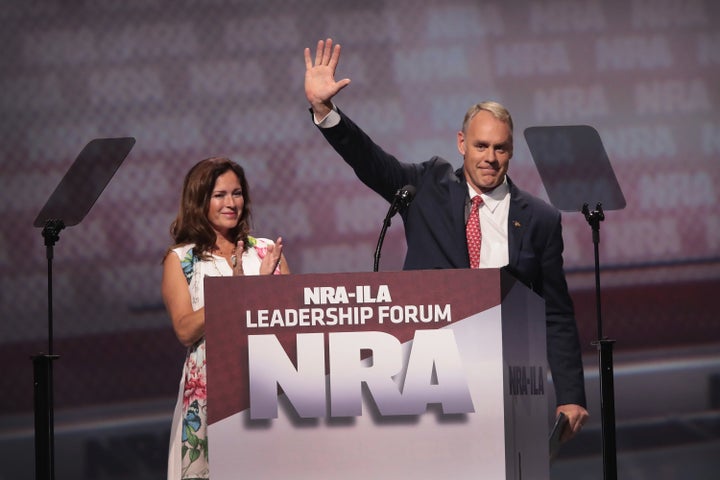 In early February, a small group of Interior Department officials joined agency chief Ryan Zinke in his office for a briefing on "international conservation," a discussion that almost certainly focused on hunting and trophy imports. Among those in the room was Benjamin Cassidy, who joined the federal agency in October after walking away from his high-paying job as a lobbyist for the National Rifle Association.
It was a familiar subject for Cassidy, now the Interior Department's senior deputy director for intergovernmental and external affairs. For the better part of 2017, while still with NRA, he lobbied Congress on several pieces of legislation introduced by Rep. Don Young (R-Alaska) dealing with animal trophy imports and conservation grants for international species like elephants, tigers and apes.
Ethics experts say Cassidy likely violated ethics rules by participating in the February meeting. As a political appointee, Cassidy would have signed President Donald Trump's ethics pledge, which bars former lobbyists in the executive branch for two years from participating in any particular matters on which they lobbied in the two years prior to being appointed. Cassidy was a lobbyist for the NRA for nearly seven years.
The February briefing is not the only meeting that's drawing scrutiny. Perhaps a clearer violation of the ethics pledge came late last year, when Cassidy participated in a "Monument After Action Meeting," as Zinke's December calendar shows. Just a few months earlier, Cassidy was lobbying in support of a bill introduced by Sen. Lisa Murkowski (R-Alaska) that would have prohibited presidents from designating land or marine national monuments without receiving prior approval from both Congress and impacted states.
Cassidy appears to have "significant conflicts of interest," said Virginia Canter, the chief ethics counsel at Citizens for Responsibility and Ethics in Washington, a government watchdog group based in Washington, D.C.
"Based on the plain meaning of the language used in the ethics pledge, he appears to be in violation of the prohibition on working on matters on which you've lobbied," she said. That is "unless he's not doing anything substantive, or he received a waiver," she added.
"Either he's violating it or the ethics pledge has no meaning," Canter said.
In 2017 alone, Cassidy lobbied lawmakers on numerous legislative proposals that would have directly impacted the Interior Department, according to lobbying disclosure reports. Those included measures aimed at overhauling the Endangered Species Act and the Migratory Bird Treaty Act (two bedrock conservation laws), expanding access for hunting, fishing and shooting on federal lands, and a joint resolution to repeal an Obama-era rule that largely banned hunting bears, wolves and other predators in Alaska's national wildlife refuges (Trump signed that resolution into law in April 2017, opening the door for the state to resume aggressive predator control tactics, including shooting bears and wolves from airplanes and killing cubs and pups in their dens.)
There is little information about Cassidy's role at the Interior Department, aside from his appearance at a handful of events listed on agency calendars. However, the breadth of bills Cassidy lobbied on while with the NRA would significantly limit the policy issues he's allowed to work on while still complying with his ethics pledge.
The Interior Department did not respond to HuffPost's numerous requests for comment.
ProPublica reported last week that Cassidy is among at least four Interior Department staffers who did not complete their financial disclosure reports ― a primary tool used by ethics officials to ensure that workers avoid conflicts of interest. Cassidy listed no previous employment or income.
The Interior Department acknowledged in a statement to ProPublica that many employees' forms "were not reviewed and certified properly." But it pointed to a lack of resources and said ongoing problems "predated the current administration."
Cassidy made as much as $288,333 annually as a lobbyist for the NRA, according to Politico. At the Interior Department, he earns less than half that, around $130,000.
The Obama administration's ethics pledge was far more stringent, barring former lobbyists from being hired at government agencies that they had lobbied within the previous two years. Not only would Cassidy have been prohibited from working on issues similar to those he'd lobbied on, he would have been unable to take a job at the Interior Department― not to mention a slew of other federal agencies ― for a two-year period.
Craig Holman, a government affairs lobbyist for the progressive watchdog group Public Citizen, said it's clear the Trump administration isn't enforcing its own ethics rules. Holman's nonprofit identified at least 30 apparent administration violations and filed complaints with a dozen agencies, "only to have each one disregarded," he said.
"It is now quite obvious no one in the Trump administration gives any significance to the ethics executive order, fully realizing that Trump's pledge to 'drain the swamp' was merely campaign rhetoric that no longer serves a purpose," Holman said via email.
Cassidy joins several top officials at the Interior Department with apparent conflicts of interest. Last month, HuffPost reported that Cassidy's boss, Todd Wynn, director of the agency's Office of Intergovernmental and External Affairs, repeatedly scheduled meetings with his former employers. Last year, Lori Mashburn, the agency's White House liaison, attended two private events hosted by her former employer, the conservative Heritage Foundation, in a seemingly clear violation of federal ethics rules.
In April, Interior Deputy Secretary David Bernhardt, formerly of the lobbying firm Brownstein Hyatt Farber & Schreck, announced that the agency had hired two new ethics officials. In his letter to staff, Bernhardt said that during his tenure there have been "far too many reports from the Office of Inspector General of specific instances where employees have made decisions that were unethical and in some cases illegal." The new hires, he added, were part of the agency's "real commitment to make a meaningful contribution to incorporating the highest ethical standards."
Less than a month later, HuffPost reported that Bernhardt met with a trio of lobbyists for MGM Resorts International, the casino-resort giant represented by Brownstein Hyatt Farber & Schreck.
Popular in the Community