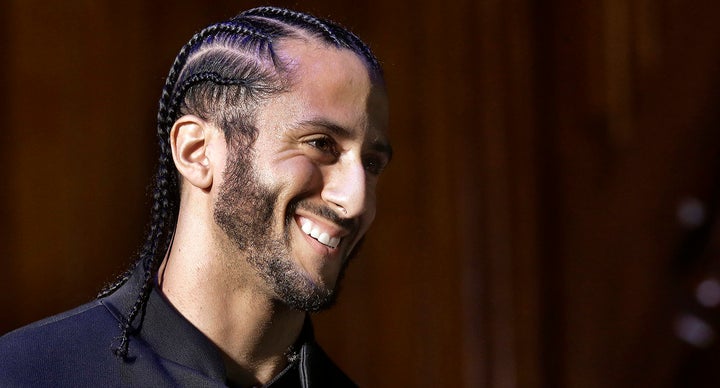 The medal is given to people who have "made significant contributions to African and African-American history and culture" as well as "individuals who advocate for intercultural understanding and human rights," according to Harvard's Hutchins Center for African & African American Research.
In his acceptance speech, Kaepernick spoke about members of a high school football team he met in Oakland, California.
"I went to go visit these young brothers and spend game day with them and I'm in the locker room with them, they're getting ready, they're getting prepped," Kaepernick said, according to Boston reporter Eric Kane. "And one of the young brothers says, 'We don't get to eat at home, so we're going to eat on this field.' That moment has never left me. And I've carried that everywhere I went."
"I feel like it's not only my responsibility, but all our responsibilities as people that are in positions of privilege, in positions of power, to continue to fight for them and uplift them, empower them," he went on. "Because if we don't, we become complicit in the problem."
Kaepernick asked that his speech not be broadcast due to ongoing litigation between him and the NFL. Although Kaepernick has not played for an NFL team since 2016, an arbitrator recently let the former 49ers quarterback take to trial his grievance that NFL owners conspired to keep him out of the league.   
"Love is at the root of our resistance, and it will continue to be, and it will fortify everything we do," Kaepernick said Thursday.
Harvard has awarded the medal since 2000. Past recipients include Maya Angelou and Muhammad Ali.
When he was still in the NFL, Kaepernick sparked a wave of player protests by kneeling during the national anthem to call attention to police brutality and systemic racism. Although Kaepernick is no longer playing in the NFL, he has continued speaking out against racial inequality, and has donated millions to various social justice organizations.
Kaepernick thanked Harvard in a tweet published after the ceremony Thursday night. "I'm grateful for this recognition and to be amongst the other highly esteemed honorees that inspire me," he wrote.
Seven other honorees received the prestigious medal alongside Kaepernick, including comedian Dave Chappelle, author Florence Ladd and founder of the Equal Justice Initiative Bryan Stevenson. 
Calling all HuffPost superfans!
Sign up for membership to become a founding member and help shape HuffPost's next chapter