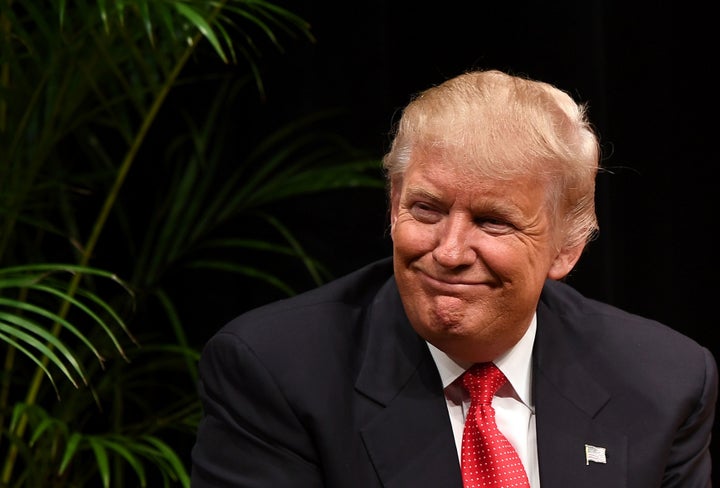 Donald Trump, the Republican nominee for president, has a peculiar way of dealing with criticism.
When he's called out for causing harm to a person, he often claims that he was actually helping them. The way he sees it, he's the good guy, just offering a hand when others need it. The real problem is that he never gets any credit. Where's the gratitude?
It's a disorienting shifting of blame. Instead of Trump taking responsibility for the consequences of his actions, he positions himself as a misunderstood victim who is owed thanks for under-appreciated work.
Here are five examples of this striking and strange pattern.
Alicia Machado, former Miss Universe
Machado was the first woman to be crowned Miss Universe after Trump purchased the beauty pageant in 1996. After her victory, she gained some weight. She said Trump began to bully and verbally abuse her, claiming he dubbed her "Miss Piggy" and "Miss Housekeeping," because she is Latina.
As well as privately haranguing her about her weight gain, Trump made his displeasure known publicly.
He made fun of Machado during an interview with radio host Howard Stern, describing her as an "eating machine." And in a now infamous episode, he sent a camera crew to ambush her during a workout at a New York gym. As reporters and photographers watched her exercise, Trump fat-shamed her on television, saying "this is somebody who likes to eat."
The hurt Trump's comments caused was considerable.
Machado, who was only 19 at the time, fell into a serious depression and suffered from eating disorders. She told Cosmopolitan that Trump changed her life forever.
"I never been the same person after that experience," she said.
In Trump's alternate universe, he didn't hurt her at all. He was just trying to help.
"I saved her job because I said that's what I was going to do," he told Fox News' Bill O'Reilly. "Look what happened? Look what I get out of it? I get nothing."
President Barack Obama
For years, Trump perpetuated the racist conspiracy theory that Obama was not born in the U.S. In 2011, he claimed he sent a team of investigators to Hawaii to unearth the truth.
"I have people that have been studying it and they cannot believe what they're finding," Trump said at the time. "You are not allowed to be a president if you're not born in this country. Right now, I have real doubts."
Even after the White House released copies of Obama's original long-form birth certificate, Trump wasn't satisfied:
We don't know the full extent of how much Trump's accusations personally affected Obama, but Michelle Obama has characterized them as "hurtful."
And at the first presidential debate Monday, Hillary Clinton hinted at how Trump's crusade to undermine Obama may have personally offended the president. 
"The birther lie was a very hurtful one," she said. "Barack Obama is a man of great dignity. And I could tell how much it bothered him and annoyed him that this was being touted and used against him."
When asked about this during the debate, Trump did not apologize for any pain he may have caused Obama or his family. Instead, he presented what he had done as a work of service, worthy of congratulating.
"I think I did a great job and a great service not only for the country, but even for the president, in getting him to produce his birth certificate," he said.
Later, he went further, telling a New Hampshire reporter he was "very proud" of what he had done. 
The UK
"Paris is no longer the safe city it was. They have sections in Paris that are radicalized, where the police refuse to go there. They're petrified," he said during an appearance on MSNBC. "We have places in London and other places that are so radicalized that the police are afraid for their own lives."
After being roundly criticized for inaccurate comments, Trump refused to back down. Instead, he requested a thank you. 
"The UK politicians should be thanking me instead of pandering to political correctness," he said at the time. "I only said what needed to be said, and when I am elected no one will be tougher or smarter than me. I will work very hard and effectively to defeat terrorism."
Megyn Kelly
Also in 2015, after a GOP primary debate in which Kelly asked him hard questions about his history of calling women derogatory names, Trump lashed out at her.
The next night, during an interview with CNN's Don Lemon, he took his criticism further. "You could see there was blood coming out of her eyes. Blood coming out of her — wherever," he said.
Over the next few months, he kept up the personal attacks, called her "crazy." and "highly overrated." 
Then, he insinuated she should thank him for her success. 
"She's benefited greatly," he told CNN's Wolf Blitzer in March. "She's hotter now than ever before because of me. She should give me at least half of her salary."
New York Mayor Bill de Blasio
During Trump's presidential kickoff event in the summer of 2015, he made widely condemned comments about Mexican immigrants. 
"When Mexico sends its people, they're not sending their best," he said. "They're bringing drugs. They're bringing crime. They're rapists. And some, I assume, are good people."
Those racist statements triggered New York City officials to announce that they were reviewing the city's contracts with Trump.
"We're certainly not looking to do any business with him going forward," de Blasio said at the time.
Trump hit back, sending a letter to the New York City parks department demanding thanks for what he has done for the city.
"I would hope that the Mayor and other political leaders would give me a thank you for the great job we have done, instead of a reprimand," Trump wrote.
Seen more examples of Trump requesting thanks from the people he has offended? Leave them in the comments!
Calling all HuffPost superfans!
Sign up for membership to become a founding member and help shape HuffPost's next chapter