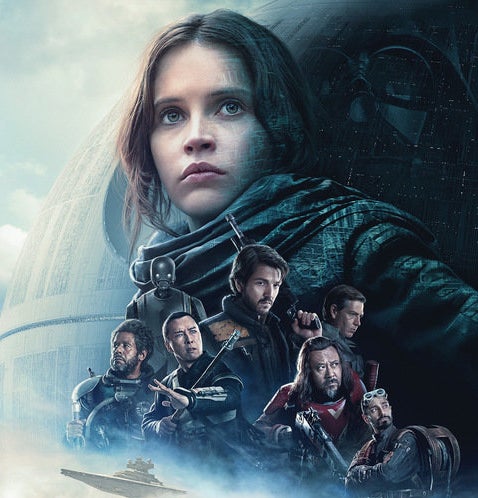 On Thursday morning, Twitter user Jack Posobiec sent out a series of tweets calling for Americans to boycott the upcoming "Star Wars" film "Rogue One: A Star Wars Story" under the hashtag #DumpStarWars. It started trending on Twitter, though some of the tweets were criticisms of the hashtag.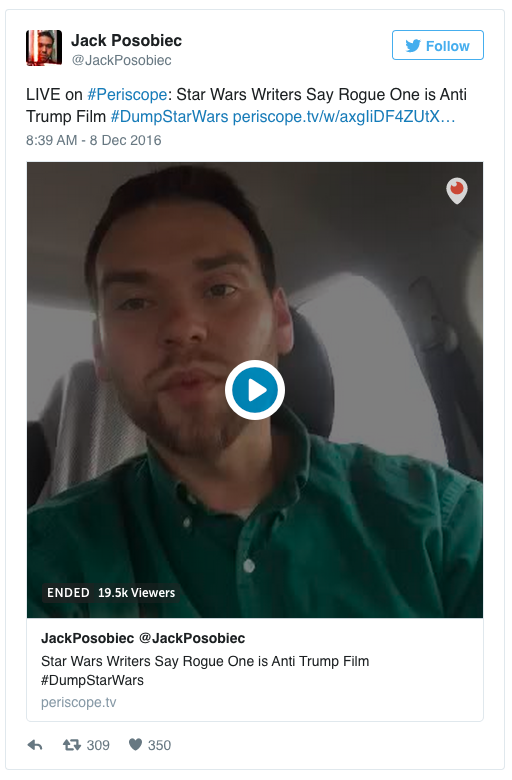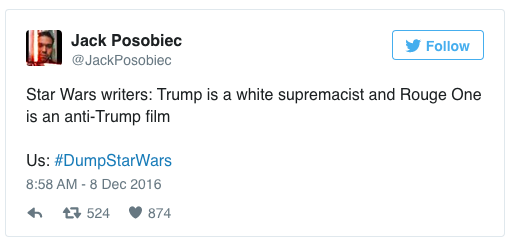 That push started in earnest following Donald Trump's election last month, when "Rogue One" screenwriter Chris Weitz tweeted, "Please note that the Empire is a white supremacist (human) organization," to which fellow "Rogue One" screenwriter Gary Whitta replied, "Opposed by a multi-cultural group led by brave women." Both those tweets have since been deleted, but another from Nov. 11 remains — in which Weitz stated, "Star Wars against hate. Spread it," along with an Alliance symbol adorned with a safety pin — angering conservatives.
But what makes Posobiec's hashtag different is that it was promoted alongside blatant lies. His most popular tweet in the series alleged that "Rogue One" was rewritten to "add in Anti Trump scenes calling him a racist [sic]."

Hours later, he tweeted out a screenshot featuring a photo of "Rogue One" Felicity Jones in her "Star Wars" costume alongside fake CNN-like chyron that read, "WRITERS: TRUMP IS A NAZI."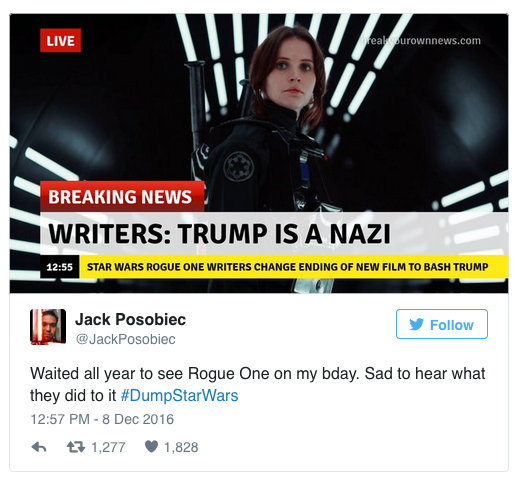 While it is true that the film did do some reshooting this summer, and that Weitz and Whitta appear to not be the biggest Donald Trump fans, a representative for Disney told The Huffington Post that there is "absolutely no truth" to the rumor that the movie was reshot to include anti-Donald Trump scenes.
When someone asked Weitz about the Posobeic's claims on Twitter, he called them "completely fake," and Posobeic a "liar" to boot.
But before news of the lies could make the rounds, the hashtag had already taken off with their help.
Soon, conservative voices like Barack Obama's half-brother, Malik Obama, and self-identified "American nationalist" Mike Cernovich were using the hashtag in tweets.
"Rogue One: A Star Wars Story" opens Dec. 16. Before then, and after, be on the lookout for claims that seem too good to be true. Strangely enough, even Jack Posobiec can agree with that.
Popular in the Community