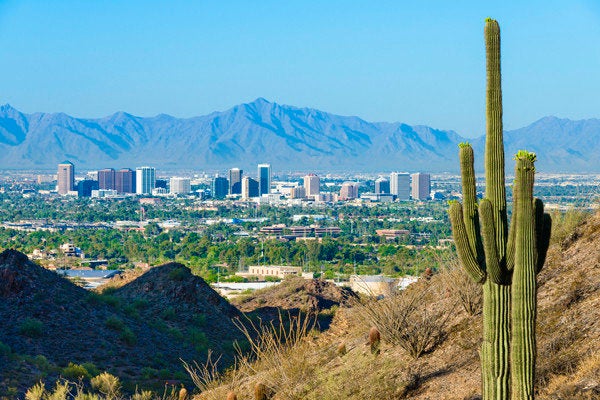 Idea Summary: Phoenix will create a Smart Energy Neighborhood Model that helps residents and businesses reduce energy use, save money, and enjoy a high quality, energy-savvy lifestyle. Click here to vote for this idea.
Phoenix is an energetic city. Our communities are active and enjoy being outdoors. Sunlight and beautiful desert landscape abounds in our city, where we are grateful to the proximity to our mountains for hiking, biking, and trail running.
But if we want to see our city continue to boast these natural amenities for generations to come, we need be smart about the energy we use every day and how it can affect our future.
The lack of energy awareness and inability to change behavior will ultimately lead to diminished quality of life not only for Phoenicians, but for others around the nation and world. For low/fixed-income residents, high energy consumption can result in energy poverty. Low-income families can pay four times as much of their income on energy than average consumers.
In one of the world's most extreme climates, we are going to change the energy conversation. It's not going to be easy, but if you want the fruit you have to go out on the limb.
We will touch every aspect of society, bringing people together and saving them money. We will accomplish this by creating an appreciation and passion for energy. Our residents will choose energy-savvy lifestyles. Living energy savvy will be cool and fun. We will create Smart Energy Neighborhoods by providing education, energy coaches, tools, and resources to make changes at the personal level. We will offer a suite of smart-energy options: Energy Star equipment, lighting upgrades, cool roofs, solar rooftops and water heaters, smart phone energy apps, air conditioning upgrades, home insulation, and energy-efficient windows. In return, residents and businesses will develop and implement their own set of customized smart energy solutions. We will prototype the Smart Energy Neighborhood Model in two neighborhoods to test the concept and prepare to scale it up citywide, so that Phoenix can be the Smartest Energy City in the World. By building this Model from a deep and localized focus, Phoenix will establish enduring cultural change in our city while providing the highest social, economic and environmental quality of life for our residents.
The basic equation to implement lasting change is:
KNOWLEDGE + TOOLS + MOTIVATING FACTORS = LASTING CHANGE
This is pretty simple in concept, yet powerful in application.
I'm going to put myself under the "energy" bus. I know that turning up my thermostat five degrees when I go to work at City Hall in the summer makes a difference. But I will be the first to say that sometimes I forget, or it slips my mind when running out the door. But if we equip ourselves with the tools (programmable thermostat) and connect to motivating factors (my bill and helping the environment), then we're more likely to implement lasting change.
We are going to create an exportable and replicable model that will be applicable to myriad neighborhoods and cities. After all, energy is something that reaches all of us, and we should all have opportunities to make our own smarter energy choices.
This post is an entry in the Mayors Challenge Fan Favorite Selection, a partnership between The Huffington Post and Bloomberg Philanthropies that allows readers to vote on their favorite idea among the 20 Mayors Challenge finalists. The Mayors Challenge is a competition to inspire American cities to generate innovative ideas that solve major challenges and improve city life. To view the ideas from the 20 finalists, click the grid below -- and then vote for your favorite here! And follow the conversation on Twitter with hashtag #MayorsChallenge.
Watch videos and view posts from the other
Bloomberg Philanthropies' Mayors Challenge finalists:
Calling all HuffPost superfans!
Sign up for membership to become a founding member and help shape HuffPost's next chapter