 WASHINGTON -- Michael Boggs, the Georgia judicial nominee whom progressive groups are determined to defeat, is finally receiving a confirmation hearing, and his fate now rests in the hands of Senate Democrats.
Boggs will testify before the Senate Judiciary Committee next Tuesday, according to an aide to Sen. Richard Blumenthal (D-Conn.), who will chair the hearing.
For months, President Barack Obama has taken heat from his base for nominating Boggs, a Georgia state judge, to the U.S. District Court for the Northern District of Georgia. Abortion rights groups have cried foul over votes that Boggs took as a state legislator to create "Choose Life" license plates and to tighten restrictions on minors seeking abortions, even in cases of rape or incest. Civil rights leaders have demanded that Obama rescind Boggs' nomination in light of his vote to keep the Confederate insignia on the Georgia state flag. Gay rights groups have protested his confirmation given that he sponsored a constitutional amendment to ban same-sex marriage.
All along, the White House has quietly stood by Boggs. It's not because Obama necessarily wants him on the federal bench. It's because Boggs is part of an all-or-nothing package of six judicial nominees that the president signed off on last summer with Georgia's Republican senators, Saxby Chambliss and Johnny Isakson.
The White House's thinking is that Democrats get some judges they like in the package, Republicans get some too, and all six empty seats get filled. Everyone wins. Not that the deal was great for Obama: Four of the six nominees are GOP picks, and only one is black in a state with a large black population. But still, the White House can say it filled some long-vacant seats.
That all-or-nothing deal ends on Tuesday. The White House did its part by nominating all six individuals, and the Georgia senators did their part by turning in their "blue slips" to let the committee proceed with hearings.
From now on, it's up to Senate Democrats to decide whether Boggs will clear the committee and ultimately get confirmed. They have the ability to individually support or reject any of the nominees in the package.
"These senators hold the fate of so many Americans who might come before this man in federal court. They must use the hearing to thoroughly examine his record," said Ilyse Hogue, president of NARAL Pro-Choice America, which is running a campaign against Boggs. "And we all have to wonder after the last week what else might be out there about Boggs' actions and statements that we don't yet know."
Hogue was referring to new details that NARAL uncovered this week about past votes that Boggs took in favor of "personhood" legislation, which would have granted legal rights to fertilized eggs, and in favor of a bill requiring abortion providers to put detailed information on the Internet, including how often they provide abortion services.
"The last week, new and disturbing information has come to light about Boggs' record of opposing fundamental freedoms for women," Hogue said. "To us, this information is only further evidence of why the committee should reject this nominee."
So far, Blumenthal is the only senator who has publicly raised concerns about Boggs, which is notable given that Judiciary Committee Chairman Patrick Leahy (D-Vt.) chose him to lead Boggs' confirmation hearing.
"This letter raises legitimate and important questions about Judge Boggs' record," Blumenthal said in February, referring to a letter sent to Democrats from 27 organizations urging a no vote on Boggs. "I look forward to hearing him explain his positions fully before the Judiciary Committee when that time comes."

A Blumenthal aide said Thursday that he didn't have anything more to add to his previous comments.
Other Democrats on the committee gave no indication as to how they felt about Boggs when approached by The Huffington Post on Wednesday.
"I know what the issues are. I've also heard some good things about him," said Sen. Al Franken (D-Minn.). "I'm not going to tell you how I'm leaning."
"I've heard of him," said Sen. Dianne Feinstein (D-Calif.). "I'm not going to make any comment now."
Asked if she was leaning one way or another, Feinstein, visibly irritated, leaned in and put her hand on this reporter's cheek. "I just said I want to wait for the hearing," she replied.
Sen. Chris Coons (D-Del.) said he's "certainly" heard of Boggs but will wait for Tuesday's hearing to discuss the nominee. He said he's "generally" heard the concerns aired about Boggs.
"I look forward to the confirmation hearing," said Coons.
For his part, Chambliss said progressive groups are exaggerating any problems with his nominee's record.
"Pretty fabricated stuff," he said. "They're just over-blowing his record."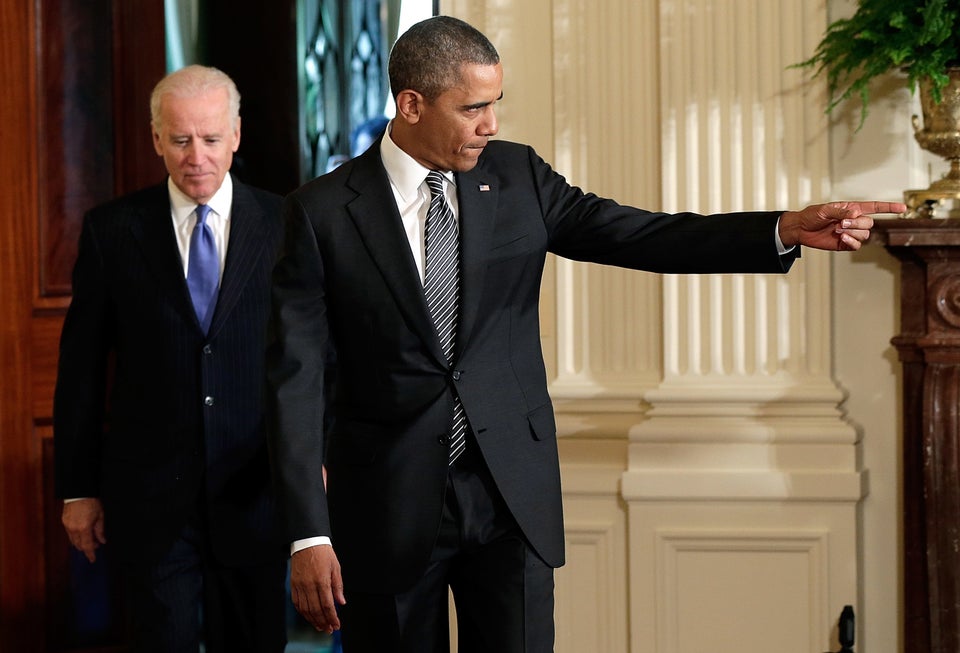 Obama Pointing Fingers
Popular in the Community