WASHINGTON ― Democrats cheered. Republicans looked on disapprovingly. Yet in the end, President Donald Trump backed down from his public embrace of comprehensive gun control.
Following last month's Parkland school massacre in Florida, Trump held a remarkable meeting with a bipartisan group of senators at the White House, where he talked up proposals aimed at curbing gun violence. The president expressed support for ideas backed by Democrats, like universal background checks and raising the minimum age to purchase an assault-style weapon.
At one point, Trump even taunted members of his party for being too afraid of National Rifle Association, the nation's largest gun lobby. He assured Republicans he would take any heat and expected backlash from pushing forward with gun control proposals in the days to follow.
It was a remarkable moment, one that seemed to come straight out of television or the movies. A bipartisan-minded president who has the courage to take on his party for the greater good. It was pure Trump, a wheeling-and-dealing boardroom executive who gives everyone a lesson in negotiating tactics featured in his popular book, "The Art of the Deal."
Yet just two weeks later, the only solutions the White House has put forward are ones the NRA supports ― arming teachers and taking modest steps to improve background checks conducted through the National Instant Criminal Background Check System. Trump has also said he plans to ban bump stocks, the gun accessory used to simulate automatic fire in the Las Vegas shooting, by taking administrative action rather than pushing a new law. Doing so via a regulation will likely a draw legal challenge.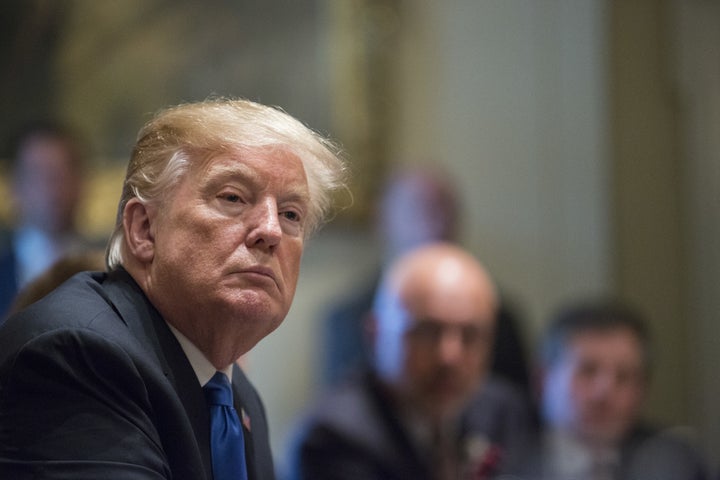 Trump acknowledged his changed position on increasing the age at which one can purchase a semi-automatic rifle in a pair of tweets on Monday. The president, who wields the power of the bully pulpit, conceded raising the age limit did not have "much" political support.
While the proposal may not have sufficient backing among Republicans in Congress, it is supported by a large majority of the electorate. Seventy-eight percent of Americans favor banning the sale of AR-15 style weapons to people under the age of 21, according to a recent SurveyMonkey poll.
Florida Gov. Rick Scott (R) signed a bill last week ― the first gun control legislation the state enacted since the Feb. 14 Parkland school shooting ― raising the minimum age to purchase a firearm to 21 from 18. The 19-year-old accused Parkland shooter used an AR-15 style semi-automatic rifle in the massacre.
Trump's retreat on gun control mirrors that of another Florida politician, Sen. Marco Rubio (R-Fla.).
In the wake of the shooting, Rubio appeared with Parkland survivors at a televised town hall, where he surprised observers by expressing support for several gun control measures. He broke with Trump over arming teachers and said he would favor raising the minimum age to purchase an assault rifle from 18 to 21. He said he would consider restricting the size of ammunition magazines as well.
Since then, however, Rubio has focused on more modest steps aiming to boost "school safety," including a proposal to give schools grants to add more security and train teachers to identify threats. He also reiterated his support for gun-violence restraining orders, which would give law enforcement and family members the ability to get a court order to keep someone who could pose a threat from buying a gun.
"These are ideas I outlined not just because they work, but because I believe we can get the votes to pass them," Rubio said, arguing the Senate ought to focus on the achievable first.
It's unclear whether any of these proposals will receive a vote or pass in the Senate, much less the House. Republicans set the agenda, and this week senators are considering a bill deregulating banks, not gun control. Senate Majority Leader Mitch McConnell (R-Ky.) is unlikely to devote another week to a contentious issue after last month's fruitless immigration debate.
Senate Minority Leader Chuck Schumer (D-N.Y.) suggested last week he will not push for attaching gun control legislation to a must-pass government funding bill later this month ― a move that could risk another government shutdown ― leaving Democrats with few options but calling for a "debate" on gun control measures.
"The White House has taken tiny baby steps designed not to upset the NRA, when the gun violence epidemic in this country demands that giant steps be taken," Schumer said in a statement on Sunday. "Democrats in the Senate will push to go further including passing universal background checks, actual federal legislation on protection orders, and a debate on banning assault weapons."
Popular in the Community