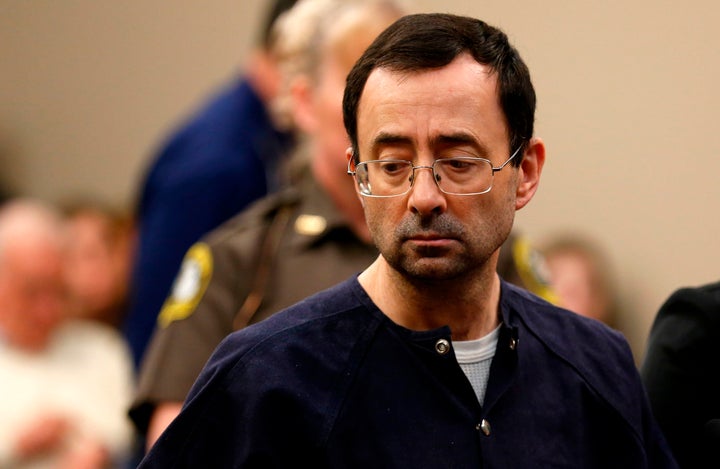 Prison officials recently transferred former USA Gymnastics and Michigan State University team doctor Larry Nassar to a Florida federal prison in an attempt to keep the convicted pedophile safe.
As of Tuesday, the Federal Bureau of Prisons website showed that Nassar is being housed at USP Coleman II, a high-security prison in Sumterville, Florida, about 50 miles northwest of Orlando. The prison currently houses high-profile inmates, including James "Whitey" Bulger, an infamous organized crime kingpin from Boston.
The move comes a month after Nassar's attorneys said fellow inmates assaulted the former doctor while he was in general population at the United States Penitentiary in Tucson, Arizona, where he is serving his 60-year sentence for child pornography charges. Last week, Nassar was transferred to a facility in Oklahoma City before moving to the new facility in Florida.
USP Coleman II, which holds around 1,400 male inmates at a time, is known to house high-profile or vulnerable prisoners such as sex offenders, informants and former police officers. Historically, these types of offenders are more likely to be attacked or killed while in prison.
Nate Lindell, a former prisoner at USP Coleman II, described the facility as a "safe" place for people like Nassar in a 2016 essay for The Marshall Project, a nonprofit news organization that covers the criminal justice system.
USP Coleman II is "a so-called special-needs prison ― a 'safe' facility where informants, former cops, ex-gang members, check-ins (prisoners who intentionally put themselves in solitary confinement to be safe), homosexuals, and sex offenders can all, supposedly, walk the Yard freely. At regular BOP lockups, these types of men are in danger of being beaten, stabbed, or strangled to death," Lindell wrote.
Nassar, 55, is accused of sexually abusing more than 265 young women under the guise of medical treatment. He was sentenced to three concurrent prison sentences over the past year, including the 60-year sentence on child pornography charges which he is currently serving.
His release from USP Coleman II is set for March 2069, after which he will still have to concurrently serve 40 to 175 years on seven child sexual abuse charges, and 40 to 125 years on three child sexual abuse charges.
Popular in the Community