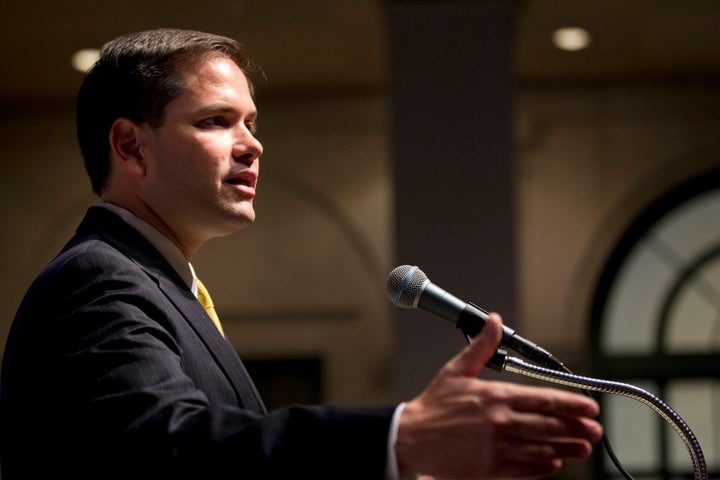 WASHINGTON -- Sen. Marco Rubio's (R-Fla.) planned -- but not actually introduced -- legislation on young undocumented immigrants is almost certainly dead, he said on Monday.
The issue isn't going away, however. In the House of Representatives, Rep. David Rivera (R-Fla.) will continue to push the STARS Act, which would similarly give temporary legal status to some undocumented immigrants who entered the United States as children, his spokeswoman, Leslie Veiga, told The Huffington Post.
President Barack Obama's announcement last week that his administration will halt deportation of some undocumented immigrants put some Republicans in a difficult spot. If Rubio went ahead with his bill, it would mean voting for close to the same policy that the president put in place -- it would provide legal status, but with no path to citizenship, to virtually the same population.
An aide for Rubio who spoke on condition of anonymity confirmed to HuffPost this weekend that the senator was reconsidering his bill in the wake of Obama's decision. On Monday, the senator said so himself, telling The Wall Street Journal and National Review Online that the new deportation policy politically killed his planned legislation.
"People are going to say to me, 'Why are we going to need to do anything on this now. It has been dealt with. We can wait until after the election,'" Rubio told the Journal. "And it is going to be hard to argue against that."
Rubio said previously that he hoped to introduce and then pass the legislation by the end of the summer.
Rivera's legislation has little to no chance of passing even out of the House immigration subcommittee, which would be its first step toward getting to the floor. Still, it will not be pulled, The Hill reports.
Democrats in the Senate have no plans right now to introduce legislation like Rubio's to force a vote, but previously introduced the Dream Act, the decade-old bill that served as a model for the Republican's plan. Rubio's bill, unlike the Dream Act, would not provide any special route to a green card or eventual citizenship.
Presumptive GOP presidential nominee Mitt Romney attempted to skirt the question on Sunday of whether he would end the Obama deportation policy if he took office next year.
"We'll look at that setting as we reach that," Romney said on CBS's "Face the Nation," "but my anticipation is I'd come into office and say we need to get this done, on a long-term basis, not this kind of stop-gap measure."
Support HuffPost
The Stakes Have Never Been Higher
Popular in the Community