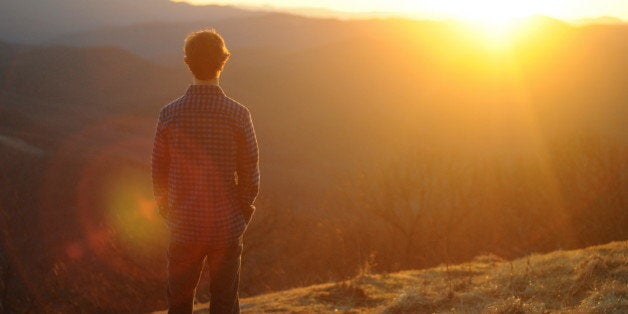 Throughout the next few months, HuffPost Teen is highlighting the way teens think and feel about sex through anecdotes written for our series, "Teen Sex: It's Complicated." All of the authors are teenagers who have agreed to be published anonymously. If you want to share your thoughts, join the conversation here.
To me, the word "sex" means a lot of things. Among them, anxiety, money, pleasure and pain.
My experience with sex started at 4 years old. It's crazy how well I remember. During preschool, there was this boy. We'll call him Andy. Andy and I were buddies. We rode bikes together, we watched movies together, we even ate together. One day, we decided to play together... naked. I remember having no idea what I was doing. I just remember I liked being naked with Andy, and I liked touching penises with him.
My sexual desire for men continued all throughout my life. During the ages of 6 to 8, my boy cousin and I experimented by getting naked and humping each other. That sounds so weird to say, but this event truly shaped my sexual life. By experiencing sex at such a young age, I was constantly thinking about it. Not to mention society does a great job at marketing sex.
When I got to middle school, things got weird. I got a girlfriend. While our relationship only lasted a week, I learned quickly that I preferred being friends with girls. My classmates could tell too. My nickname is AJ and kids used to ask me if I was gay, then call me "Gay-J." This kind of pressure at such a young age forced me to keep my sexual desires and preferences to myself until college.
In high school, I got another girlfriend. This time it was serious. We dated for two years and had sex just four months after making it "official." Looking back, this was an amazing experience for me. It allowed me to see what it was like to be with a woman. All in all, I learned that I liked having sex with women, but I wasn't attracted to them; I didn't want to kiss them.
[Funny side story: Andy from preschool was reintroduced into my life randomly one day in my Global Perspectives class. We immediately knew who each other was after being unconnected for 10 years. We still have never mentioned our sexual activity in preschool.]
After I graduated high school, I started attending Boise State University. At this point, my girlfriend and I had broken up, and I was feeling more open about my sexuality. I decided to say "f*ck it" and begin living transparently. At this point, I was horny all the time. I had sex with many boys. And finally, I "popped my own cherry."
Today, I'm happy as can be. I have a beautiful boyfriend. We love each other and have an incredible sex life. What I learned in the end is: Sex is natural. We crave it and it makes us feel good. Sex is being yourself and falling in love with who you are. Heck, you could even say sex is life.
Calling all HuffPost superfans!
Sign up for membership to become a founding member and help shape HuffPost's next chapter
BEFORE YOU GO
PHOTO GALLERY
Teen Quotes About Sex