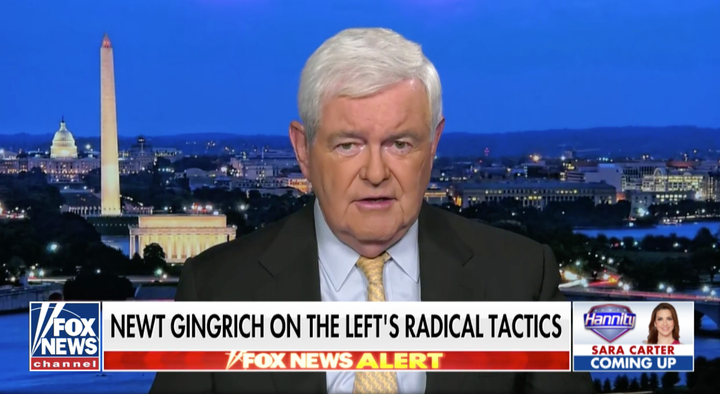 Newt Gingrich, appearing on Fox News on Tuesday night, compared the sexual misconduct allegations facing Supreme Court nominee Brett Kavanaugh with the witch trials that took place in Colonial Massachusetts in the 1600s.
"I was struck earlier today that Arthur Miller's great play 'The Crucible,' which is about the Salem witchcraft trials, actually relates to what's happening to Judge Kavanaugh," the former House speaker told host Sean Hannity.
"What he's being put through is almost like a medieval torture," Gingrich added.
Calling Kavanaugh's Senate confirmation hearings a "farce," Gingrich suggested the Democratic Party was leading a smear campaign against the federal judge.
"What the American people should think is that you have a Democratic Party so desperate to stop the Supreme Court from becoming conservative that they are prepared to lie, to smear, to be hysterical, to break Senate rules, to do whatever they have to do," he told Hannity.
Since Christine Blasey Ford and Deborah Ramirez have gone public with their allegations of sexual misconduct against Kavanaugh, Republicans have trotted out a variety of explanations in defense of the judge. 
President Donald Trump suggested in a Tuesday tweet that Democrats were
"playing a high level CON GAME in their vicious effort to destroy a fine person."
In an interview with CNN, Gina Sosa, a former Florida GOP congressional candidate, dismissed Blasey's allegation that Kavanaugh had assaulted her when they were teenagers. "Tell me, what boy hasn't done this in high school?" Sosa asked. 
Calling all HuffPost superfans!
Sign up for membership to become a founding member and help shape HuffPost's next chapter
BEFORE YOU GO