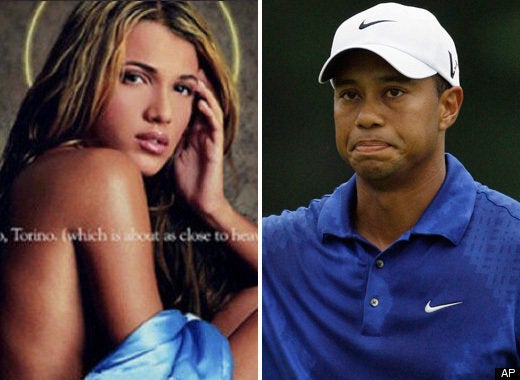 Tiger Woods' sex fantasies are "not normal," according to the Playboy model who claims to have slept with the golfer. Loredana Jolie told the New York Post that Tiger "would engage in sex from 9 p.m. until the sun came up the next morning."
She also says Tiger "likes role-playing, he likes to be the guy in control and wearing a suit while there are girls performing girl-on-girl and guys entertaining guys."
Jolie (PHOTOS), who was born in Italy and was allegedly "one of [Tiger's] favorites," is "not really sure rehab for sex addiction will help him." She previously claimed Woods had sexual encounters with men.
Women linked to Tiger Woods
Emma Rotherham allegedly had early-morning sex on Woods' office couch. Tiger reportedly loved to see her in black stockings and suspenders.
Julie Postle (PHOTOS) allegedly met Woods when she worked as a cocktail waitress in Orlando. Tiger was reportedly "obsessed" with Postle and "really hunted" her. She was also photographed in a bikini.
Theresa Rogers has been described as a "cougar" who allegedly boasted that she taught Tiger "everything he needed to know to be a great lover." She reportedly conceived a baby while she was seeing Woods, but an article suggests she believes the father is a Serbian basketball player she was also seeing at the time. According to another article, Woods told Rogers that he only married Elin Nordegren to boost his image. The 40-something Rogers may have negotiated a payoff in exchange for her silence.
Popular in the Community