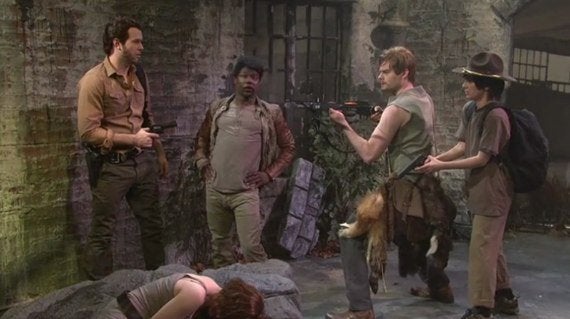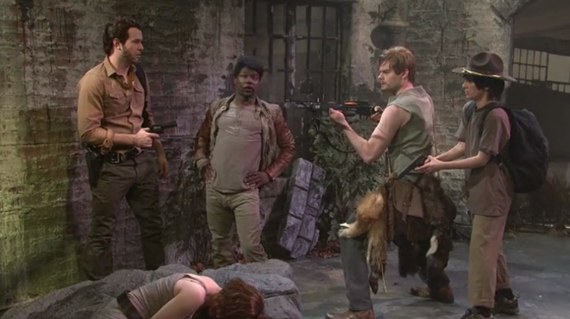 Kevin Hart's effort as host of "SNL" was fine. Actually, everything about last night's show was ... fine, I guess. It was kind of the definition of mediocre, actually. Put it this way: If the most memorable thing about the show was the fact that the host said "goddammit" twice, well, that's not a great sign. Don't get me wrong, Hart came with a ton of energy (perhaps too much at times), but the material was mostly second rate. It certainly wasn't a terrible show, but it wasn't a good or particularly memorable show, either. (And maybe there was a chance the writers were already looking ahead to next week's Justin Timberlake hosted show.) Off we go to a still slightly bored Scorecard ...
"Z Shirt" (Tim Robinson, Kevin Hart) I was sold on this sketch even before the surprising reprise during the funeral. "Z Shirt" is pretty much the essence of every nightmare "hip" commercial that seemed to gain popularity during the early 1990s. The way Hart would frantically yell, "Is it a B shirt?," while looking up into a camera nails the horrors of my teenage years perfectly. And the reprise during the funeral was great, but I was kind of hoping we'd watch Hart scream his way through the entire alphabet. (I will have "Is it a H shirt?" in my head for the rest of the day.)
"The Walking Dead" (Taran Killam, Bill Hader, Nasim Pedrad, Kevin Hart, Kate McKinnon, Bobby Moynihan) Seriously, how was this not the first sketch after the monologue? Not only is "The Walking Dead" more relevant than Steve Harvey's show, it also showed off the host's ability to do physical comedy. Yes, Nasim Pedrad played a child again, but, boy, she plays a good Carl. And I think my favorite line was almost tacked on at the end, "Can we discuss the fact that Maggie just died?"
"Weekend Update" (Seth Meyers, Bobby Moynihan, Jay Pharoah, Kevin Hart) Even though Kevin Hart flubbed a line during "Really?!? With Seth and Kevin," that segment is so much better when Meyers has a partner. Also, Moynihan's Kim Jong-un is solid and hopefully we see more of that character in the future. (Actually, it would be great to see Moynihan and Pharoah team up more often.)
"360 News" (Kevin Hart, Tim Robinson, Bobby Moynihan, Nasim Pedrad, Kenan Thompson, Taran Killam, Jay Pharoah) A news anchor who uses multiple cameras so he can dramatically turn and look at each one runs into problems after a serious neck injury. I laughed, for no other reason than Hart sells it with each anguished turn of his head.
"Kevin Hart Monologue" (Kevin Hart) First, this is the second week in a row that we have had a person who is obviously not Don Pardo trying to sound like Don Pardo announcing the cast. (Darrell Hammond has subbed in for Pardo in the past.) Anyway, let's hope that the 95-year-old announcer is OK. As for Hart, like most comedians, he just did part of his standup set -- which was, again, fine. Perhaps it was nerves, but for the first couple of minutes, he seemed to be rushing through. Regardless, he has a point, "Training Day, bitch" really should have been a line in "Training Day."
"New Pope" (Jason Sudeikis, Cecily Strong, Kevin Hart, Kenan Thompson, Bobby Moynihan, Fred Armisen, Taran Killam, Bill Hader) This particular sketch is a good example of the whole show being mediocre. So, the new pope is Quvenzhané Wallis. Hey, that's kind of funny! But, then, other than some mugging for the camera, the sketch went nowhere.
"Recording Session" (Kevin Hart, Vanessa Bayer, Fred Armisen, Bill Hader, Nasim Pedrad) Another example of a good idea with not that much of a payoff. I think what hurt it is that while Vanessa Bayer's voice was funny, it wasn't so overwhelmingly good, compared to Hart's "bad" voice, that perhaps something was lost in the comparison.
"Cold Open: Sequester" (Jay Pharoah, Bill Hader, Cecily Strong, Kate McKinnon, Jason Sudeikis, Bobby Moynihan, Aidy Bryant, Taran Killam, Tim Robinson, Kenan Thompson, Fred Armisen) And here was our chance for an entire sketch filled with combined "Star Wars" and "Star Trek" Jedi mind-meld type references. Alas. Then again, perhaps that would have been kind of lame? Then again, instead, we got a Village People reference, for some reason. (The horse meat joke was about the only one that really stuck.)
"Steve Harvey" (Kenan Thompson, Kevin Hart, Nasim Pedrad) This felt about as long an as an actual episode of "The Steve Harvey Show." Also, there was a horse involved for some reason. Anyway, this sketch went absolutely nowhere and it took its sweet time doing so.
"Shark Tank" (Jaosn Sudeikis, Bill Hader, Kenan Thompson, Kate McKinnon, Tim Robinson) This went nowhere (I know, I keep writing that this week). The punchline was a lamp with glasses on it -- I'm not sure there's much else to say. I will add that there were some decent production values involved, which seems kind of off for such a throwaway sketch.
"Barnes & Noble Firing" (Bobby Moynihan, Cecily Strong, Kevin Hart, Ensemble) This is pretty much the same sketch as "McDonald's Firing" that we saw during the Anne Hathaway-hosted show. I guess what bothers me is that -- as opposed to most recurring sketches that at least put the characters in different situations -- it really is just the exact same "yelling with accents" sketch only with different uniforms. (For the record, I didn't like the first version, either.)
(Note: "Starbucks Verismo" aired in a prior episode and is not included in this Scorecard.)
Average Score for this Show: 5.47
Mike Ryan is senior writer for Huffington Post Entertainment. You can contact him directly on Twitter. Click below for this week's "SNL," Not Ready For Primetime Podcast featuring Mike Ryan and Hitfix's Ryan McGee.